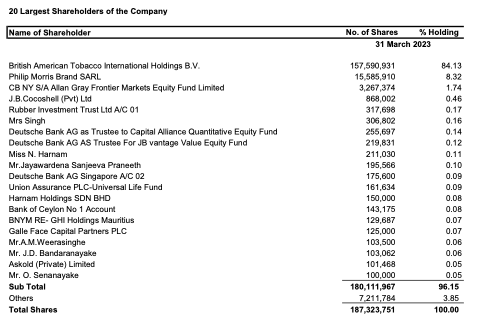 How many more companies will delist from the CSE and/or pull out of Sri Lanka after Sri Lanka Presidents statement to close down the Colombo Stock Market?
- Nestle Lanka PLC to be delisted
- Good Hope PLC. Indo Malay PLC, Selising and Shalimar PLC to be delisted
- Who is next? CEYLON TOBACCO COMPANY PLC (CTC.N0000)? (CTC Latest Shareholdings given above)
Sri Lanka's President warns of stock market closure if debt restructuring leads to crash
President of Sri Lanka,Ranil Wickramasinghe , has announced that negotiations with foreign creditors have begun for debt restructuring. Speaking in Parliament on April 26, the President emphasized that negotiations cannot have any conditions imposed by foreign creditors. The President also stated that Sri Lanka could easily negotiate without conditions.
The negotiations with foreign creditors are expected to cover the restructuring of local debt as well. While no final decisions have been taken yet, the Minister of State and Governor of the Central Bank have stated that discussions are ongoing.
https://bizwatch.lk/sri-lankas-president-warns-of-stock-market-closure-if-debt-restructuring-leads-to-crash/
Ceylon Tobacco PLC Chairman Statement
We expect the operating environment to remain challenging in the short to mid-term amidst the ongoing impact of the economic crisis in Sri Lanka. Recent upward revisions to income tax rates and inflationary pressures are expected to continue to impact disposable income levels and by extension, demand for products while increasing pressure on margins. We however continue to remain optimistic of the economy's medium-term prospects given the ongoing reforms initiated by the Government. Notwithstanding these uncertainties, CTC is well equipped to navigate the path ahead.
https://cdn.cse.lk/cmt/upload_report_file/460_1682413467551.pdf

Singapore based GoodHope's announce Sri Lanka delisting
Wednesday May 17, 2023 5:52 pm
ECONOMYNEXT – Four listed subsidiaries of Singapore based Goodhope Asia Holdings Ltd (GAHL) related to edible oil, announced de-listing from Sri Lanka's Colombo stock exchange (CSE) as the mother company has agreed to buy back shares.
Good Hope. Indo Malay, Selising and Shalimar (Malay), as per a decision taken by the board of directors at the meeting held on May 17 has decided to de list the shares of the respective companies with a total around twenty-two billion rupees of market capitalization, from the official list of the CSE.
https://economynext.com/singapore-based-goodhopes-announce-sri-lanka-delisting-120811/
Nestlé Lanka to exit from the Colombo Stock Exchange
May 3, 2023  
Nestle Lanka, part of the global 'good food, good life' food giant, on Wednesday announced that it was exiting from the Colombo Stock Exchange (CSE) as listed stock.
In a statement, it said the company has been actively seeking ways to have a more efficient operation to enhance its contribution to the country even further.
"Therefore, our Board of Directors has authorised the proposal to delist Nestlé Lanka from the Colombo Stock Exchange, subject to necessary approvals and clearances. The delisting will also help the company strengthen its focus on core business activities, whilst upholding Sri Lanka's statutory reporting and compliance requirements," it said.
Having operated in Sri Lanka for over 115 years, Nestlé Lanka's deep-rooted bond and commitment towards the country and its people remains strong. In this journey, the 'Good food, Good life' company has worked closely with its stakeholders to positively impact families, communities, and the planet. The company also furthered its investments in 2022, including the capacity expansion of its factory in Kurunegala, and initiated a biomass boiler project in 2023.
https://sundaytimes.lk/online/news-online/Nestlé-Lanka-to-exit-from-the-Colombo-Stock-Exchange/2-1141694


Last edited by God Father on Thu May 18, 2023 10:11 am; edited 1 time in total