This topic is little hard to digest and many think it is impossible to model markets like CSE.
But on the contrary, mathematical modeling can be used to simulate almost every thing in the universe.
There are many tools available for data mining and pattern recognition. Although retail investors don't use these tools a lot, Institutional investors dedicate much of their time and money on these.
This particular software was introduce to me by a friend of mine who use it for Forex trading.
It is called Eurequa and available free to download here : http://creativemachines.cornell.edu/eureqa
Eureqa is product of Cornell University, Creative Machines Lab.
It is very easy to use and they have videos demos here : https://www.youtube.com/watch?v=NhC1Qb-PQ5Q
The core concept of it is, for any graph (in our case share price vs time) there must be a mathematical function which could express it. On the other hand If there is a function, Its variables can be set to predict outcome of unknown circumstances.
Eureqa utilizes every last bit of processing power your computer has to find out that mathematical function. (you will get a better idea once you go through the tutorial)
I have no expert knowledge about this as I'm also at the binging stage.
Did a couple of trials to get to know the SW. Following are the screen shots of it.
Data set (I used NTB price data from Jan 2010 to May 2011)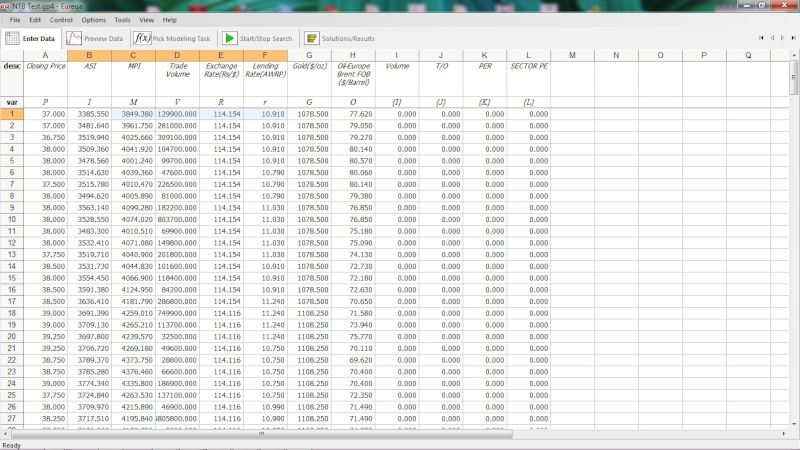 Data is self explanatory(see column header).
Also there was a discussion about in-put data here ↓
http://forum.srilankaequity.com/t4176-neural-network-approach-for-market-prediction-inputs
Equation editor: There are numerous permutations and combinations you can try. Who knows which work best. Some mathematical knowledge can be very useful here, but if you have a couple of i7 processors you can do a brute force(Eureqa can utilize multiple processors)
Performance Statistics:
Solution : This is not the best solution of course. I got something like Price = 0.020457916*sma_var(M, 2.6153038) + sin(sma_var(V, 0.95265609)) - 0.0034790761*sma_var(M, 126.97508) - 39.772396 after few minutes, but this need to be run for hours and may be days. (still working on it)