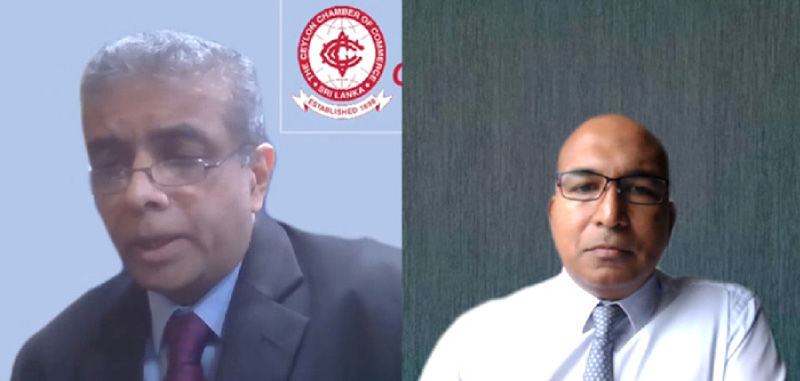 Ceylon Chamber of Commerce Chairman Dr. Hans Wijayasuriya (left) and Colombo Stock Exchange Chairman Dumith Fernando
Online platform of eminent speakers to run parallel tracks to serve investors from around different time zones
The Sri Lanka Investment Forum 2021, a three-day virtual event to engage and attract foreign investment into Sri Lanka will commence on 7 June. The forum, jointly hosted by the Board of Investment, together with the Ceylon Chamber of Commerce and the Colombo Stock Exchange targets to attract over 1,000 direct investors, portfolio investors, sovereign wealth, private equity funds and many more on to the platform. 
The forum aspires to present multiple investment opportunities across Sri Lanka showcasing its advantages in the region, and provide regulatory information together with networking opportunities with government agencies and industry leaders. The Sri Lanka Investment Forum 2021 targets investors from around the globe, and sessions will be hosted in two time zones to make it accessible for investors from all over the planet.
Addressing a media briefing on the event, Board of Investment Chairman Sanjaya Mohottala said Sri Lanka is at an inflexion point and is looking to double its GDP. He added the forum and its platform will be a great opportunity for investors and policy-makers to take advantage of this renewed effort to position Sri Lanka as a growth hub in the region. 
Joining the discussion, Colombo Stock Exchange Chairman Dumith Fernando noted one of the primary objectives of the forum is to dissipate some of the misinformation on Sri Lanka around the world. "There is lots of misinformation, dramatisation and speculation. In some ways, everything has changed due to the current environment and that's not unique to Sri Lanka. In many other ways nothing has changed. We want to cut through the noise and get people to focus on the facts and figures and focus on FDI."
"We don't want to tell stories, instead we will place facts before everyone and invite people to take advantage of Sri Lanka. The worst thing people can do is stay quiet at a time like this. There is no better time or worse time and we cannot create a vacuum in information or knowledge."
The CSE Chairman also pointed out that stock market alongside the banking sector and conglomerates have returned good results last year despite the uncertainty posed by the pandemic. Fernando also stressed the Sri Lanka Investment Forum would not simply be dismantled after its three-day run, but instead work to produce an ongoing dialogue and gateway for investment. 
The Sri Lanka Investment Forum will feature sector-specific sessions featuring public and private sector experts across industries. Speakers will include existing foreign investors in Sri Lanka, who will detail their operating experience in the country and the advantages presented by the destination. In addition to Keynote Speeches from the President and Prime Minister of Sri Lanka, Sri Lanka Investment Forum will feature presentations from World Bank Country Director Faris Hadad-Zervos, IFC Regional Vice President Asia and Pacific Alfonso Garcia Mora, Brandix Chairman Ashroff Omar, John Keells Chairman Krishan Balendra, Nishan De Mel of Verite Research, Justice Minister Ali Sabry, and many more. 
Ceylon Chamber of Commerce Chairman Dr. Hans Wijayasuriya said the forum presents a double-sided opportunity whereby Sri Lanka could showcase its multiple investment opportunities to the world, whilst global industries could promote themselves to the Sri Lankan business community. Thereby there is opportunity for growth for all concerned. Dr. Wijayasuriya stressed the importance of ensuring this becoming an ongoing discussion on Sri Lanka as an investment destination, and build and ongoing investment funnel – or prospect list – that is at least five times the annual targets so it could be harvested over the years to follow. 
"This is the beginning of a journey. A digital platform offers the opportunity to connect some things that you may miss on a physical platform. Every institution will have the information and technology to follow through. Investors on the platform can see the key focus sectors and subsectors and log onto parallel to visit preferred areas. The website and tracks will cater to Asian, European and US markets as the focus is global. Many State institutions have already put up their projects online, and several sectors already listed," Dr. Wijayasuriya said.
The website has already listed projects from apparels, agriculture, education, export manufacturing, infrastructure, tourism and leisure, wealth management and portfolio investment, banking and many more. With the Colombo Port City bill being ratified, it is likely there will be great interest in this sector. BOI Chairman Sanjaya Mohottala averred the Port City and Sri Lanka development story go hand-in-hand as there is now a symbiotic relationship between both. He added that Sri Lanka received $ 2.3 billion in investment last year despite the pandemic, and this figure could be enhanced significantly with this current initiative and the Port City.
https://www.ft.lk/business/Investment-Forum-2021-aims-gamechanger-for-Sri-Lanka/34-718577?fbclid=IwAR0SFsjSEmwSkJT68TPok0JlYC_jCkB-O0xHYHz2mCZT7kGJ8mYCVnBI6T8