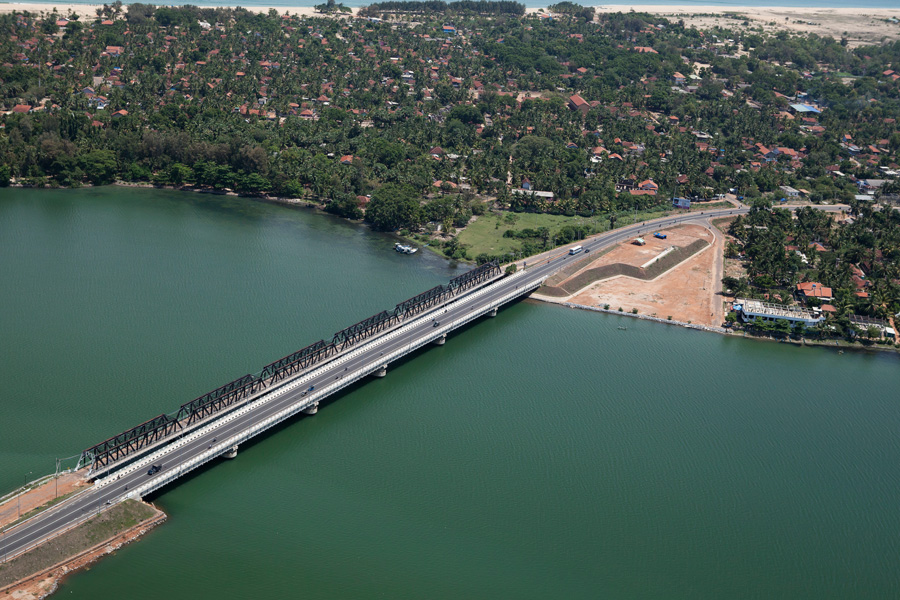 One thousand new bridges will be added by December making the whole Sri Lanka one big metropolis, Chief Government Whip and Highways Minister Johnston Fernando said yesterday.
He was speaking to the media after participating in a progressive review meeting at his ministry along with officials to evaluate the 5,000 bridges project, of those 1,000 will be completed by December 31.
The Minister said that instructions have been issued to the Road Development Authority (RDA) and State Development and Corporation Officials not to delay development projects because of the pandemic. The project covers all electorates and the priority has been given to building bridges in rural and villages. "Targets have been set against the calendar and I have faith in officials that they will be achieved their duty on time," the Minister said.
"It is well known that development does not move forward from where the roads and connectivity end.
The new bridges will bring about 5,000 new connectivity opportunities spreading many benefits including culture, restaurants, music and businesses. The Southern Expressway reduced the time taken to travel from Colombo to Galle to one hour from three hours and Colombo to Matara to one and a half hours from four hours taken for travel along the normal road.

The people who have similar distances to their preferred destinations in future will not change their residence from their hometowns. What they earn in the capital would be spent at those places. A well connected road network will develop the country's all-round capacity for progress and sustainability. The road construction and maintenance benefit both urban and rural sections. Such a good road network is the future of all our children. In time, the whole of Sri Lanka will be one big metropolis," the Minister said.
He said that discussions have been held with the officials on maintaining the continuous work adhering to the health guidelines and regulations. "One thousand of the 5,000 bridges will be completed as promised in President Gotabaya Rajapaksa's 'Vistas of Prosperity and Splendour' programme before the year end. Prime Minister Mahinda Rajapaksa wants this project to be carried out on time and we have the guidance and directives of Presidential Task Force for Economic Revival and Poverty Alleviation Chairman Basil Rajapaksa in this regard," the Minister said.
Rural Roads and Other Infrastructure State Minister Nimal Lanza was present.
http://www.dailynews.lk/2021/06/14/local/251539/country-will-be-one-big-metropolis-year-end-%E2%80%93-minister-johnston