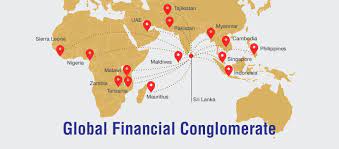 Cementing its position as the world's largest multi-currency and multi-geographic microfinance service provider, LOLC Group is set to acquire 73.39 percent of Kenya's Key Micro Finance Bank (KMFB), while consolidating its position in Tajikistan by acquiring the remaining 25 percent of Karat, (LLC LTMKh and LLCTMKhL) and 100 percent stake in Fazo-S Microcredit Deposit Organisation.
LOLC Group, through its fully-owned subsidiary LOLC Mauritius Holdings Limited, has secured the regulatory approval from Kenyan authorities to acquire a 73.29 percent stake in KMFB for a Sh237 million (US $ 2.1 million), according to media reports.
Kenyan authorities have exempted LOLC from rules, which impose a 25 percent ownership limit in microlenders for a period of four years (until December 31, 2025).
According to a market disclosure filed by LOLC yesterday, KMFB has three branches and one deposit taking marketing unit located in the Nairobi and Meru countries of Kenya.
LOLC is expected to support KMFB to revamp its core banking system to improve efficiency to compete in Kenya's tough microlending environment. Further, Kenyan microlender is also anticipated to access global capital through multilateral funding partners ranging from development funding institutions to commercial banks at favourable terms.
Meanwhile, LOLC also announced that it has acquired the remaining 25 percent of Karat (LLC LTMKh and LLCTMKhL), which has a licence authorising it to conduct microlending and gold loan business in Tajikistan.
Last August, LOLC entered Central Asia with its maiden investment in the region through the acquisition of a 75 percent stake in Karat.
In addition, the group has also acquired a 100 percent stake in Fazo-S Microcredit Deposit Organisation, a deposit taking financial institution in Tajikistan.
"With 100 percent ownership in both these entities, LOLC Group is well positioned to roll out its business model and offer a wide range of products to the Tajikistani market. Tajikistan, with a population of 9.5+ million people and a lower GDP Per capita of US $ 859 presents tremendous potential for rolling out LOLC's highly successful MSME model that specialises in serving bottom-of-the pyramid clientele," LOLC said.
Since its maiden global microfinance investment in Cambodia in 2007, LOLC has expanded into a number of countries including Indonesia, the Philippines, Pakistan and Myanmar, while as of late, the focus has been shifted to East African nations such as Malawi and Tanzania as well as Central Asia.
https://www.dailymirror.lk/business-news/LOLC-enters-Kenya-consolidates-its-position-in-Tajikistan/273-230820