Ever seen the bids submitted at an T Bond auction?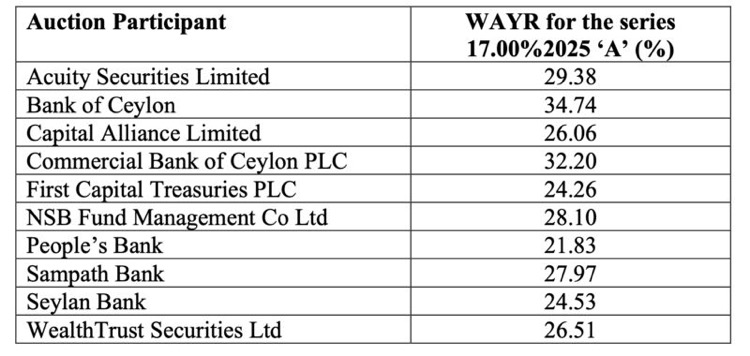 For the first time ever,
#CBSL
published the weighted average yields (WAYs) of the bids submitted by different primary dealers.
At today's T Bond auction, WAY of the 3 year T Bond was at 22.01%.
However, CBSL could only accept 66% of the offered amount.
Given that there was a significant dispersion in bid yields submitted by auction participants, CBSL decided, for the first time ever (to the best of my knowledge), to publish the WAY of each participants' bids.
This provides an insight on how each participant viewed where the 3 year rate would end, subject to their liquidity position/preference.
This provides increased transparency to the investors and general public, on  the interest rate view of key players in fixed income securities.
https://www.cbsl.gov.lk/sites/default/files/cbslweb_documents/press/pr/press_20220428_treasury_bond_issuance_held_on_28_april_2022_e.pdf