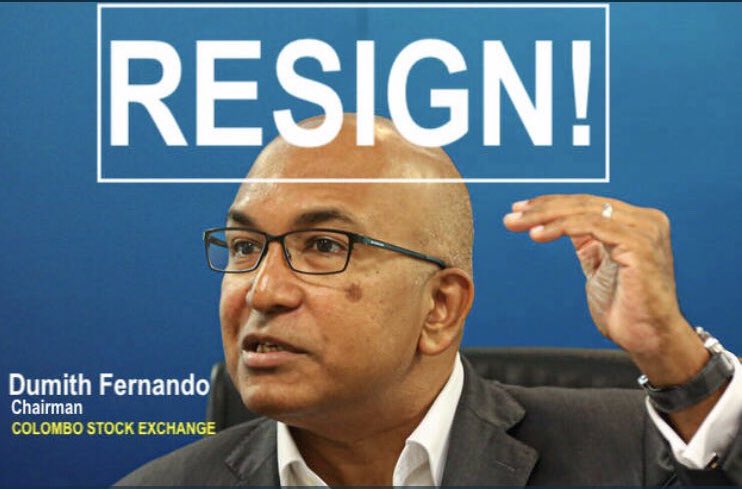 CSE Chairman Dumith Fernando was compelled to resign from the Chairmanship of the CSE prematurely without serving its full term of 3 years in office due to serious investor pressure, misconduct and clear conflict of interest in discharging his offiicial duties.
Mr Fernando alleged to have placed increased emphasis and importance relating to his own business activities of Asia Securities in conflict with overall direction and objectives of the Colombo stock market and its participants.
Further during his terms Mr Perera has not been able to attract much desired foreign investment into Sri Lanka unlike his predecessors, which has been one of the main causes of current economic crisis due to depletion of foreign currency reserves. CSE has previously contributed to the country's economy significantly by serving as the main conduit to bring foreign investments in to Sri Lanka.
Mr Fernando was appointed in 1st July 2020 and has resigned within less than 2 years in office. As per the Memorandum and Articles of the CSE, the Chairman is entitled to serve period of 3 years in office.
Mr Dumith Fernando will continue to serve as the Chairman and majority shareholder of the leading Stock Brokering company Asia Securities (pvt) Ltd.
According to market sources CSE Chairman Dumith Fernando's premature Resignation from the Chairmanship of CSE is a blessing in disguise.
Article 49 of CSE Memorandum of Articles is given below:
"49. The Chairman of the Board shall be elected from among the Elected Directors and such election shall take place annually. Nothing in These Presents shall prohibit the re-election of the same Elected Director as Chairman provided that no such Chairman shall hold office for more than three (3) consecutive years from the date of his appointment unless re-elected unanimously by the Board."
https://cdn.cse.lk/pdf/cse_articles_of_association.pdf
Mr. Dumith Fernando appointed as the New CSE Chairman in 1st July 2020
The Colombo Stock Exchange (CSE) yesterday announced the appointment of Mr. Dumith Fernando as the Chairman of the Board of Directors of the CSE with effect from 1 July.
Mr. Fernando has served on the Board of the CSE since 2017 and succeeds Ray Abeywardena, who steps down as the Chairman after completing his three-year tenure.
https://www.asiasecurities.lk/news-room-article/mr-dumith-fernando-appointed-as-the-new-cse-chairman
Dilshan Wirasekara appointed as new CSE Chairman
Dilshan Wirasekara has been appointed as the new Chairman of the Colombo Stock Exchange.
He succeeds Dumith Fernando who served as Chairman since July 2020 has informed the Board of his intention to retire by rotation on 23 June at the conclusion of his current term as a Director.
Subsequently, at its regular monthly Board meeting held on 19 May, the Board of the CSE elected Director Dilshan Wirasekara to succeed Fernando as Chairman with effect from 24 June 2022.
https://www.ft.lk/front-page/Dilshan-Wirasekara-appointed-new-CSE-Chairman/44-735189#.Yore8K1S63w.twitter