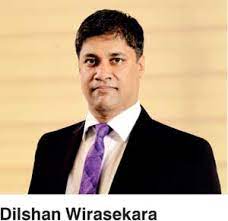 CSE Chairman nominee Dilshan Wirasekara was previously suspended by NTB for insider dealing on forex trading.
News Article appeared on Sunday Times on  August 23, 2009
Nations Trust Bank (NTB) has stopped an 'inflated' remuneration scheme for its treasury operations department staff on the back of a massive foreign exchange loss totalling Rs 800 million, which saw two top officials leave the bank. Separately, Securities and Exchange Commission (SEC) officials confirmed that a probe was underway on possible insider dealing into share sales deals by NTB Chairman Ajit Gunewardene, prior to the discovery of the forex loss.
In June the bank said it has discovered a breach of procedure in its dealing room leading to an exchange loss, but that gains from other treasury operations will offset this loss to a 'great extent' and the impact on the bottom line.
The Central Bank, following its own probe after the loss was reported, had found certain irregularities and informed the management. "We pointed out the exorbitant amounts of the remuneration scheme after our investigation and the bank has stopped that bonus scheme immediately," a CB official said adding that the CB also had wanted some officers held accountable by the mismanagement.
On Friday, the NTB announced that its present Chief Executive Officer (CEO) Zulfiqar Zavahir retired from his position and resigned from the Board with immediate effect. The bank also said that Deputy CEO Iftikar
Ahamed resigned with effect from Friday. It said Sarath Piyaratna, NTB Executive Director will act as the CEO till Saliya Rajakaruna, the newly appointed CEO assumes office in September.
An NTB source said Dilshan Weerasekera, Manager Treasury has been requested by NTB to show cause for his negligence.
NTB Chairman Ajit Gunewardene told the Sunday Times FT that the Board decided on the appropriate action after a detailed investigation taking into account the findings, and noted the CB didn't request 'us to dismiss officers concerned.'
He said while it was an foreign exchange loss, there were no CB regulations that had been breached. Asked about the SEC probe, he said: "I am aware of an SEC investigation in general and a query made today to my brokers with respect to my share transactions of NTB. I certainly haven' bought or sold any shares of NTB since the date that I was made aware of the issue which was June 12."
Referring to huge commissions on forex trading, one banking analyst noted that the 'greed factor' stimulates some bankers to cut corners and ignore certain 'gray' areas. "Due to the exorbitant treasury bonuses, these officials take 'disproportionate' risks. This is by no means unique to NTB," he said.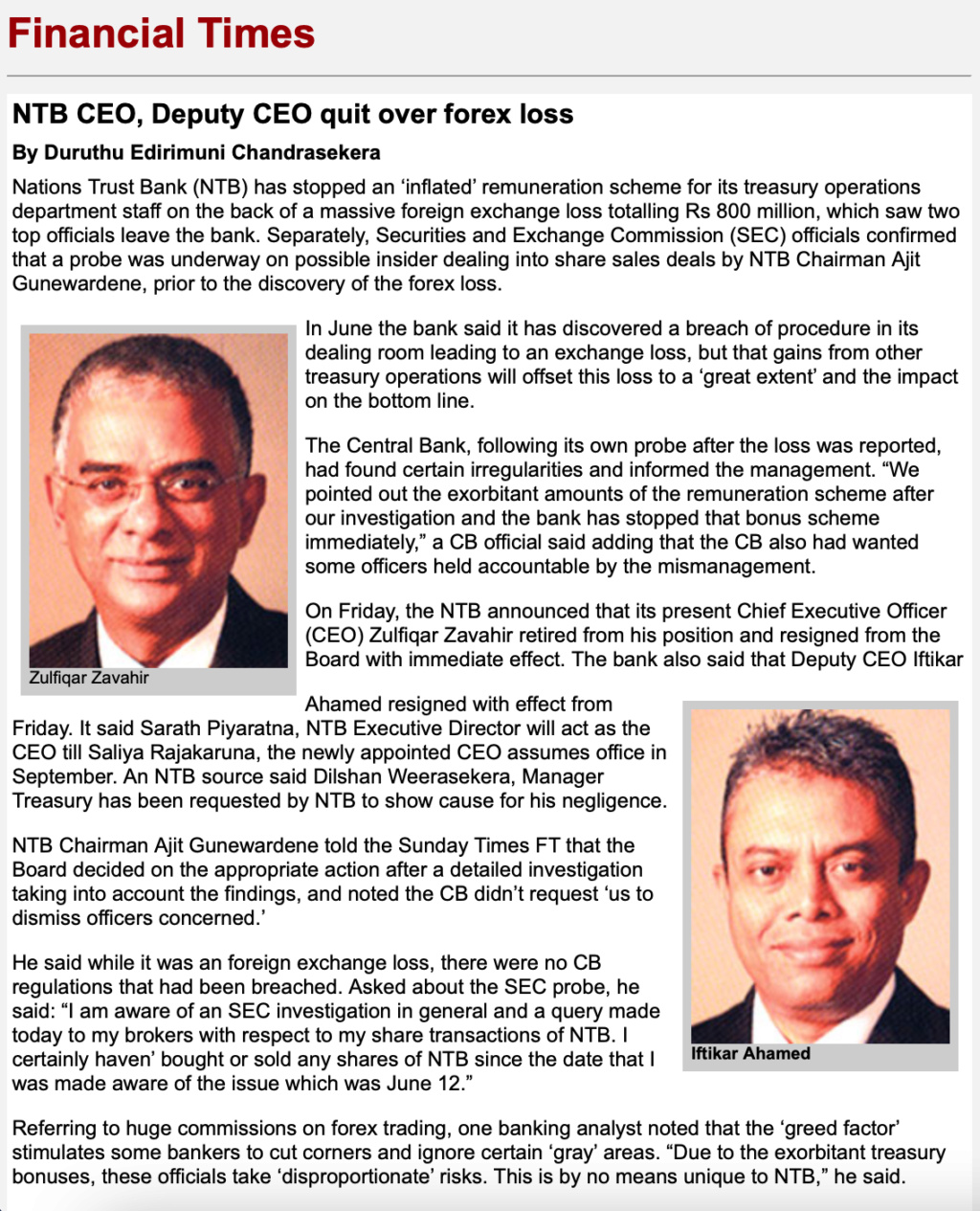 https://www.sundaytimes.lk/090823/FinancialTimes/ft05.html
Unfit & Improper: Did First Capital Holdings (CFVF) appointed former Manager Treasury of Nations Trust when Bank faced the Forex Scandal Loss during Zulfiqar Zavahir's and Iftikar Ahamed's Time?
Dilshan Weerasekera, former Manager Treasury at Nations Trust Bank (NTB) when NTB reported a Forex Loss of Rs.800 million has been recently appointed to CFVF = First Capital Holdings PLC.
How Dilshan was appointed as a Fit & Prpoer personal to head CFVF and it is a question whether after doing such a loss with two to three trades happened in a Listed Commercial Bank in the Country = NTB that was jointly owned by country's largest blue chip Conglomerate John Keells...how Dilshan is still appointed to head a Bond Market and a Primary Dealing house.
https://www.srilankachronicle.com/t37577-unfit-improper-did-first-capital-holdings-cfvf-appointed-former-manager-treasury-of-nations-trust-when-bank-faced-the-forex-scandal-loss-during-zulfiqar-zavahir-s-and-iftikar-ahamed-s-time#404267