LOLC Group enters DFCC buying 10% for Rs. 2.2 b investment via Rights Issue 


LOLC/Browns Investments already hold 10% voting stake and 46% non-voting stake in HNB and treat second largest private bank as an associate


HNB owns 15% stake in DFCC as single largest shareholder


DFCC is single largest shareholder in COMBank with 12% stake


LOLC/BIL control 27% voting stake and 55% non-voting stake in Seylan Bank


LOLC Group largest private sector shareholder in SANASA Development and HDFC Bank with 15% stake each


Multi-billionaire Ishara Nanayakkara is confirming he is bullish on the banking sector despite its challenges by expanding his footprint with a strategic entry into the DFCC, the country's pioneering development finance institution-turned commercial bank. 
Already the biggest financial services provider via LOLC Group and Browns Investments (BIL), Ishara has acquired 10% stake for Rs. 2.2 billion. This investment comes hot on the heels of over Rs. 5 billion investment last year in HNB, the country's second biggest private sector bank. 
DFCC also holds a 12% voting stake in Commercial Bank and is the single largest shareholder.
This is the formal LOLC Group/Browns Investment acquisition in DFCC.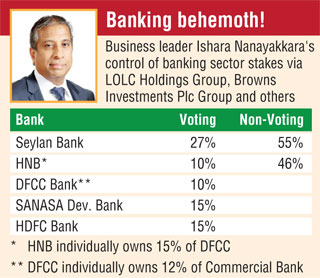 https://www.ft.lk/top-story/Banking-bullish-billionaire-Ishara-expands-footprint/26-736399