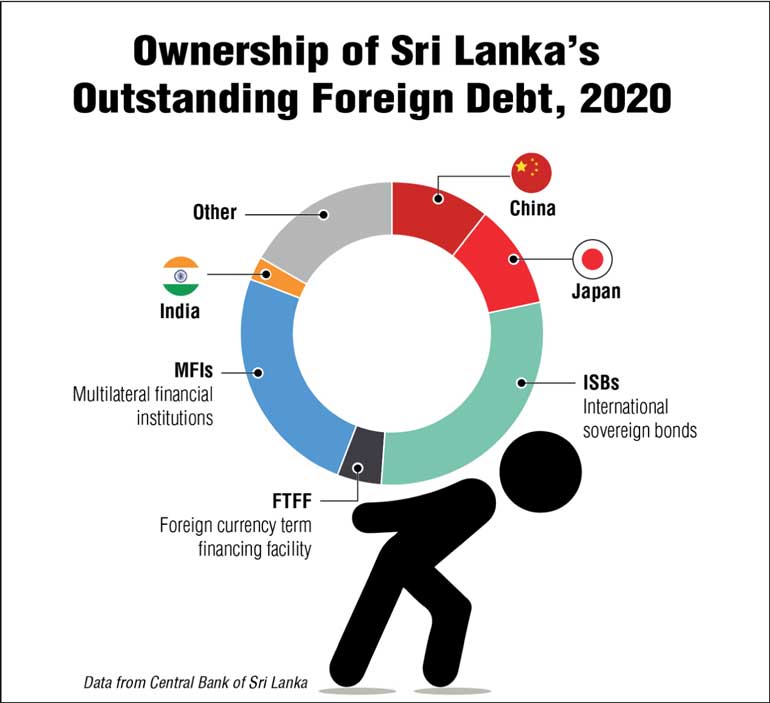 Sri Lanka was sued in the US by a bondholder after the South Asian nation defaulted on its debt for the first time in history while struggling to stop an economic meltdown.
Hamilton Reserve Bank Ltd., which holds more than $250 million of Sri Lanka's 5.875% International Sovereign Bonds due July 25, filed the suit Tuesday in a New York federal court seeking full payment of principal and interest.
Sri Lanka, an island nation off the southern tip of India, fell into default in May after the expiry of a 30-day grace period for missed interest payments on two of its sovereign bonds. It was the first sovereign debt default by the country since it gained independence from Britain in 1948.
Hamilton Reserve, based in St. Kitts & Nevis, said in the lawsuit that the default is being "orchestrated by officials at the highest levels of government," including the ruling Rajapaksa family, and accused Sri Lanka of excluding bonds held by domestic banks and other interested parties from an announced debt restructuring.
"As a result, these favored Sri Lankan parties stand to be paid principal and interest in full, while the Bonds — which are also broadly held by US retirement systems including Fidelity Investments, BlackRock, T. Rowe Price, Lord Abbett, JPMorgan, PIMCO, Neuberger Berman and other US investors — remain indefinitely in default and unpaid, causing American retirees tremendous suffering from potentially massive losses of up to 80% of their original investment value," lawyers for Hamilton Reserve said in their complaint.
A group of Sri Lanka's largest creditors, including Pacific Investment Management Co., T. Rowe Price Group Inc. and BlackRock Inc., has been set up and restructuring talks are expected to start soon, Bloomberg reported, citing people familiar with the arrangement who requested anonymity ahead of a formal announcement.
What happened when Argentina defaulted on its debt?
Around 1998 to 2002, Argentina's economy went into severe recession. On December 26, 2001, Argentina defaulted on a total of US$93 billion of its external debt; of around $81.8 billion in bonds that were defaulted, 51% were issued during this three-year period.
How much debt is the Argentina in?
The agreement, reached by consensus according to two sources, marks the 22nd IMF program for Argentina and comes after more than a year of negotiations. It replaces a failed $57 billion program from 2018, for which Argentina still owes over $40 billion. About $9.66 billion will be disbursed immediately, the fund said.
How much sovereign debt did Argentina default on?
When Argentina defaulted on more than $80 billion of debt in 2001, it led to years of litigation and legal cases taken by several disgruntled bondholders. Some roots of the present crisis can be found there.
When did Argentina pays off debt to the International Monetary Fund?
Over the past 63 years, Argentina has frequently used the resources of the IMF and holds the record for the largest loan distributed, reaching nearly $57 billion in 2018. However, in 2006 under the leadership of Néstor Kirchner, Argentina was able to pay off its debts, thus escaping Article IV IMF surveillance.
How did the IMF help Argentina?
The authorities' IMF-supported program, which was recently approved by the Argentine National Congress, aims to strengthen public finances and start reducing persistently high inflation through a multi-pronged strategy involving a gradual elimination of monetary financing of the fiscal deficit and an enhanced monetary.
Did Argentina default on the IMF?
The country faces some $17.5 billion of payments under the 2018 agreement this year which it cannot pay. "The agreement was necessary in order not to default with the IMF," said economist Roberto Geretto of Fundcorp.
Argentina Debt Restructuring offer
Argentina made a debt-restructuring offer, establishing a dialogue with creditors to ensure Argentina's long-term sustainability. The offer included a 3-year grace period, a 5.5% reduction on the bonds' principal, and a 62% reduction of interest payments.
Why did IMF fail in Argentina?
In essence, they state the IMF bailout was not fit for purpose. The report admits that the strategy was "too fragile to deal with such a high-risk scenario". In other words, the IMF not only failed to take appropriate account of the range and complexity of Argentina's problems
Which countries have defaulted on their debt?
Ukraine defaulted on its loans in 1998 and 2020. Between 2017 and 2018, the Latin American country Venezuela defaulted on its loans worth $60 billion. Greece defaulted on its debt twice in 2015 worth $1.7 billion and 456 million euros, respectively. Ecuador defaulted on its debt in 2008 and 2020
What Happened in Argentina
Upon default, Argentina's bondholders sued to be repaid 100% of their bonds' face value. Among the bondholders were vulture funds, who had speculatively acquired US$1.3 billion of the bonds' total value on the secondary market for cents on the dollar after the 2001 default. Vulture funds also owned a large quantity of credit default swaps (CDS) against Argentine bonds. This created a further incentive to not only trigger a default against Argentina; but also to undermine the value of the bonds themselves, as the CDS would pay out at a higher rate if the defaulted bonds decline to extremely low values.
The vulture funds held out for payment in full via litigation (hence their common description as "holdout" bondholders, or "holdouts"). Their legal tactics included seeking injunctions to attach future payments to other bondholders by way of forcing Argentina to settle. A similar strategy had been successfully pursued previously by vulture funds against Peru and a number of African nations, as well as against corporations in the United States itself, such as Delphi Automotive, which was forced to pay Paul Singer's Elliott Management Corporation a return of over 3,000% on corporate bonds defaulted during the 2008 recession.NML Capital Limited, the Cayman Islands-based principal vulture funds in this dispute, is also owned by Singer. NML paid $49 million in the secondary market for bonds worth $832 million by 2014. Its lobbying group, American Task Force Argentina, is the most prominent and best financed opponent of Argentine bond restructuring efforts, spending over $7 million lobbying U.S. Congressmen and becoming the top campaign contributor to a number of these; the most prominent, former Western Hemisphere Subcommittee Chair Connie Mack IV (R-FL), became the main sponsor of a bill in 2012 designed to force Argentina to pay NML nearly $2 billion before losing his Senate bid that year. Their lobbying campaign also extends to Argentina, where NML Capital finances an NGO led by Laura Alonso, a Congresswoman affiliated with the right-wing PRO party.
In August 2013, the Government of Argentina lost a U.S. appeals court case and was told it had to repay the full face value amount to these holdouts. Courts in Europe have backed Argentina on the basis of the equal terms clause, however. A third debt restructuring offer to remaining holdouts on similar terms to the 2010 swap was announced on August 27, 2013. However, meeting vulture funds' full face-value demands is problematic for Argentina, because although bonds held by vulture funds are a small share of the total (1.6%), such a settlement would lead to lawsuits from other bondholders demanding to be paid on similar terms under the agreement's "rights upon future offers" (RUFO) clause, effectively unwinding the settlement by allowing all bondholders payment in full, and creating an unaffordable liability of up to $120 billion more than at present.
As a result, Argentina has still not been able to raise finance on the international debt markets for fear that any money raised would be impounded by holdout lawsuits; their country risk borrowing cost premiums remain over 10%, much higher than comparable countries. Consequently, Argentina has been paying debt from central bank reserves, has banned most retail purchases of dollars, limited imports, and ordered companies to repatriate money held abroad. Nevertheless, between 2003 and 2012 Argentina met debt service payments totaling $173.7 billion, of which 81.5 billion was collected by bondholders, 51.2 billion by multilateral lenders such as the IMF and World Bank, and 41 billion by Argentine government agencies. Public external debt denominated in foreign currencies (mainly in dollars and euros) accordingly fell from 150% of GDP in 2002 to 8.3% in 2013.
Debt Restructuring in Argentina
he Argentine debt restructuring is a process of debt restructuring by Argentina that began on January 14, 2005, and allowed it to resume payment on 76% of the US$82 billion in sovereign bonds that defaulted in 2001 at the depth of the worst economic crisis in the nation's history. A second debt restructuring in 2010 brought the percentage of bonds under some form of repayment to 93%, though ongoing disputes with holdouts remained. Bondholders who participated in the restructuring settled for repayments of around 30% of face value and deferred payment terms, and began to be paid punctually; the value of their nearly worthless bonds also began to rise. The remaining 7% of bondholders were later repaid in full, after centre-right and US-aligned leader Mauricio Macri came to power in 2015.
As part of the restructuring process, Argentina drafted agreements in which repayments would be handled through a New York corporation and governed by United States law. The holdout bondholders found themselves unable to seize Argentine sovereign assets in settlement,[7] but realized that Argentina had omitted to provide for holdout situations and had instead deemed all bonds repayable on pari passu (equal) terms that prevented preferential treatment among bondholders. The holdout bondholders therefore sought, and won, an injunction in 2012 that prohibited Argentina from repaying the 93% of bonds that had been renegotiated, unless they simultaneously paid the 7% holdouts their full amount due as well. Together with the agreement's rights upon future offers ("RUFO") clause, this created a deadlock in which the 93% of renegotiated bondholders could not be paid without paying the 7% holdouts, but any payment to the holdouts would potentially (according to Argentina) trigger the 93% being due repayment at full value too; a sum of around $100 billion that Argentina could not afford.[8] The courts ruled that as Argentina had itself drafted the agreement, and chosen the terms it wished to propose, it could not now claim the terms were unreasonable or unfair, and that this could not be worked around by asserting sovereign status since the injunction did not affect sovereign assets, but simply ruled that Argentina must not give preferential treatment of any group of bondholders over any other group when making repayments.
Subsequently, though Argentina wanted to repay some creditors, the judgment prevented Argentina from doing so, because being forced to repay all creditors, including the holdouts, would have totaled around $100 billion. The country was therefore categorized as being in selective default by Standard & Poor's and in restricted default by Fitch. The ruling affected New York law Argentine bonds; Argentine bonds issued under Buenos Aires and European law were not affected.
Proposed solutions include seeking waivers of the RUFO clause from bondholders, or waiting for the RUFO clause to expire at the end of 2014. The dilemma raised concerns internationally about the ability of a small minority to forestall an otherwise-agreed debt restructuring of an insolvent country,] and the ruling that led to it was criticized.
Although the media widely reported that the default ended with payments to the principal bondholders in early 2016, during the presidency of Mauricio Macri, several hundred million dollars in outstanding defaulted bonds remained unpaid, which resulted in continuation of litigation. In November 2016 Argentina announced that it had settled with additional creditors for US$475 million.[
Argentina defaulted again on May 22, 2020 by failing to pay $500 million on its due date to its creditors. Negotiations for the restructuring of $66 billion of its debt continue.
https://en.wikipedia.org/wiki/Argentine_debt_restructuring