The Ceylon Petroleum Corporation (CPC) has lost millions of US dollars in fuel purchases by resorting to spot buying from the market even though there is a US$ 500 million Indian credit line to import petrol and diesel.
The over-payments for fuel consignments and demurrage for the delay in clearing shipments due to difficulty in finding dollars along with irregularities of corrupt officials were some of the reasons for these losses, an official observation report revealed.
It has been observed that the CPC has also paid a sum of US $22 million as over-payments for four consignments of fuel procured under spot purchasing recently.According to official documents relating to the payment of a recent shipment of fuel, the pre invoice of the payment received on March 22 has indicated the price of the fuel consignment as $52 million.
But the final invoice sent thereafter has stipulated the price of the same consignment as $39 million. Ignoring the final invoice, the CPC has paid $52 million in settling the payment of the shipment on April 24, paying $13 million more than the last stipulated amount.
Another sum of $9 million over-payment had been paid for three other fuel consignments totaling $22 million, the report indicated. Further a sum of $4.2 million had been paid as demurrages by the CPC for shipments delayed at the port since this government came into power.
The CPC paid $558,000 for a recent consignment of petrol imported from Vitol Company under short term spot purchasing, it added. It has been revealed that this money could have been saved if the authorities expedited the fuel shipments under the Indian credit line, it said.
The Energy Minister has called for a comprehensive report on losses in spot purchases including demurrages and over-payments made by the CPC, a senior ministry official said. Delivering on India's commitment to the people of Sri Lanka, close to 40,000 MT of petrol reached Colombo on Wednesday, the Indian High Commission in Colombo said.
With this Sri Lanka has received around 440,000 MT of various types of fuel from India with more to follow, it said in a Twitter message.
https://www.sundaytimes.lk/220508/business-times/heavy-losses-at-cpc-from-spot-purchases-of-fuel-481820.html
Priyanga|CrewForShoots


@crewforshoots

Mr. Minister, this breakdown won't help us the general public. We don't care how you priced a product. Let's talk about how to cut losses at CPC, how to reduce over staff, and show us your plan with breakdown for such matters. #EconomicCrisisLK #GoodGovernance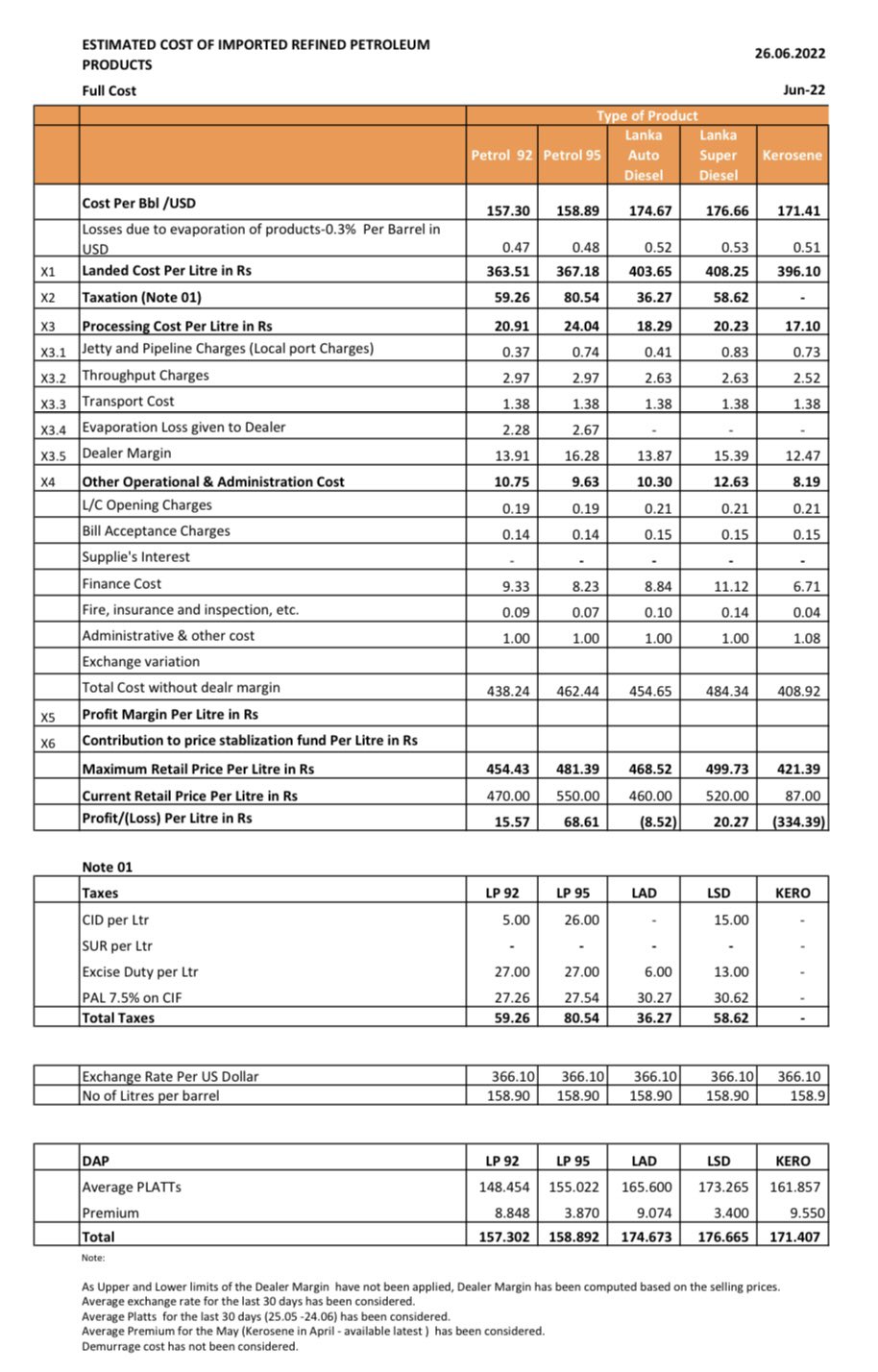 https://twitter.com/crewforshoots/status/1540911915639001088?s=20&t=XMF_gUo2snqKSulL0JzjLg
LIOC Records profits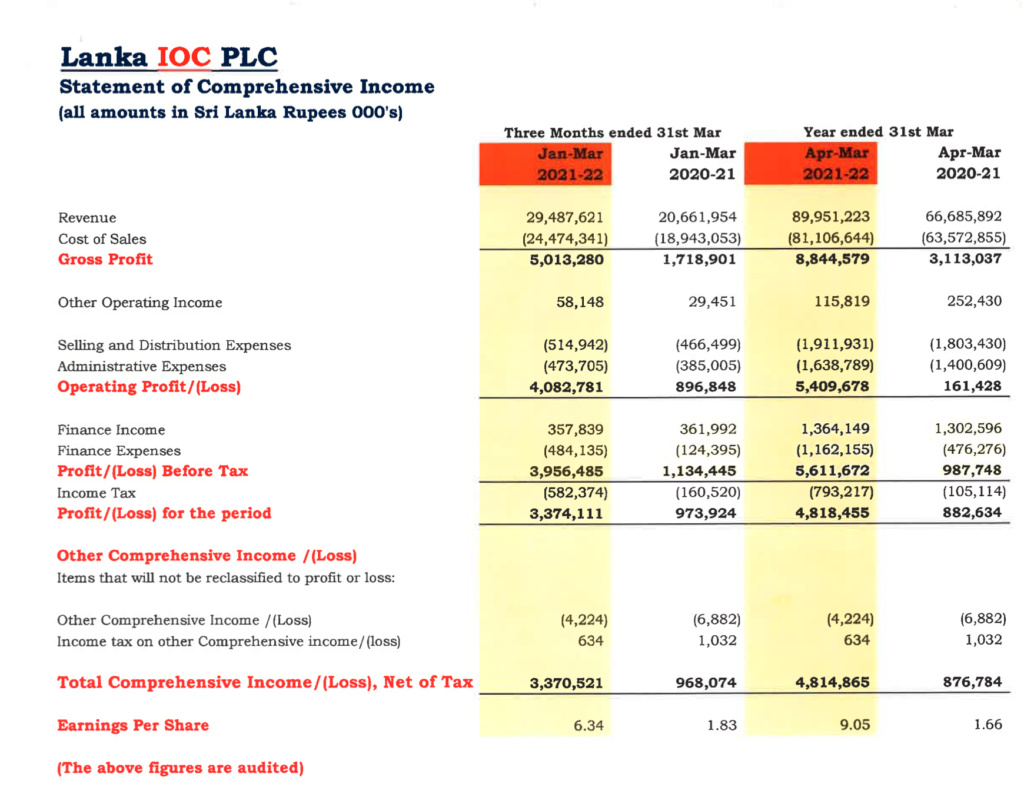 Concerns have been raised over the profits earned by Lanka Indian Oil Company (LIOC) at a time when the State-owned CPC is incurring heavy losses.
Petroleum sector unions allege that the Government is paving the way for LIOC to earn profits by letting it increase fuel prices periodically.
As per statistics, in the March 2022 quarter, LIOC had earned a net profit of Rs. 3.37 billion – 248% up from Rs. 968 million in the same quarter a year earlier.
In the year ended 31 March, the company reported Rs. 9.05 per share on total profits of Rs. 4.81 billion, from earnings of Rs. 876.8 million a year earlier.
Revenue for the December quarter was Rs. 29.5 billion, up 42.7% from a year earlier, while the cost of sales was Rs. 24.5 billion, up 29.2%, leading to gross profits of Rs. 5 billion, up 192%.
LIOC inventories increased by Rs. 17.6 billion by March 2022.
When contacted by The Sunday Morning, LIOC Managing Director Manoj Gupta said even though the company as a whole had earned profits, it was still incurring losses from petroleum sales.
"When it comes to profitability, it's not out of retail. We are a diverse group, which is into bunkering, lubricants, and petrochemicals. Why do we still need to incur losses while we are selling gas oil and gasoline? Today's loss even after the last price revision is more than Rs. 100 per litre for diesel, Rs. 120 per litre for gas oil, and close to Rs. 60 for gasoline."
Gupta also stressed on the need to introduce a transparent price formula and added: "We are looking forward to a formula to be placed. We are a publicly listed company and we have close to 11,000 shareholders. We are accountable to everyone."
https://cdn.cse.lk/cmt/upload_report_file/729_1651636803088.03.2022%20CSE.pdf