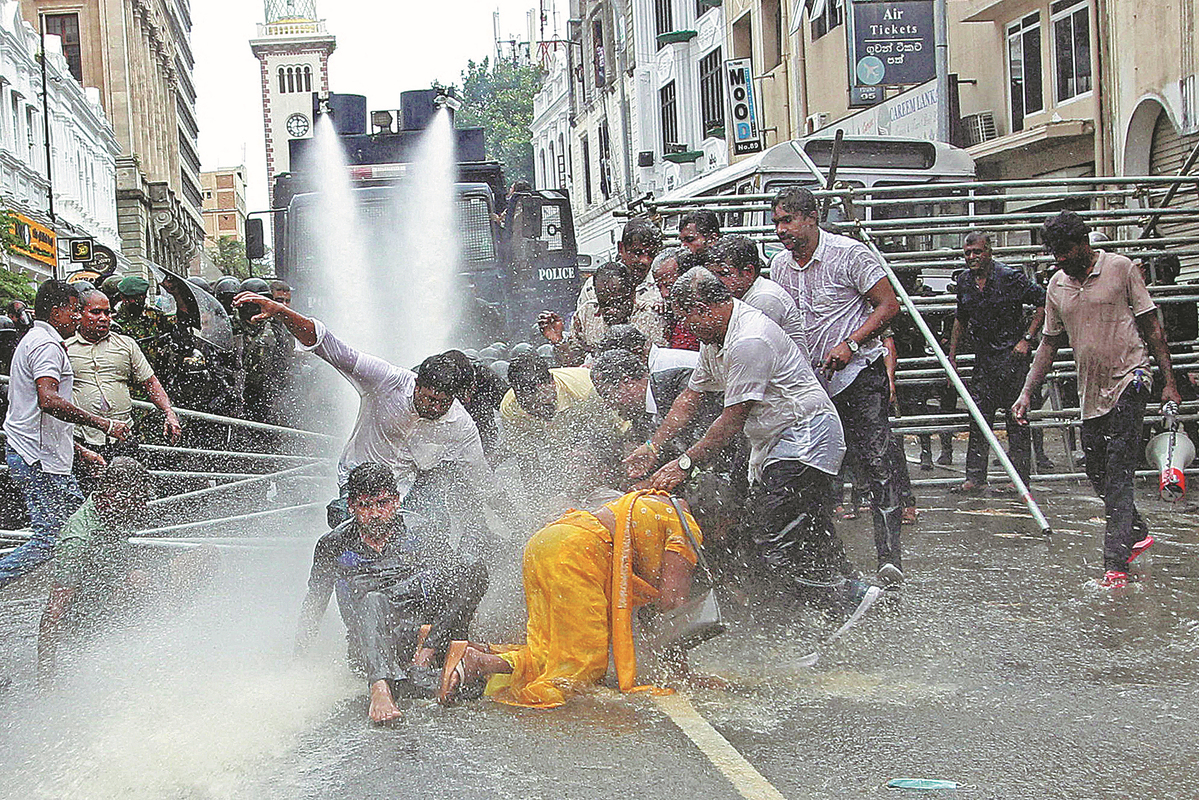 Strife-torn Sri Lanka is officially "bankrupt", according to its prime minister, with analysts saying that the country's woes will only deepen without some form of external financing.
During a 10-day visit to the capital Colombo between June 20 and 30, officials from the International Monetary Fund held discussions with Sri Lankan officials on economic policies and reforms to be supported by an IMF Extended Fund Facility arrangement.
No final agreement was reached, but some constructive progress was made during the talks, experts said.
Sri Lankan Prime Minister Ranil Wickremesinghe told parliament on Tuesday that their nation was no stranger to IMF negotiations, but that this time they were participating "as a bankrupt country", so they have to "face a more difficult and complicated situation than previous negotiations".
"Due to the state of bankruptcy our country is in, we have to submit a plan on our debt sustainability to (the IMF) separately. Only when they are satisfied with that plan can we reach an agreement at the staff level," he said. "This is not a straightforward process."
A statement issued at the end of June by the IMF said Sri Lanka is going through a severe economic crisis, with its economy expected to contract significantly this year, while inflation is high and rising.
On Wednesday, Sri Lankan President Gotabaya Rajapaksa also had a phone conversation with Russian President Vladimir Putin, during which he requested credit support to import fuel to deal with the island nation's ongoing economic crisis, the ColomboPage reported.
Rajiv Biswas, APAC chief economist at S&P Global Market Intelligence, said the COVID-19 pandemic has intensified the economic difficulties in Sri Lanka, with fiscal deficits exceeding 10 percent of GDP in both 2020 and 2021, which resulted in government debt rising to a very high level at 119 percent of GDP by 2021.
Moreover, the impact of rising global oil prices during the first half of this year has intensified the nation's macroeconomic crisis due to surging CPI inflation and escalating costs for energy imports.
"Sri Lanka has faced protracted macroeconomic difficulties in recent years due to its high external debt burden and depletion of its foreign exchange reserves," Biswas said.
In June, Sri Lanka's CPI inflation rate hit 54.6 percent year-on-year, the highest rate since 1954, due to soaring energy and food prices. "With its foreign exchange reserves having fallen to very low levels, Sri Lanka has been unable to pay for imports of essential items, notably fuel," Biswas said.
Wickremesinghe also said on Tuesday that Sri Lanka will also face difficulties next year and the government's immediate plan was to control inflation, which is predicted to rise to 60 percent by the end of this year.
On the same day, the Sri Lankan cabinet of ministers appointed a cabinet subcommittee to recommend policy and practical solutions to maintain the cost of living. The cabinet also appointed a food security committee.
Essentials needed
Bernard Goonetilleke, chairman of Sri Lankan think tank Pathfinder Foundation, said food, milk powder, medicine and other essentials like fuel and cooking gas have become restrictive in Sri Lanka due to the nonavailability of foreign exchange.
"Looking at the situation from the current perspective, one can assume that there is potential for the problem to get worse than what it is now," Goonetilleke said.
With only limited stocks of fuel available, Sri Lanka's Power and Energy Ministry has begun rationing fuel to the public, while schools in Colombo and its outskirts remain closed due to the lack of transport. Fuel supplies were only granted to services deemed essential such as health, trains and buses.
Sri Lankan motorists have been queuing up outside fuel stations for weeks as the worst-ever economic crisis to hit the South Asian nation has led to severe fuel shortages.
Facing its biggest economic crisis since gaining independence in 1948, the country is banking on an IMF relief package to salvage its economy.
The IMF said key issues that still need to be agreed on include far-reaching tax reforms to boost fiscal revenues and reduce fiscal deficit, as well as the need for financing assurances from external creditors about how external debt sustainability will be restored, Biswas said.
Xinhua contributed to this story.
https://global.chinadaily.com.cn/a/202207/08/WS62c7742ea310fd2b29e6b292.html