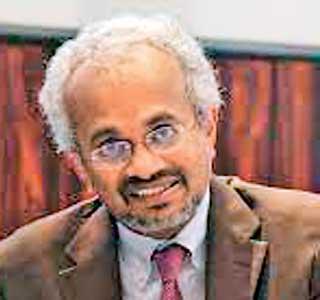 Opposition parties are broadly in agreement with proposed structural reforms under an IMF bailout package 


Staff-level agreement with IMF expected in next three weeks; programme support likely by September-October


Proposed reforms under an IMF programme to become a springboard for Sri Lanka to grow rapidly and inclusively after one and half years from now


By Nishel Fernando
Despite the current leadership vacuum in the country, a reputed economist remains optimistic of the prospects of Sri Lanka securing a rescue package from the International Monetary Fund (IMF) by September-October and following a staff-level agreement expected in about three weeks.
Georgetown University Professor and a former World Bank (WB) Chief Economist Shanta Devarajan, who is also a member of the Presidential Advisory Group on Multilateral Engagement and Debt Sustainability, told Bloomberg TV on Monday that the country's opposition groups are in broad agreement on an IMF-backed economic reform programme to overcome the current economic crisis.

"We have been informing and discussing with the entire opposition group in Sri Lanka about the IMF programme, economic reform programme and debt restructuring since January this year. So, they are fully informed. From my discussions with them, I have sensed that they are onboard and in approval of what we are trying to do. So, no matter who's in charge, they will support the IMF programme at the end of the day," he said.

Prof. Devarajan noted that a staff-level agreement with the IMF could be reached within the next three weeks, as the technical negotiations with the IMF staff are led by Central Bank Governor Dr. P. Nandalal Weerasinghe and Secretary to Treasury Mahinda Siriwardana, who are not political appointees.

"I would say despite the political unrest that has been going on and the uncertainty around who will be the next leader, the negotiations at technical level will proceed as they had been before. 
 We have a mandate to continue to negotiate and the two sides are coming very close to quite a lot of agreements in economic policies to be undertaken as part of the IMF programme," he added.

According to Dr. Weerasinghe, the IMF staff and Central Bank officials have already agreed on the monetary measures to be undertaken under a comprehensive economic reform programme supported by an IMF Extended Fund Facility (EFF) arrangement, while an agreement on several fiscal measures, including tax and SOE reforms, is expected to be reached soon.

Once a staff-level agreement is reached, Prof. Devarajan expects the country to secure the IMF Executive Board-level approval for a bailout package by September-October. He told Channel News Asia that Sri Lanka could secure US $ 3-4 billion from the IMF and multilateral donor agencies such as the WB and Asian Development Bank to get through the year.

As the country has reached the peak of the economic crisis, he stressed that bridge financing would be critical for the country to lessen the pain on its citizens, inflicted by the shortages of essential commodities.

"Right now, people are facing huge shortages of fuel, food and pharmaceuticals, with long queues with power cuts. Unless there's fresh money, this is going to continue, because you have to import these things from abroad. These hardships will continue at this level or improve a little bit over the next three to four months; I don't think they will get worse," he said.   He noted that the government has sought bridge financing from China and Japan, in addition to India, which has already provided around US $ 4 billion to the country to secure fuel, medicines and food up to now. 

Although an IMF programme would result in assuaging shortages to a certain extent by reducing pressure on foreign exchange, Prof. Devarajan noted that the shortages are likely to remain for the next six to nine months, until the conclusion of a debt restructuring exercise with the country's foreign creditors.   However, he outlined that the proposed reforms would become a springboard for Sri Lanka to grow rapidly and inclusively after one and half years from now, when the country regains access to international capital markets to raise funds.

"In a year and a half, Sri Lanka should get access to private capital markets as well. At that point, the country could start borrowing for investment purposes that could generate growth. The reforms that currently under discussions will position Sri Lanka by that time to make use of those investments for rapid and inclusive economic growth. So, in a year and half, we will see the economy resuming growth with a better income distribution," he elaborated.
https://www.dailymirror.lk/business__main/Prospects-of-SL-securing-IMF-bailout-remain-bright-despite-political-unrest/245-241049