Central Bank of Sri Lanka on 12 October 2022 increased Treasury Bill rates to record level of 33% p.a for the first time in the history. The more popular 90 day maturity TB recorded the highest increase of 190 basis points on the back of CBSL Governors controversial statement that country needs to control inflation more importantly than the interest rates sending shock waves to the investors and crashing the Colombo Stock Markets, All share Index (ASPI) more than 10% within a week.
Low inflation first, interest rate later: CBSL
https://www.ft.lk/top-story/Low-inflation-first-interest-rate-later-CBSL/26-740752
The CBSL Governors statement is a clear indication that TB rates will be further increased during next 3 months to curtail inflation. Analyst expects rates to reach high of 40% by December 2022 whilst some investors fear Sri Lanka's interest rate would reach as high as 70% as in Argentina subsequent to IMF supervision.
Argentina continues rate rises
https://www.centralbanking.com/central-banks/monetary-policy/monetary-policy-decisions/7953115/argentina-continues-raising-interest-rates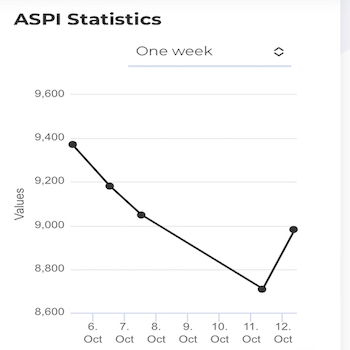 Seasonal demand for goods and services and resultant demand pull inflation of key food and services from November to January 2023 is likely to be curtailed through further increase in interest rates by CBSL. Further due to expected rise in crude oil prices and strengthening of the US dollar with Fed planning to raise rates, there is a possibility of Sri Lankan rupee may further depreciating against the US Dollar.
In these circumstances stock market is likely remain stagnant and depressed until December 2022.