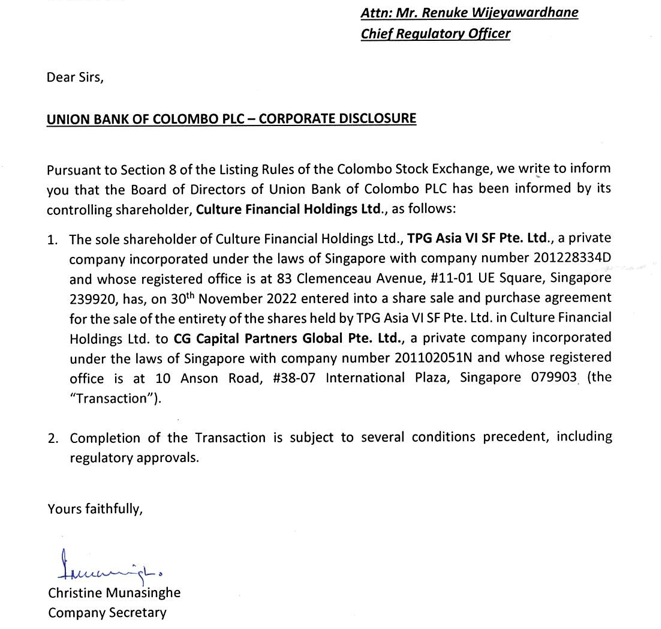 - Union Bank of Colombo (UBC) recently disclosed the change of majority ownership via CSE.
- As per the Section 12 of the Banking Act, Majority shareholders are required to obtain approval of the Central Bank of Sri Lanka.
- No KYC (Know Your Client) of the new owner who claimed to be a billionaire from Nepal.
- No Foreign currency inflow or direct foreign investment into Sri Lanka by Nepali billionaire Binod Chaudhary or his companies.
- Former Chairman/Director Alex Lovell has arranged the sale and acted in concert with current and new owners by changing ownership of the Bank via sale of shell companies established in Singapore.
- Minority shareholders are concerned about the ownership change and possible evasion of the mandatory offer.
- CSE and SEC silent on mandatory offer requirement
Section 12 of the Banking Act, new shareholders of the Union Bank Colombo (UBC) is required to obtain approval from the Central Bank and the Monetary Board for the change of ownership.
According to the Banking Act (BANKING ACT, NO. 30 OF 1988) of Sri Lanka no individual, partnership or corporate body shall, either directly or indirectly or through a nominee or acting in concert with any other individual, partnership or corporate body, acquire a material interest in a licensed commercial bank incorporated or established within Sri Lanka by or under any written law without the prior written approval of the Monetary Board given with the concurrence of the Minister.
Section 12 (1C) of the Banking Act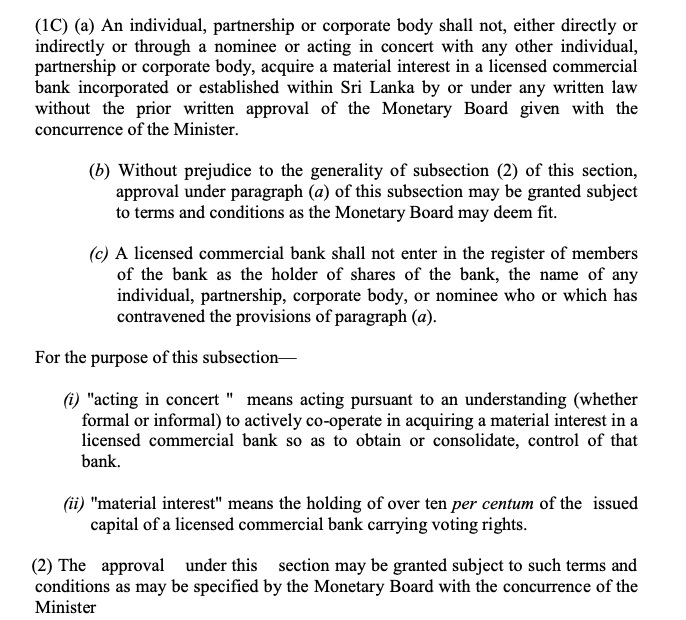 Link to the Banking Act
https://www.cbsl.gov.lk/sites/default/files/cbslweb_documents/laws/acts/en/BankingAct30_1988.pdf
Acting in Concert
Alex Lovell was appointed to Union Bank board in 2007 as a Non-Executive Director and was appointed as Deputy Chairman in December 2010. He was appointed as Chairman in May 2012 until November 2014. According to sources Alex Lovell has acted in concert with the new buyers CPG Capital and the former owners TPG in carrying the sale of the majority shareholding via a series of shell companies established in Singapore.
Applicability of Takeover and Merger Code
According to the Takeover and Merger Code of Sri Lanka "take-over" means a transaction or series of transactions whereby an individual or a company acquires control over the assets of a company either directly by becoming the owner of those assets or indirectly by obtaining control of the management of the company.
https://www.sec.gov.lk/asset/pdf/Takeovers-Code-1995-amended-2003.pdf
TPG exits from Union Bank of Colombo
TPG Asia VI SF Ltd., has exited from the controlling ownership of the Union Bank of Colombo, as per a filing to the Colombo Stock Exchange. TPG Sells out from Culture Financial Holdings which owns 71% in Lankan bank; CG Capital Partners Global of S'pore is new owner
TPG held 100% stake in Culture Financial Holdings Ltd. of Singapore which in turn holds 71% stake in UBOC. TPG has entered into a share sale and purchase agreement for the sale of the entirety of the shares held by TPG Asia VI SF Ltd. in Culture Financial Holdings Ltd. to CG Capital Partners Global ltd. a private company incorporated under the laws of Singapore.
The completion of the transaction is subject to several conditions' precedent, including regulatory approvals, according to the filing by UBOC to the CSE.
According to industry sources, the advisor to the TPG on this deal was Asia Securities. UBOC share yesterday gained by one rupee or 13.3% to close at Rs. 8.50. The public float of UBOC is 29% held by 29,000 shareholders as at 30 September 2022.
https://www.ft.lk/front-page/TPG-exits-from-Union-Bank-of-Colombo/44-742586