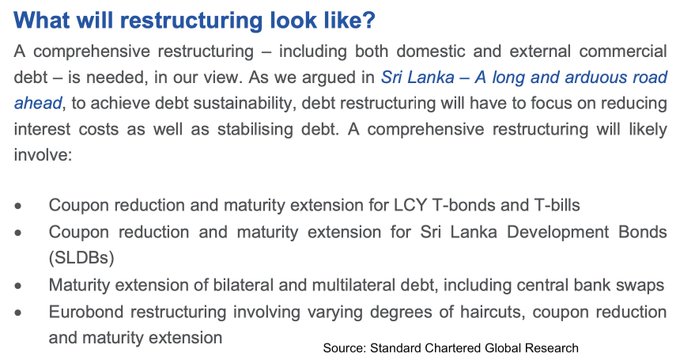 Standard Chartered - Global Research (10th January 2023)
• We think debt restructuring could be pushed back to end-2023 due to delays in the IMF programme
• Economy is likely to contract in 2023; external sector has improved due to import contraction
• Financial-sector liquidity and solvency risks are building with looming domestic debt restructuring
• We refresh our recovery model; we now see fair value between 22 and 33 at exit yields of 11-15%
IMF approval likely to get pushed back to Q2-2023
IMF board approval for Sri Lanka's Extended Fund Facility (EFF) programme has been delayed as negotiations with bilateral lenders take longer than expected. We now expect board approval to happen in Q2-2023 (versus Q1 previously) given delays in securing financing assurances from bilateral creditors. This could further delay negotiations with commercial creditors, which we expect will be pushed back to H2. As a result, we expect a restructuring deal to be reached only by end-2023. Achieving the IMF's qualitative and quantitative targets, including the timely restructuring of commercial debt, could pose challenges, potentially disrupting the IMF programme.
Against this backdrop, we expect Sri Lanka's economy to contract a further 1.0% in 2023, following an estimated 7% contraction in 2022. This would make achieving a primary deficit target challenging. We now expect a primary deficit of 2.2% of GDP in 2023, versus the 0.7% target set by the IMF; this pushes our 2023 fiscal deficit forecast to 11.0% from 9.0% previously. The suspension of external debt service and the suppression of imports have helped to balance the external accounts; a gradual recovery in remittances and tourism flows has also helped. However, we are concerned about the liquidity and solvency of the banking sector given its exposure to a weak economy and sovereign debt.
We refresh our debt restructuring model to reflect our latest views on the economy and the restructuring timeline. Based on an exit yield of 11-15%, we calculate a recovery value of 22-33 for the Eurobonds. Under our base-case assumption of a 13% exit yield, we estimate a recovery value of 28. Since our fair value estimates are similar to where the SRILAN curve is currently trading, we remain Market weight.
Download Full Report:
Attachments

SL DEBT RESTRUCTURING DELAY - SCB REPORT 2023.pdf

You don't have permission to download attachments.
(598 Kb) Downloaded 3 times