- Blue Ocean Residencies (BORL) enters the Colombo Stock Market via the acquisition of the Kelsey Development PLC (KDL).
-BORL is a company headed by wellknown property developer Sivarajah Thumilan
- BORL acquired 60% stake (10,457,564 Shares) in Kelsey Developments PLC (KDL) on 15th November 2022 for a consideration of LKR 257.25 Mn (LKR 24.6 per share).
- Independent Advisor has advised the shareholders to divest KDL Shares at the mandatory offer at LKR 24.60/=
- Only 3.7% shareholders have accepted the mandatory offer.
- Schaffter Brothers agree not to accept the mandatory offer for the balance KDL shares.
- KDL has reported a a loss per share of LKR 8.80 for the 6 months ended 30 Sep 2022.
- Net assets per share (NAVPS) of KDL as at end June 2022 was LKR 15.37.
- Share is currently trading below the mandatory offer price.
Blue Ocean Group of Companies is a pre-eminent real estate conglomerate with a well-balanced portfolio that has evolved over the years to become one of the most respected, ethically sound, and socially responsible companies in Sri Lanka. Blue Ocean Residencies is Limited headed by wellknown property developer Sivarajah Thumilan.
Since its inception decades ago, Blue Ocean Group has been one of the prominent organizations in the fields of real estate, construction, and engineering with a large customer base traced both locally and internationally.
Blue Ocean Group Company Profile: http://www.blueoceangroup.lk
Blue Ocean Residencies will be the news entry into the real estate development sector of the Colombo Stock Exchange currently occupied by Prime Land Residencies (PLR) and Millennium House Developers PLC (MHDL).
Announcement to the CSE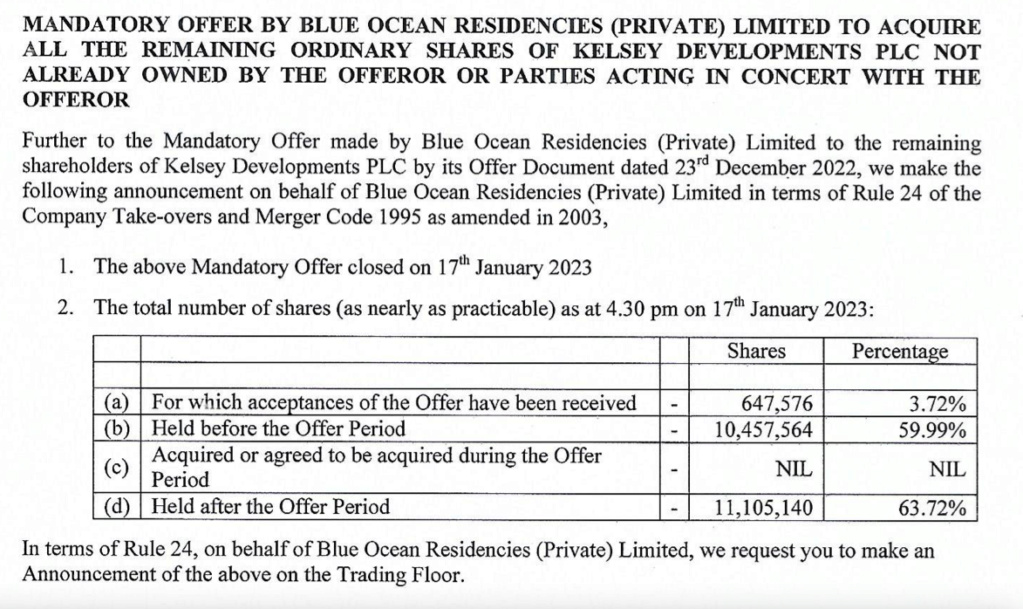 Sector comparison;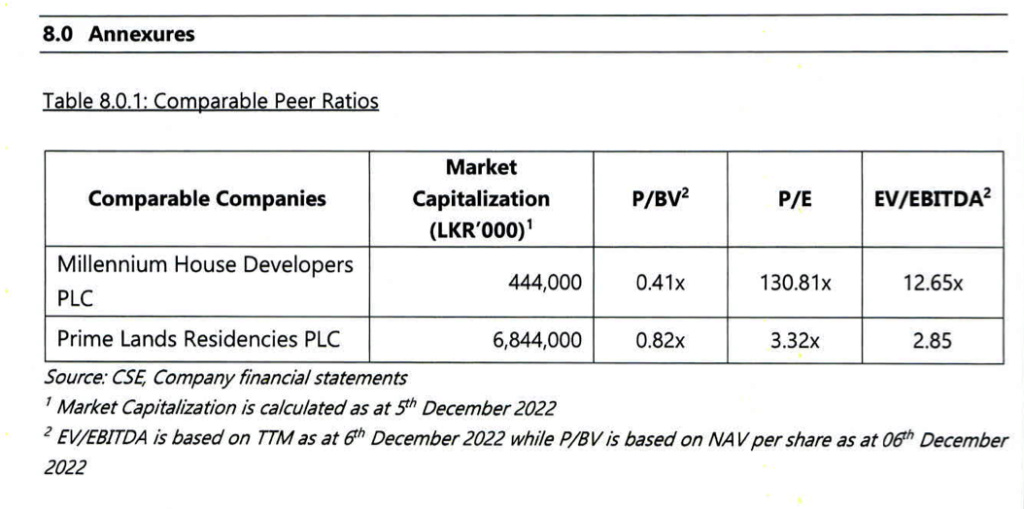 Financial Status of KDL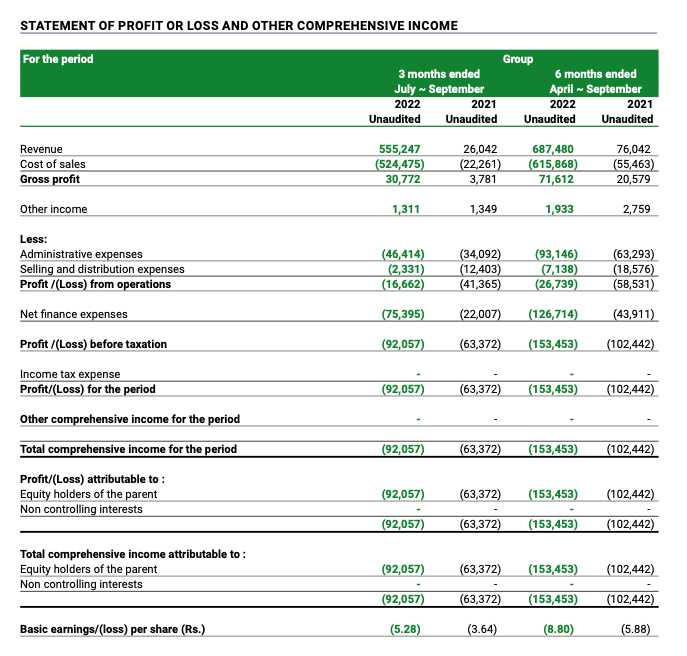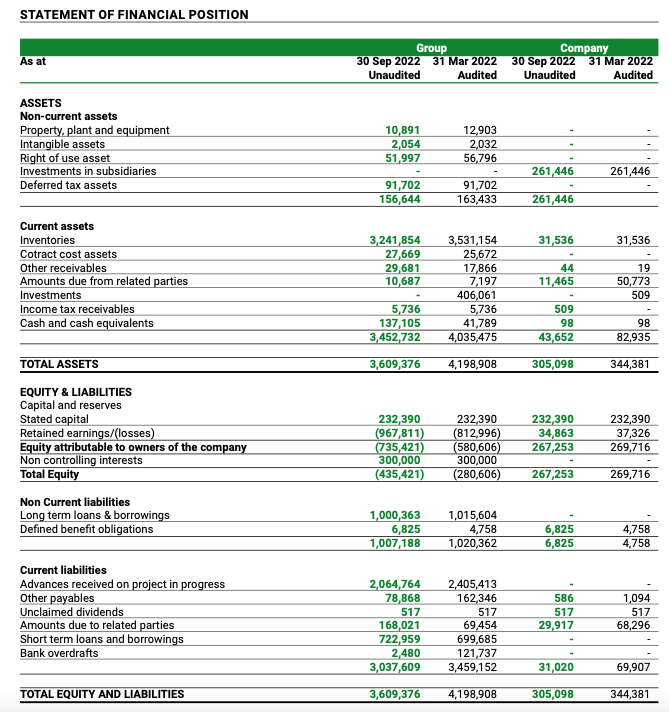 https://cdn.cse.lk/cmt/upload_report_file/625_1668767690393.09.2022.pdf
Undertaking given by Schaffters
https://cdn.cse.lk/cmt/announcement_portal_prod/KDL_Independent%20Valuation%20Report_030123_21417769274420560.pdf
Blue Ocean Group said it acquired a 60% stake in Kelsey Development PLC for Rs. 257 million. The stake amounting to 10.457 million shares was done at Rs. 24.60. The sellers were Schaffter brothers Praksah and Ramesh who held 30% each.
With the acquisition of control, Kelsey will be a member of the Blue Ocean Group, a pre-eminent real estate conglomerate with a well-balanced portfolio, founded by top professional cum business leader Sivarajah Thumilan (Pictured) who is also the Chairman and CEO.
Control of Kelsey was held by Janashakthi Ltd. and related parties. In September the parent Janashakthi Ltd., sold its entire stake of 85.24% or 14.85 million shares Kelsey to its ultimate shareholders Prakash and Ramesh with a view of restructuring the internal balance sheet of the Janashakthi Group.
With the acquisition Blue Ocean will have to make a mandatory offer to the remaining shareholders. As at the end of June 2022, the public holding of Kelsey was 14.76% held by 1,100 shareholders. Net assets per share as at end June 2022 was Rs. 15.37.
Incorporated in 1983, Kelsey Developments provides specialist operations in real estate development through two subsidiaries, Kelsey Homes Ltd. and Kelsey Homes (Central Park) Ltd. Kelsey Homes has completed over 200 projects serving over 2,000 homeowners, creating a considerable portfolio of superior accommodation.
Kelsey as at June 30 had Rs. 875.7 million in retained losses at group level and positive retained earnings of Rs. 35 million at company level. In the 1Q of FY23, Group revenue grew to Rs. 132 million from Rs. 50 million a year ago. Pre-tax loss was Rs. 61 million, up from Rs. 39 million in 1Q of FY22.
The Group currently has a number of condominium projects as well as a variety of public and government projects.
https://www.dailynews.lk/2022/11/18/business/291371/blue-ocean-group-buys-60-kelsey-developments-rs-257-mn
Condominium Management Authority files case against Blue Ocean
The Condominium Management Authority has filed a case in the Colombo Magistrate Court against Blue Ocean Group and its Directors  Sivarajah Thumilan and Surainee Thumilan.
The move follows multiple complaints since November 2019 by residents of the Blue Ocean Residencies Complex at No. 23 Moor's Road, Colombo-6. The CMA sought an ex-parte order against Blue Ocean Group due to non-completion of the condominium complex. The residents of the Moor's Road complex expect the case will be heard on 17 November.
Since 2018, residents of the Moor's Road complex have been facing many issues. It was stated that the building did not have an approved COC due to the lack of car parking facilities, fire extinguishing systems, an incomplete transformer room, electricity and water meters not installed and the non-meeting of required standards. Further, the property is also mortgaged to Sampath Bank for Rs. 45 million, with accrued interest totalling to Rs. 60 million unsettled to date.
https://www.ft.lk/business/Condominium-Management-Authority-files-case-against-Blue-Ocean/34-725750
Compiled by FINANCIAL CHRONICLE