LOLC leapfrogs 'going global' for more value creation as SL battles crises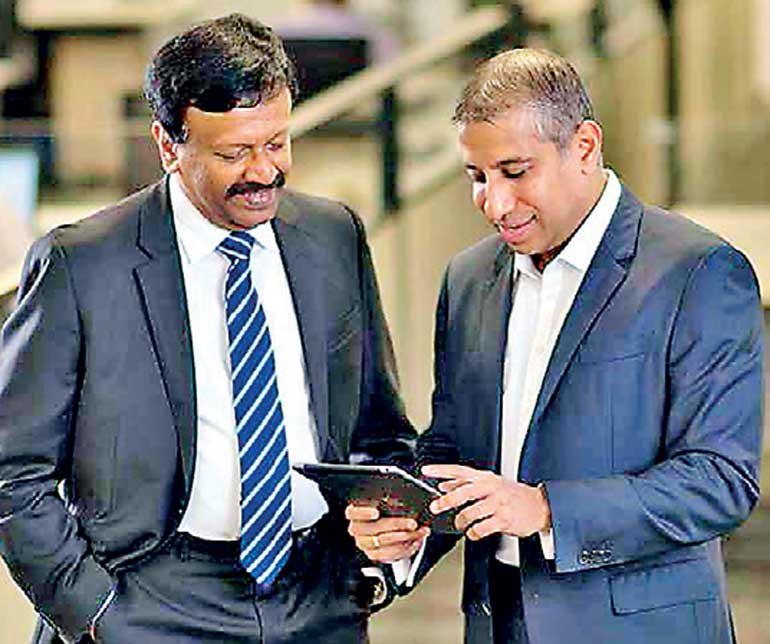 LOLC Holdings Deputy Chairman Ishara Nanayakkara (right) and Group Managing Director and CEO Kapila Jayawardena
---
Diversified conglomerate expands international foray by setting up operations in eight countries since COVID pandemic amidst local economic crises


Among new overseas ventures are gold mining in Zimbabwe, and entry into financial services in several other African countries and Central Asia 


Bulk of investments are routed through LOLC's Singapore arm; taps UAE prospect with further investments and patents


Total assets overseas nearly triple to $ 2.9 b in five years and overtake SL value for the first time


Group's global footprint in over 20 countries now employs nearly 13,000 or 40% of total workforce


Entry into giant India next big leap; North and Central America in the medium-term plan


LOLC's next unicorn tipped to be pioneering efforts in graphite and wonder material 'graphene'


Launches first dollarised corporate profile by a Sri Lankan conglomerate titled "The Spirit of Enterprise"


---
By Nisthar Cassim
---
Diversified conglomerate LOLC Holdings is pursuing an aggressive but well strategised globalisation drive to enhance value creation as the home country grapples with multiple crises.

Since COVID-19 pandemic, LOLC global footprint has grown to over 20 countries with eight added in the past two years alone. The value of assets of its overseas operations have nearly tripled from $ 1 billion in 2018 to $ 2.9 billion by September 2022 overtaking the value of Sri Lankan assets ($ 1.79 billion) for the first time. 

LOLC Group now employs over 12,000 in global operations accounting for 40% of the total. The investments and operations encompass a wide range of sectors including financial services, leisure, agriculture etc.


Deputy Chairman Ishara Nanayakkara told the Daily FT that LOLC's measured aggression will continue depending on emerging opportunities. Foray into giant India is the next big step in 2023 with North and Central America in the medium-term plan. 

LOLC now has investments and operations in Australia, Cambodia, Egypt, Ghana, Indonesia, Kenya, Kyrgyzstan, Malawi, Maldives, Mauritius, Myanmar, Nigeria, Pakistan, Philippines, Sierra Leone, Singapore, Tajikistan, Tanzania, UAE and Zambia. The Republic of Congo will be added next year along with India.
The investments are by LOLC Holdings, its Singapore registered LOLC Financial Sector Holdings Ltd., Browns Investments PLC, LOLC Technologies which among other initiatives is spearheading iPay, fintech platform OYES and the Dubai-registered "Fusion X" a next-generation, exponential, cloud-based financial services suite; LOLC Advanced Technologies Ltd., spearheading Group overtures in graphene, fortification of rice and automation solutions to apparel industry (Leapsticth).  

LOLC's first unicorn was financing Micro and SMEs (MSMEs) having struck a windfall after entering Cambodia in 2007 and expanding PRASAC in Cambodia and the eventual exit in 2020. It is now rolling out its successful MSME insurance model under the brand name "Serendib Insurance". 

The next unicorn likely to be LOLC's pioneering efforts in graphite and its byproduct known as wonder material "graphene" locally and the bold move into gold mining in Zimbabwe. It has acquired five mining sites and plans to add 10 more in Zimbabwe. Sri Lanka is the only country in the world to mine ultra-pure highly crystalline vein graphite with over 98% of carbon purity.

"Today, we are a multinational financial conglomerate focused on establishing a dynamic brand of entrepreneurs and a new middle class among the disadvantaged and underserved communities," said Ishara. "In every country we operate, we impart skills, share expertise, and drive competencies to create thriving and resilient entrepreneurs in a competitive market. Today, we are a proud partner in building emerging economies and developing nations," he added.

Group Managing Director and CEO Kapila Jayawardena said: "We are a diversified financial and industrial conglomerate with significant interests in strategic industries, nurturing and building high-performing, highly competitive, and growth-oriented enterprises in frontier and emerging economies."

To manifest its growing global footprint, LOLC has just released what could be described as the first dollarised corporate profile by a Sri Lankan conglomerate. Titled "The Spirit of Enterprise", the document showcases the breadth and depth of LOLC's sprawling global presence. 

"As a dynamic, progressive and globally diversified conglomerate, we at LOLC have mastered the spirit of enterprise," it said. "Across every one of our broad spectra of businesses, we have always assured innovative solutions that share growth, value, and progress with our stakeholders," it added.

"Today as we aspire to carry forth the value established over the years of our existence, we are nurturing and redefining our corporate strengths to positively impact the communities we serve," LOLC said in the 92-page document. The publication will be updated quarterly or half yearly depending on the urgency. 

LOLC Group interests include financial services including insurance (it is the biggest owner of stakes in multiple banks HNB, DFCC, Seylan, SDB, HDFC), agriculture and plantations, manufacturing and trading, leisure, ICT and advanced technologies, construction, mining and investments including several ground-breaking projects in the Colombo Port City. 

As per publication in the past decade, LOLC Group has seen exponential growth. Gross income had risen from $ 334 million to $ 762 million as at end FY22. Total comprehensive income swelled from $ 24 million in FY13 to $ 522 million by FY22. Total assets have seen a fourfold increase to $ 4.6 billion.

Ishara said in FY23, LOLC will focus on further maximising growth in existing overseas operations, expand businesses which have great upside, enhance value addition as well as exit certain businesses at the right price if there are opportunities. 

He said several investments undertaken in the recent past will come into fruition this year including resort and hospitality projects in the Maldives – the 470 room Bodhufaru Beach Resort in the Maldives in May and the 136-room Nasandhura Palace Hotel in Male in September. Both are managed by leading Spanish hotel company Barcelo.