More than 35% of Browns Investment (BIL) shares are mortgaged to HNB and Commercial Bank by the Brown & Company (BRWN). LOLC owns 66% of BRWN shares and 44% of these BRWN shares have been further mortgaged to Seylan Bank and HNB by LOLC. Therefore BIL is actually owned indirectly by 3 leading banks namely HNB, Commercial Bank and Seylan Bank.
Further from the latest top 10 shareholders list of LOLC Holdings PLC (LOLC), indicate that approximately 30% of LOLC shares are further pledged to 4 leading Bank namely Commercial Bank, Sampath Bank, Seylan Bank and Nation Trust Bank by the majority owner I.C.Nanyakkara.
This is clear indication of how Banks indirectly run the financial risk of Sri Lanka's leading conglomerate LOLC Holdings and its subsidiaries thereby increasing the risk to minority investors as well as the entire financial sector of Sri Lanka.
This situation would require urgent attention of the Central Bank of Sri Lanka.
Shareholders of Browns investments PLC (BIL)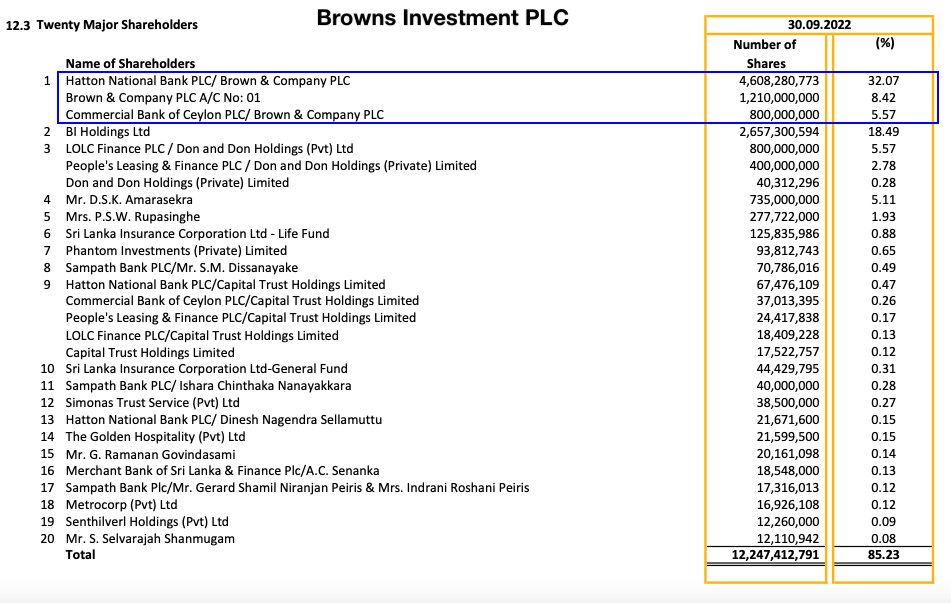 Top shareholders of Brown & Company (BRWN)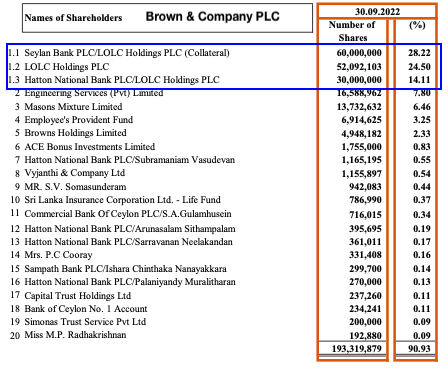 Top Shareholders of LOLC Holdings PLC (LOLC)
https://cdn.cse.lk/cmt/upload_report_file/378_1668512667827.pdf