14, February 2023, SRI LANKA. Stock Planets Research introduces Astro Analysis and NFT trading to the Colombo Stock Market. Sri Lanka's First ever Corporate NFT was launched on 14th February 2023 together with the release of its first ever Astro Analysis Report on Expolanka Holdings PLC.
Visit www.stockplanets.com for more details.
Download Report: https://www.stockplanets.com/top-planets/expolanka
The planets are celestial bodies moving in an elliptical orbit around a star. Currently, there are 290 listed companies trading in the Colombo Stock Market with 9 key companies controlling the direction of the market. We have analysed below the top 3 companies mirrored as top stock planets for the purpose of investing in shares and their representative tokens.
Movement of  these companies or the so called top planets have been tracked and plotted on graphs based on key financial coordinates such as Price Earnings (PERx) and Price to Book Value (PBVx), Market Capitalization, to determine the future movement and other changes that may affect the financial well being of the planet as well as its inhabitant investors. These financial coordinates have been defined as planet orbit period, gravity and mass, for the purpose of the astro analysis and reporting.
All investors across the galaxy can now invest in these corporate planets by purchasing NFT tokens now available in the Opensea NFT Market. NFT was launched on 14th February 2023.
Subscriber are also encouraged to subscribed to Exclusive Astro Reports now available under our featured products section which will help investors to wisely invest in shares and NFT tokens. You could access these reports by purchasing NFT Tokens.
Corporate NFT Trading: https://opensea.io/collection/stockplanets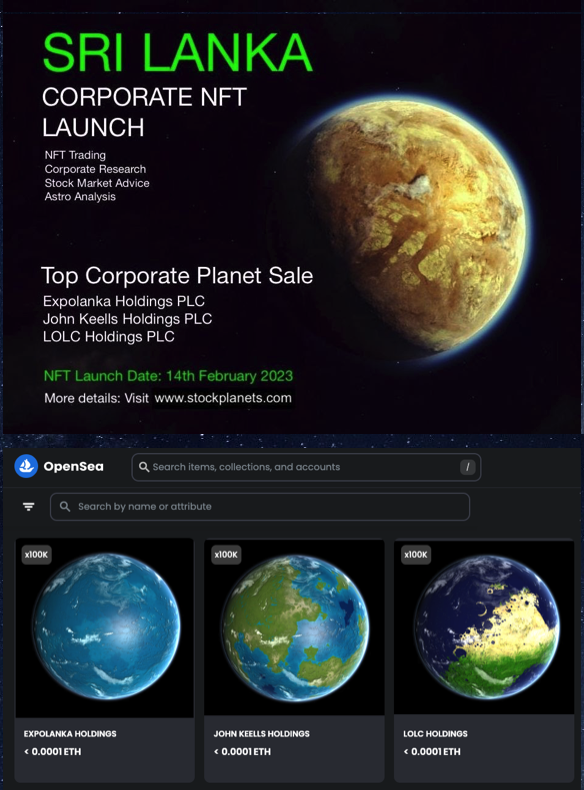 www.stockplanets.com