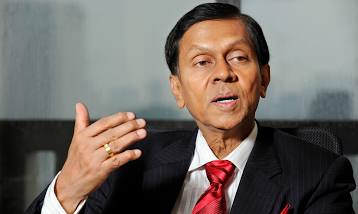 Sri Lankan civil war, which ended in 2009, Nivard Cabraal served as the Governor of the Central Bank of Sri Lanka. He implemented various measures to stabilize and boost the country's economy during that period. Some of his strategies included raising funds through international markets, implementing fiscal and monetary policies, and promoting economic growth.
If Nivard Cabraal had not been successful in his efforts to save the economy during the war, the consequences for Sri Lanka could have been severe. Economic instability can exacerbate the effects of conflicts and impede post-war recovery efforts. Without effective economic management, Sri Lanka might have experienced a more prolonged economic downturn, hindering the country's development and reconstruction.
A struggling economy could have resulted in higher levels of unemployment, reduced investments, increased poverty rates, and a weakened overall economic infrastructure. These factors can have long-term implications for social stability and the well-being of the population.
When Nivard Cabraal left in 2014, reserves were at its highest in history at $8.2 billion, up from $2.4 billion when he came in 2006. However, during Yahaplanaya, even after borrowing $10 billion in ISBs, selling Hambantota Port for $1 billion and borrowing $2 billion from China, the reserves had come down to $7.6 billion. That's where the problem was.
When Nivard Cabraal came the 2nd time in September 2021, the Reserves were at $2.0 billion, and when he left by early April 2022, it was $1.9 billion, even after paying and rolling over all loans of more than $3.0 billion and providing Forex for all businesses and imports, much more than now.
The stories that was spread that there was only $20 million in reserves when Ali Sabry became Finance Minister is absolutely false and that is clear if anyone examines the monthly CBSL balance sheets which are in the CBSL website.
Many people acknowledge that "growth during Cabraal's time was good". However, the contention that it was "loan based", is not true because when Nivard Cabraal came in 2006, the debt to GDP was 91%, and when he left in 2014, it was down to 69%. Please refer the latest CBSL Annual Report. That clearly proves that the growth was taking place at an unprecedented pace where Sri Lanka's GDP rose at its highest pace ever in its history, from $24 billion in 2005 to $79 billion in 2014, while the loans relative to the GDP was reducing. All these figures are in the latest CBSL Annual Report which you may please refer.