LOLC GROUP'S MASTERFUL GLOBAL STRATEGIES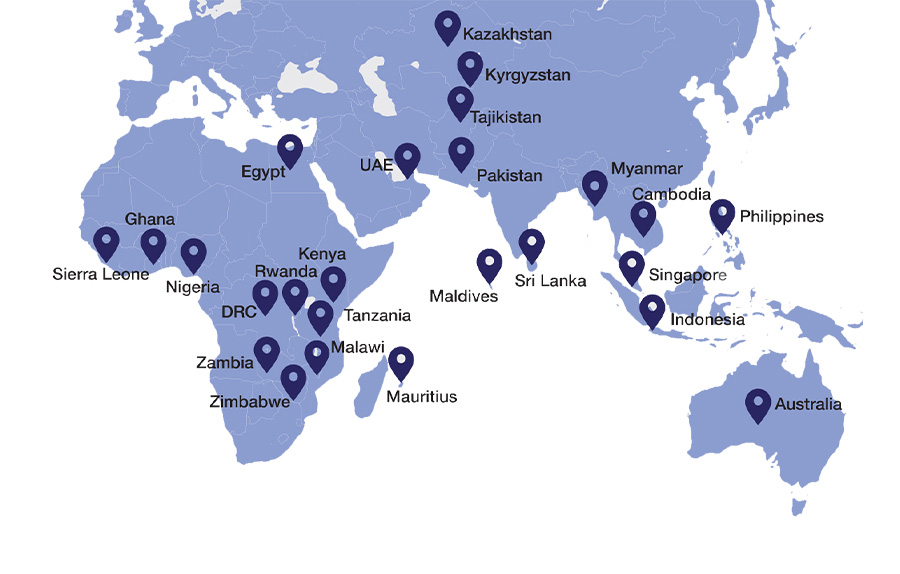 LOLC'S DULIP SAMARAWEERA UNPACKS LOLC'S SUCCESSFUL JOURNEY FROM LOCAL OPERATIONS TO A MULTINATIONAL COMPANY THAT NOW STRADDLES NUMEROUS SECTORS ACROSS MULTIPLE CONTINENTS.
In this interview, Dulip Samaraweera, Head of Global Business Development of LOLC Holdings PLC, takes a deep dive into the global reach and diverse businesses of the Sri Lankan multinational financial services conglomerate. He discusses their presence across 25 countries, strategic expansion plans, and how they navigate cultural and business nuances in diverse markets.
Can you provide an overview of LOLC's holdings, the extent of its businesses in various sectors, and its global reach?
LOLC Group has a broad global reach across 25 countries, spanning South, Southeast and Central Asia, Africa, the Middle East, and Australia. Our operations extend across Sri Lanka, Cambodia, Myanmar, Indonesia, Philippines, Pakistan, Maldives, and Singapore, to Tajikistan, Kazakhstan, Kyrgyzstan, Zambia, Zimbabwe, Kenya, Tanzania, Malawi, Nigeria, Egypt, Rwanda, Sierra Leone, Mauritius, and UAE, with further expansion planned in Ghana and DRC. Our balanced revenue stream, divided evenly between overseas and local operations, demonstrates our successful diversification strategy.
About 55% of our assets are overseas, underscoring our international strength. In terms of sectors, financial services represent 82% of LOLC Holding's assets, while the remaining 18% is across diverse industries such as leisure, agriculture, mining, digital technologies, and research and innovation. This global, multi-sector model provides robust resilience against sector-specific or geographical risks, yielding tremendous opportunities and affirming the benefits of our diversified approach.
LOLC Group's success globally stems from our proactive strategy that respects each country's unique cultural and business nuances, customizing and refining our model and offerings accordingly. Apart from financial services, we hold a strong position in the leisure sector, managing 909 hotel keys in Sri Lanka, building 1077 keys in the Maldives, and operating the 100-key Radisson Blu resort in Mauritius. This diversity mitigates risks and optimizes opportunities during tourism peaks. On agriculture, we're the largest producer of tea in Sri Lanka and with the planned acquisition of the tea plantations in Kenya, we will be among the largest tea producers in the world. Browns Plantations has the largest extent of cinnamon plantation. In addition, Gal Oya plantations is the largest producer of sugar in the country and Sierra Leone, we are in the process of developing a cultivation extent of 23,500 hectares of Sugarcane. We're also into mining, in Sri Lanka and expanding operations in Zimbabwe, using our expertise to foster global growth while averting market saturation.
Can you elaborate on LOLC Holdings' initiatives in sustainability, financial inclusion, and empowering women in global markets?
Our sustainability efforts focus on climate action as well as the UN's Sustainable Development Goals (SDGs). On the climate front, Brown's Plantations are the country's largest Rainforest Alliancecertified plantations. Further, we carry out tree-planting initiatives to support and mitigate climate impact in many countries. Our business model has a direct impact towards UN SDGs of no poverty; zero hunger; quality education; gender equality and clean water & sanitation as we cater primarily to the underserved bottom-of-the-pyramid population and micro-to-small enterprise segment, often the backbone of developing economies.
Special mention is required of the Divi Saviya program that we carried out in Sri Lanka during the economic crisis providing dry rations to over 5 million people across the country, the largest humanitarian effort by a private sector organization. The program is being continued by providing necessary school bags and stationery to ensure that the education of children is not disrupted due to the economic crisis, thereby supporting the UN's SDG of quality education.
How has technology played a role in driving the group's growth and efficiency across global borders?
Technology has been instrumental in our success, enhancing customer experiences, business efficiency and containing risk. Having our proprietary IT system has assisted us greatly in our international expansion as well as being future-ready. Despite challenges like intermittent power supply, and connectivity issues, in places like Myanmar and certain African countries, we've had the flexibility to adapt due to this. Having this flexibility to alter products and services according to each market's unique needs gives us a competitive edge in our global expansion thanks to our spirit of innovation and tech investments. Our technological prowess received recognition at the recently concluded Technovation Awards, clinching four Gold Awards and a Merit Award.
Development financial institutions and multilateral funding lines have shown confidence in LOLC Holding's sustainable operations. Could you elaborate on the partnerships and support the group has received?
Development Finance Institutions (DFIs) have been pivotal to our success, especially in our global expansion. Our first overseas venture in 2007, was at the request of our funding partner FMO, exposing us to international opportunities and sparking our onward journey into new territories.
These partners have provided not only consistent funding support but also invaluable knowledge. For instance, they urged us to establish Know Your Customer (KYC) and Anti-Money Laundering (AML) policies long before they became mandatory in Sri Lanka. Similarly, we had environmental policies in place well before national requirements.
Our DFIs have also significantly developed our management capacity. Their steady funding, beginning in Sri Lanka and extending to our overseas ventures across Asia and Africa, ensures business growth. Thus, they've played a critical role in shaping LOLC's success story.
https://www.echelon.lk/lolc-groups-masterful-global-strategies/