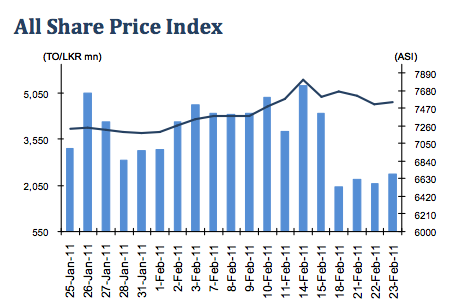  The All Share Price Index gained 34.1 points to close at 7,548.9 points (+0.5%), whilst the Milanka Price Index also gained 20.8 points to close at 7,181.1 points (+0.3%).The total turnover was LKR2,404.5 mn (USD21,663.1 k) vs. 12-months average daily turnover of LKR 2,706.3mn (USD24,382.2 k) whilst the volume traded for the day was 54,979.6 k against the 12-months average daily volume of 90,430 k.Top traded counters were John Keells Holdings LKR316900.60 mn (USD2,879.4 k, +0.4%), Cargills Ceylon LKR 149.8mn (USD1,349.6 k, +0.3%),
 Foreign purchases amounted to LKR 118.6mn (USD1,068.5 k), whilst foreign sales amounted to LKR485.3mn (USD4,372.2 k). Laugfs Gas LKR131.6mn(USD1,185.6k,+8.0%), Ceylon Grain Elevators LKR121.9mn (USD1,098.2 k, +7.1%) and Colombo Fort Land & Building LKR95.1 mn (USD856.8 k, +1.5%) .
 After a sharp dip of 150 points during the last two days of the week, the bourse regained with the indices closing in the green. Diversified John keells Holdings emerged as the top traded counter primarily shouldered by five large scale transactions carrying over 780 k shares at LKR291. Similar interest was also evident in Cargills Ceylon with the support of two crossings at LKR234. Retailer chase on Colombo Fort Land & Building, with high net worth interest seen on the counter for the 2nd consecutive day of the week. Meanwhile, Ceylon Grain Elevators and Laugfs Gas grabbed similar interest during the day.
 Market capitalization stood at LKR2,514.9 bn with a YTD performance of 13.8%.