Sri Lanka's commercial banks have benefited sharply from the volatility in the foreign exchange rates prevalent during the January-March quarter this year, although the upward revision in interest rates has, on the other hand, affected their bottom lines by contracting their net interest margins.
In particular, private banks such as Commercial Bank (COMB) and Sampath Bank (SAMP) have recorded staggering increases in foreign exchange incomes of 360% to Rs.2.3 billion and 935% to Rs.1.4 billion respectively but the state-run banking giant, Bank of Ceylon (BoC) has surpassed them all by registering an even drastic increase of 1,873.7 % to Rs.2.9 billion.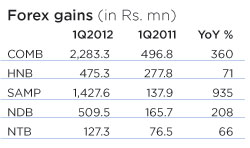 "The profitability of the banking sector has improved sharply as a result of banks gaining due to the depreciation of the currency. This also shows that greater the volatility of the exchange rate, the greater the banks can benefit, although it can be the opposite if the currency appreciates as predicted by authorities in this quarter," a top banking sector analyst told The Nation.
He said that banks may have recorded heavy forex gains as a result of gains enjoyed by wider margins on currency conversions through remittances and trade finance activities, and also through revaluation of assets held in foreign currencies. A large part of the forex gains at COMB, SAMP and BoC are however expected to have arisen via unrealized translation gains on their foreign operations, and could be reversed in the event the currency strengthens during the remainder of the year, said the analyst.
However, foreign exchange income of other commercial banks like Hatton National Bank (HNB), National Development Bank (NDB) and Nations Trust Bank (NTB) have grown at a comparatively lower pace. Growth in foreign exchange revenue of HNB, NDB and NTB grew by 71% to Rs.473.9 million, 208% to 509.5 million and 67% to Rs.127.3 million respectively
"The market volatility on exchange rates that prevailed during the quarter was managed by increasing trading activity with customer volumes also increasing moderately. Treasury was also proactively engaged in re-pricing assets and liabilities and managing the pressure on interest rate risks and liquidity in a timely manner whilst actively supporting growth of the banking book," an extract from the review of operations of NTB stated.
http://www.nation.lk/edition/biz-news/item/6220-forex-gains-buoy-banks.html