By Quintus Perera
A fully electric-turbo car designed and manufactured by a youthful Sri Lankan entrepreneur-technologist – 26-year-old Nilanga Senevirathne of Kalubowila - is likely to capture not only the local market, but the international market too.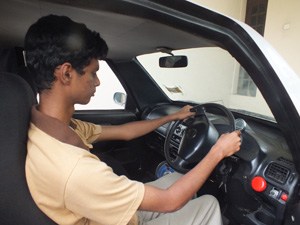 Nilanga at the wheel of his creation. Pix by Quintus Perera
The "Elca" (Electric Car) is apparently extremely economical in both purchase price and running cost and the model would be universally acceptable as the car is totally environmentally friendly. The Business Times (BT) met Mr Senevirathne at his residence and watched with awe his invention – completely done by him alone, manufactured with 60% of local material. A great lover of the nature and environment, his intention also is to go into fully green production and his electric car is indeed compatible to his love of the nature.
Over a cup of tea he told the BT that the average 4-seat cars that are available in Sri Lanka would cost around Rs 1.4 million but his Elca electric-turbo car when it is marketed would cost only half the price at Rs 0.7 million and the cost per kilometer would be around Rs 3 whereas the conventional 4-seat cars running cost per km would be around Rs 11.
He said that he has already received inquiries from around 18 different countries to purchase his cute 'Elca', while local inquiries are flowing in. Mr Senevirathne said that all the steps to market the product is complete and he has already earmarked a 5,000 sq ft factory located in the Kalutara Industrial Estate. Preliminaries have commenced to start manufacturing the vehicle with commercial operation taking around one year.
Elca has now been registered with the Registrar of Motor Traffic and a chassis number was given by RMV for his already manufactured car. An old boy of Thurstan College, Mr Senevirathne after his A' Levels moved to Swinburne University, Malaysia to study Robotics and Negatron but at the half way stage moved to Coventry University, United Kingdom. He said that the locality in which this university is located is also the home for many vehicle manufacturing firms in the UK.
Nilanga Senevirathne and his mother
He said that the implementation of vehicle manufacturing projects are usually entrusted to university teachers and the undergraduates of Coventry University get good opportunities to be involved in these car manufacturing projects.
While he was studying in this University he got the idea of how to initiate vehicle manufacture, and he acquired all the plans in his mind and equipped with the first hand knowledge of the industry with all sophisticated and latest technology, before completing his studies. Mr Senevirathne has come back to Sri Lanka with the determination of floating his own car manufacturing company. In fact he has already has floated a company "NSE Automobile Engineers".
Within one year of his coming back to Sri Lanka, he has completed the blueprints, project analysis, and feasibility reports and prepared on the drawing board his unique creation. According to Mr Senevirathne the product is unique as even though, electric cars are now being used, he says electric-turbo cars are not available anywhere in the world.
Seated along with his mother, in his residence in Kalubowila, Mr Seneviratne said that vehicles need high energy in climbing and electric cars are not normally susceptible to steep angled mountains but they are as yet modeled to run on flat roads.
He said that his Elca is fitted with two turbos working on wind power and they provide energy in case the vehicle is climbing. This car does not have an engine, but with only rechargeable batteries. Once in motion there is absolutely no sound and there are emissions.
This car initially is intended for urban usage but he said that once it is developed to be economically sustainable in mass scale production, island-wide recharging units could be established. Elca could run 80 to 100 km after the batteries are fully charged. He said that all the batteries and other panels and circuits are fitted under the seats. It could run as fast as 60 to 80 kilometres per hour. He said that he is developing a new kind of low weight batteries so that the vehicle would be more energy efficient. The present set of batteries weigh around 240 kgs and the ones he now develops, once complete would weigh around 90 kgs.
He told the BT that once marketing starts by around one year, the monthly production would be around 20 cars, with about 20 employees. Going by the demand for his highly economical Elca he is confident that he could sell his product like 'hot-cakes' and with the increase of production he could provide more and more employment and by utilizing local material large component of foreign exchange could be saved.
Due to its high economic advantage and high environmental friendliness, Sri Lankans are most likely to opt for this car than imported utility cars and its low-cost advantage and environmental-friendly advantage would also help to push exports. He receiving firm backing from the National Science Foundation to the extent that it has pledged to provide a loan of Rs 5 million and he is also confident that local banks would support to sustain his venture.
Mr Senevirathne is also extremely cautious of the prevailing conditions when such ventures are carried out as there are enormous pit-falls and under-currents that are not visible. As such he is determined to move carefully adhering to the dictum "slow and steady" – steady to be a great successor.
The BT has often revealed the exceptional talents and achievements of local entrepreneurs, industrialists and such other scientific inventions and often the paper has been told that some state agencies were a major stumbling block to take such ventures off the ground.
In fact Dr Lawrence Perera, the first successful large scale vehicle manufacturer in Sri Lanka revealed in public the debacles he faced at the hands of some bureaucrats. Further, there was a very viable and highly economical railway project he had submitted to the authorities which got blocked somewhere in the bureaucratic pipeline and never came off the ground.
Thus, it is vital that this young, enthusiastic entrepreneur is safeguarded with a protective net to prevent pulling him down or retarding his progress. There should be firm backing from all related parties for the project to be successful backed by investments and facilities to carry out research alongside the current developments in the trade.
http://www.sundaytimes.lk/120603/BusinessTimes/bt07.html