Lumbini Aquaria
In the topics related to CIFL , Kanrich , Maloney and Abbot the name of the above establishment was mentioned few times in this forum.
I would like to write few lines about the history of  Lumbini, the internationally famous ornamental fish exporter company of Sri Lanka.
Once famous and thriving with the visionary care of the founders, later went out of the control of the original owners due to lot of painful happenings.
I hope this writing will enhance  our young in someway .
Lumbini
was a small backyard hobby - business started in 1952 by Mr. Lloyd Perera with the support of his close relative Gratian Peiris. They bred and sold fish to local hobbyists. They were high class rich people, never seen outside their empire, if not inside Mercedes.
Mr. Perera had acres of ancestors lands in Ratmalana/Mt,lavinia and a big land area about 5 acres in Chakkindarama Road where he lived was converted in to a fish farm with hundreds of tanks of various sizes, equipments and shelters.
Divers of the fishing folks living  along the beach from Wellawatta to  Wadduwa soon started supplying marine fish to them and in 1953 they started exporting live fish to Europe. Continuous oxygen needed for marine care was supplied by Oxygen Company.
The front area of the residence was a beautiful garden with lot of  trees, ponds , imported birds  and natural looking artificial features. Film makers and famous individuals like late Gamini Fonseka, Rukmani Devi were seen there as they used the location for films very often.
This great gentleman, Mr. Lloyd Perera work hard to make the company in to a world renowned ornamental fish breeder and supplier and hundreds of people were given employment.
Many new varieties of fishes were bread, some award winning internationally.
Lumbini was famous for breeding high quality Guppies and many worlds famous varieties were developed crossbred there. The business brought million of foreign exchange to the country.  Lumbini became very famous and powerful, even the adjoining road was named as Lumbini Avenue .
Later they spread the breeding ponds  to Narammala, Giriulla  and to dry zone areas to increase the supply.
They were planning an IPO in 1990s.
Four decades of prosperity ended and the dark period of Lumbini started due to severe conflicts in the management and the control was taken over by descendants of the aging founder.
Due to heavy private spending in unknown affairs, the assets of  the company and  the prestigious land in Ratmalana ('Mt Lavinia' as they used) was mortgaged to a finance company by the new in power. Finally, after many years of deteriorating  they lost the ownership due to non payment of few millions.  This came into light when an unknown company placed a barrier with a banner in front of the premises saying
"This is the property of CIFL" !
During  mid 2000 , the old buildings and fish breeding equipment were removed or demolished  and land was blocked out by the company to sell with the promise of building up market houses for the buyers.  
Few years later , we saw the individual buyers of land lots were going here and there complaining misdoings in the deed conversions, half way done construction and ownership transfers .
I do not know what exactly has happened but they blame that CIFL has sold those lands without having 100% ownership thus the buyers did not get the deeds or housed years after paying 19-22 million per  8 peach block and their rights are seriously jeopardized .
If you go there you can see many half build 2 storied houses sheltering stray dogs at the moment. This has been the situation for past many years.  The site looks like a ruined city and the people who paid their life savings are in fear of loosing entire investment.
By today's valuation, the land is worth over half a billion (500 million.) and it is at a walking distance to  Galle Road , in the land side between Maliban Junction and Mt. lavinia. I do not think the original owners mortgaged it even for a fraction of that value.   Recently, another finance company , City Finance, came in to the land and CIFL is no more in the scene.
We have a link about it: (http://forum.srilankaequity.com/t18789-city-finance-seeking-to-convert-50-of-deposits-to-shares)
By the way, from the beginning, the local people of the area were not happy for the name given to a fish breeding business because Lumbini was the sacred birth place of Load Buddha. They predicted this as "Asubha" and curse would definitely bring harm to the owners of the establishment . පවුකාර වැඩ වලට දාගත්ත නම ! ලුම්බිනි නම නිසා වස් වදිනවා.
After realizing his business empire may fail and go out of hands from the family due to painful behavior and bad business decisions of his descendants Mr. Perera stayed away form the company and even from his residence in later years. Before that he gave away many houses built and rented by him to the tenants for nominal amounts and gifted some lands and money to the Buddhist temple.
He passed away few years ago.
Mr. Lloyd Perera was a horticulture enthusiast, an active member of Ceylon Orchid Circle, had many types of rare Orchids , a vast knowledge and related literature with him.
When he realized no one would take care of his much loved books he presented some to the writer (chinwi) somewhere in late 80s or 1990s. He was very pleased to see my small collection of blooming orchids at that time.  I do not know what happened to his plants. The most precious of the literature , the inaugural edition of "Orchidologia Zeylanica" published in 1934, a very rate book is in my safe hands since then.
I am happy to learn; at least a miniature part of original Lumbini is with me, fortunately not related to fish breeding.
No fear of curse of course.  !
Some images from the books
Orchidologia Zeylanica 1936 cover
Car Advertisement.
Camera Ad.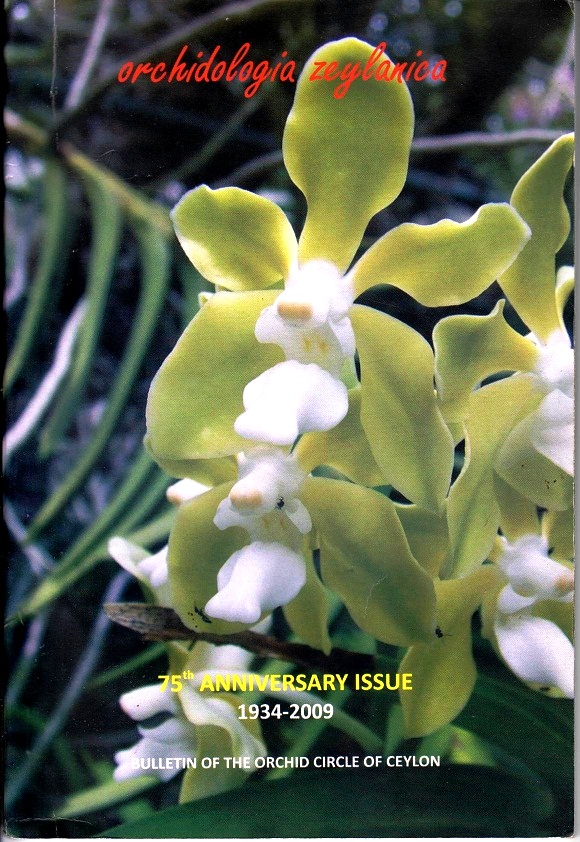 Orchidologia Zeylanica 2009 Cover
Present day Hybrid at my place. Actually it is
White Dragon
(not Gragon)
Current Owners :
http://www.lumbiniaquaria.lk/management.html