Sector rotation is an investment strategy that consists of moving money from one industry sector to another in an attempt to beat the market.
At different stages in an economy, an investor or portfolio manager may choose to shift investment assets from one investment sector to another, based on the current business cycle (since different sectors are stronger at different points in the business cycle).
Business CyclesEarly Recession
– The economy begins to slow and consumer expectations are at their worst; industrial production is falling sharply, interest rates are at their highest, and the yield curve is flat or even inverted. Historically, the following sectors have profited during these times:
Consumer Staples (near the beginning)
* Health Care
* Utilities (midway)
Recession
– When the economy is down, industrial production is at its lowest point, people are losing jobs, interest rates begin to fall, and the yield curve is normal. Although consumer expectations are low, they are beginning to improve. The sectors that have historically performed well in this stage include:
* Consumer Discretionary (near the beginning)
* Financials
* Information Technology (near the end)
Early Recovery
– When the economy begins to improve and consumer expectations are rising, industrial production begins to grow, interest rates have bottomed and the yield curve is either normal or has begun to steepen, the sectors to consider investing in at this stage include:
* Financials (near the beginning)
* Transportation (near the beginning)
* Industrials
* Energy (near the end)
Late/Full Recovery
– At this point in the business cycle, interest rates are usually rising rapidly and the yield curve has flattened. Industrial production is slowing and consumer expectations are beginning to fall. Historically, the most profitable sectors in this stage have included:
* Energy (near the beginning)
* Materials
* Precious Metals
This diagram illustrates the business cycle of the markets and shows which sectors normally perform best during the first stage of a recession, in a recession, at the beginning of the recovery stage, and in the late recovery stage.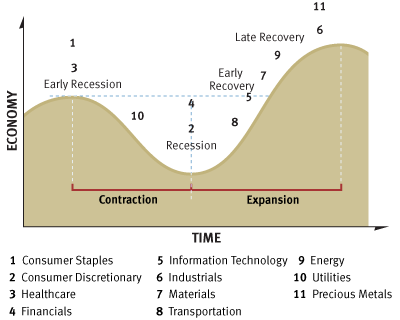 Consumer Staples
Consumer non-cyclical stocks, including food and household products companies and consumer growth industries (cosmetics, tobacco, and beverages) usually receive fairly steady demand and are less sensitive to changes in the business cycle. These stocks will attract investors when the economic cycle or bull market has matured, or when the market is beginning to contract.
Consumer Discretionary
This sector tends to be the most sensitive to economic cycles and interest rates. These stocks usually become popular when the economy is in its last stages of contraction.
Health Care
The health care sector is considered defensive, meaning companies in this sector are generally unaffected by economic fluctuations. The healthcare industry consists of pharmaceutical firms, biotech firms and medical equipment suppliers.
Financials
When interest rates are falling, stocks in housing-related industries will often do well and are popular among investors in the mid to late stages of an economic contraction. Large banks that do not depend on mortgages alone are generally helped by commercial and consumer loan growth.
Information Technology
Technology stocks are often very cyclical. The companies depend on capital spending and business or consumer demand, which can be quite finicky. The stocks may also have long-term growth potential as new technologies are developed. Technology stocks are usually popular during early to mid stages of an economic expansion.
Materials
Basic industry stocks tend to receive a boost from the market late in an economic expansion. Basic materials companies are strongly affected by the global economic picture and supply/demand metrics heavily impact stock price movements.
Industrials
As the economy begins to improve, capital spending tends to increase as higher demand for products leads companies to expand their production capacity.
Transportation
Railroads, trucking companies and other surface carriers tend to react positively when the economy starts to improve. Airlines, however, are more tied to cyclical fuel costs and competitive pressures.
Energy
These stocks tend to be popular with investors late in the business cycle and are driven by the supply and demand picture for energy worldwide, although political events also tend to affect these industries.
Utilities/Telecom
Utility companies are sensitive to interest rates because of the large debt financing costs they must incur in order to build their infrastructures. These stocks tend to perform well when interest rates are declining. Telecom companies may also profit during these times.
Precious Metals
Precious metals (such as gold, silver, and platinum) and companies that mine and process them are largely affected by inflationary pressure and commodity price volatility. They are also affected by industrial and consumer demand. Investors often flock to this category late in the expansion cycle.
Source: RBS Direct Investing Education Centre
https://www6.royalbank.com