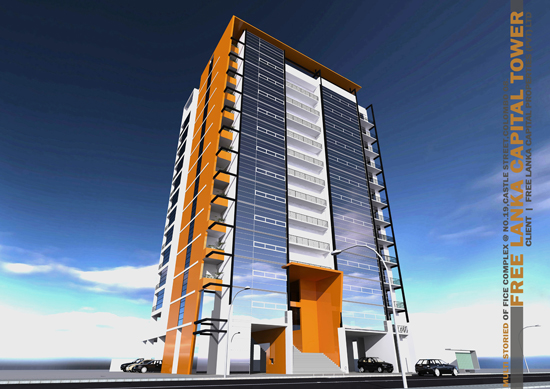 With a view of diversifying its portfolio, FLC Holdings ventured into the construction of a state-of-the-art multi-storied office complex in Borella, which is now reaching completion.
The FLC Holdings commercial building comprising of 13 floors, was built with an investment of 850Mn and is located in the heart of Colombo, along Castle Street.
The structure which commenced construction in January 2012, is built on a 49.5 perch block that will stand out in the Parliament main drive – D.S. Senanayake Junction where Castle Street and Horton Place begin.
The location is apt for any business requirement as the neighbourhood provides for banks, governmental and non-governmental organizations, supermarkets, hospitals, leading international and local schools, places of worship, post office etc. Borella being a commercial hub the availability of 80,000 sq ft of rentable space is by all means a treat for the business world as it provides for a comfortable, elegant and healthy location suitable to be used as office space in the form of showrooms, operational office location, storerooms etc.
With a total rentable space of 77,954 Sq. Ft., the FLC Tower will provide ample parking space, easy accessibility, 24 hours security, positive health conditions, a rooftop clubhouse and all modern amenities and services.
The Company also strives in green conscious ethics that will be reflected in the building process. It will ensure that maximum effort will be taken to reduce the hindrance caused to the environment as the construction project has earned the LEEDS certification which provides third-party verification that the building project is environmentally responsible and is by all means a healthy place to live and work in.
In addition to managing Maturata Plantations Ltd and Pussellawa Plantations Ltd, the Company has ventured into mini hydropower projects on the estates and is developing boutique hotels on scenic locations. In order to diversify the portfolio we have now decided to move into the property development sector. The completion of construction of this commercial building is scheduled for December this year.
FLC Holdings has created an ideal platform to invest in Sri Lanka in areas such as tea and rubber plantations, property development, leisure and hydropower generation.
http://adaderana.lk/biznews.php?nid=1124