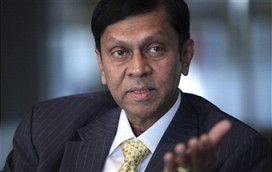 With inflation in Sri Lanka tamed to single digits for the longest period on record, there is room to cut interest rates further below current historic lows to steer the country towards its growth target, says its central bank governor.
In the five years since its bloody 26-year long civil war ended, the southeast Asian island nation's $67bn economy has enjoyed rapid expansion thanks to tourism bouncing back and rising exports of goods such as manufactured textiles, tea and coconuts.
"We think the present policy is appropriate but if we see growth isn't coming to the level we originally planned – close to 8 per cent – or if we feel inflation is coming down there may be some space for [rates] adjustments to be made over the next year," Ajith Nivard Cabraal told beyondbrics in an interview.
"Of course we will be watching closely as the last thing we want to do is to give the impression of driving inflation up," he added.
The Central Bank of Sri Lanka slashed its benchmark repurchase rate by half a percentage point to 6 per cent in January, contrary to the advice of the International Monetary Fund to allow more time for earlier reductions to have an effect on bank lending.
It followed a hike two years earlier to avert a balance of payments crisis and rein in excessive credit growth. Detractors have criticised a 'stop-go' policy cycle which they claim is now resulting in subdued growth in credit and private consumption. The latter increased by just 3.2 per cent in 2013 and is possibly a reason why looser monetary policy is on the bank's radar.
"We are watching demand quite closely as it is an aspect of tension that could arise in our control of inflation," said Cabraal. "Now we find it's where we want it to be and therefore we don't see any major turmoil in the near future".
In spite of this, Sri Lanka's economy, one of the fastest-growing in Asia, appears in rude health. Gross domestic product grew by a lower-than-expected 7.2 per cent last year and the Asian Development Bank forecasts 7.5 per cent growth this year. Inflation is pencilled in at 5 per cent – far below the 12 per cent it averaged in the 30 years to 2009.
But there are headwinds. Foreign direct investment was just $1.3bn last year, short of the government's hope of $2bn. This pales against the $4bn a year the minister for investment promotion has said is required to reach and maintain 8 per cent annual growth.
The investment case for Sri Lanka was dealt a blow this year after the government refused to allow casinos to operate at a resort planned by Australian tycoon James Packer amid fears it would lead to prostitution.
For now, weak levels of FDI leaves Sri Lanka heavily dependent on labour remittances from its overseas diaspora to fund its current account deficit, which ratings agency Fitch expects to narrow to 3.2 per cent of GDP this year. Savings sent home totalled $6.8bn last year, up 13 per cent on 2012 levels. However, with the volume of remittances expected to fall after peaking in 2017 as more Sri Lankans return to their homeland, Cabraal insisted that a gradual ramp-up in FDI would coincide to make up the gap.
In other ways, Sri Lanka is strongly braced to withstand a storm. Foreign exchange reserves are $8.6bn, or six months of import cover, giving the central bank plenty of latitude to prevent too sharp a movement in the rupee.
Unlike other emerging markets that now appear vulnerable to tapering of the US Federal Reserve's stimulus programme, the country deliberately did not tap the swell of dollars when quantitative easing began in 2008. Instead, regulators kept in place rules restricting foreign holdings of government debt instruments to 12.5 per cent of the overall market.
Cabraal said he was "quite confident" that little portfolio investment in shares and bonds would flee the country should global monetary conditions tighten.
"The time to deal with the situation was when QE commenced, not when it was tapered off," he said. "Even though there was a large amount of money floating around and seeking new investment opportunities we didn't attempt to receive it here at any cost".
http://blogs.ft.com/beyond-brics/2014/06/09/interview-rate-cuts-on-sri-lankas-radar/