Calls on heads of Central Bank and Securities and Exchange Commission
CB Chief says Dr. Mobius is keen to expand investments in Sri Lanka; Templeton already one of the biggest investors of Sovereign debt as well as listed equities
Templeton is keen to engage early with companies planning IPOs and those considering listing
SEC Chief says overall interest by Dr. Mobius reflects his faith in future of Lankan capital market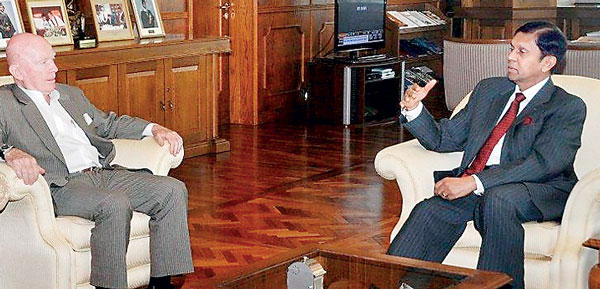 Central Bank Governor Ajith Nivard Cabraal (right) with Executive Chairman of the Templeton Emerging Markets Group, Dr. Mark Mobius
SEC Chairman Dr. Nalaka Godahewa, Officer- in- Charge/Deputy Director General SEC Dhammika Perera with
Dr. Mark Mobius
Dr. Mark Mobius, widely considered one of the best emerging markets gurus, has expressed growing optimism over Sri Lanka, two top officials told the Daily FT yesterday.
Executive Chairman of the Templeton Emerging Markets Group, Dr. Mobius was in Sri Lanka on Friday in his private jet on a planned visit arranged by CT CLSA Securities Ltd. He met with Central Bank Governor Nivard Cabraal as well as Securities and Exchange Commission Chairman Dr. Nalaka Godahewa.
Franklin Templeton Investments is one of the world's largest asset management groups with over $ 886 billion in assets under management as of 31 March.
"Dr. Mobius was very keen on expanding his investments in Sri Lanka," Governor Cabraal told the Daily FT.
Templeton is one of the biggest investors in Sri Lanka's sovereign bonds apart from having a sizeable portfolio on listed equity.
Cabraal said Dr. Mobius had noted that he had witnessed extraordinary change in Sri Lanka since his previous visit to Colombo in November 2009.
SEC Chairman Dr. Godahewa said Dr. Mobius was quite bullish about the future of Sri Lanka as well as listed equities especially since the Colombo stock market is among the most attractive frontier markets.
"Dr. Mobius said he is keen on expanding the Lankan investment portfolio and in this regard he expressed a willingness to get involved early with some of the companies preparing for IPOs," SEC Chief said.
The lack of liquidity in the Colombo Stock Exchange (CSE) has been often cited as a key barrier for foreign fund managers keen on investing in Sri Lankan-listed equities.
However, interest by Templeton to engage with potential IPO candidates much earlier than the IPO stage is likely to brighten the prospects of Lankan firms keen on raising capital and drawing foreign investors.
The overall interest by Dr. Mobius reflects his faith in the future of the Lankan capital market. The SEC has said the future IPO pipeline is around 50 mid-size companies.
The SEC Chief also said that Dr. Mobius welcomed several ongoing and planned capital market development initiatives and noted that the Sri Lankan private sector also needs to be more enterprising and capitalise on the unfolding opportunities by listing and raising required funds via the capital market.
Following Dr. Mobius' keenness, the SEC, in partnership with the CSE, is likely to find the best way prospective foreign fund managers/investors can establish a dialogue with companies planning to list in the medium-term as well as encourage large firms to consider IPOs.
"If successful and cash rich Sri Lankan companies can become even more aggressive and think beyond Sri Lanka and decide to expand regionally and globally they may find a need for further capital and we now have many foreign funds who have the appetite to engage. Templeton interest is one good example," Dr. Godahewa emphasised.
With Sri Lanka targeting to reach $ 7000 per capita income by 2020, the SEC is of the view that overall growth opportunities will be unprecedented.
Dr. Mobius joined Templeton in 1987. Currently, he directs the Templeton research team which is based in 18 global emerging markets offices and manages emerging markets portfolios.
Dr. Mobius has been investing in global emerging markets for more than 40 years and has received numerous industry awards, including being named one of Bloomberg Markets Magazine's '50 Most Influential People' in 2011 and 'Emerging Markets Equity Manager of the Year 2001' by International Money Marketing among other accolades.
He earned Bachelor's and Master's degrees from Boston University, and a Ph.D. in economics and political science from the Massachusetts Institute of Technology.