Minister says consignment of organic fertiliser will reach in Oct., till then sufficient stocks available


24,000 tons of chemical fertiliser to be distributed among factories in next 4-6 weeks


Says organic fertiliser use being monitored but too early to predict repercussions


---
By Charumini de Silva
---
The Government yesterday assured adequate supply of fertiliser to the tea industry, allaying fears over shortages.
Plantation Industries Minister Dr. Ramesh Pathirana said the Government had gone ahead with a tender process of securing organic fertiliser, with the consignment set to arrive by October, whilst also assuring that the country had sufficient stocks of chemical fertiliser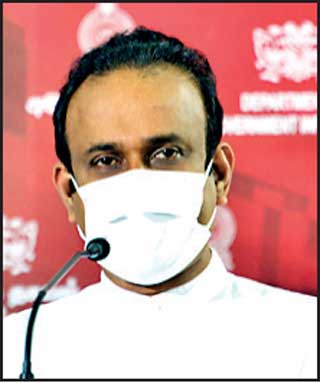 Plantation Industries Minister Dr. Ramesh Pathirana
until then.
"As of end-May we had 49,000 tons of chemical fertiliser and we had distributed 25,000 tons as of last week. There is a balance stock of 24,000 tons which will be distributed gradually within the next four to six weeks. Until we get our organic consignment in October, we have sufficient chemical fertiliser quantities," he told the post-Cabinet meeting media briefing yesterday.

Pathirana said the remaining chemical stocks would be distributed among factories directly, but that it would be done step-by-step to ensure fair distribution among all.

Sri Lanka's tea industry requires 150,000 tons of fertiliser per annum, but with the Government's move towards 100% organic fertiliser, stakeholders are concerned over potential shortages as well as effectiveness.

The Daily FT learns that tea smallholders request for fertiliser three times a year and, despite there being adequate fertiliser for this month, complaints are mounting on delays in getting the fertiliser mixtures.

Whilst noting that the Government was seriously paying attention to the different effects in relation to the chemical fertiliser ban, Pathirana said it was still too early to come to any conclusions on if the use of organic fertiliser would be a good or a bad move in terms of yield.

"The basic requirement for tea fertiliser should be nitrogen. We are monitoring the situation very carefully. There had been a few concerns, but it is too early to predict on the effectiveness of organic fertiliser."

He also highlighted that Sri Lanka's tea production in the first half had grown by 31 million kilograms, or 24%, to 161.49 million kilograms – the highest recorded amount in the country's history.

"We were aiming to get the highest green leaves quantity in 2021. Despite these difficulties encountered by the farmers, we should be able to reach our targets and the Government is committed to providing good quality fertiliser for the tea industry," he added.
https://www.ft.lk/front-page/Govt-assures-adequate-fertiliser-supply-for-tea-industry/44-720927