Debt Market Specialist Dilshan Wirasekara who is the current CEO/Director of First Capital Holding specialised in Debt, Money Market  and fixed income investment in Sri Lanka is doubtful to accept the position of the CSE Chairman due to controversy surrounding his appointment according to market sources.
Mr Wirasekara's appointment yet to be approved by the board of directors of the CSE has been prematurely announced to the media by an error and CSE is likely to make a statement regarding this shortly. He was only nominated by Mr Dumith Fernando, the outgoing Chairman as his preferred choice but yet to be voted or ratified by the CSE board, sources said.
The CSE board is expected to meet in July 2022 to consider the appointment of Mr Dilshan Wirasekara as the Chairman and Board of directors of Colombo Stock Exchange. Many board members have expressed their displeasure and concern regarding the appointment of Mr Wirasekara ahead of Mr Asanga Seneviratne and other suitable board members who posses considerable experience in equity markets.
According to general opinion of investors Mr Dilshan Wirasekara does not posses required experience in equity markets as he has been primarily involved in treasury and money market operations through out his career except his appointment to the CSE board in 2017.
Mr Wirasekara's LinkedIn Profile clearly demonstrate his experience in Debt Markets.
https://www.linkedin.com/in/dilshan-wirasekara-52950540/details/experience/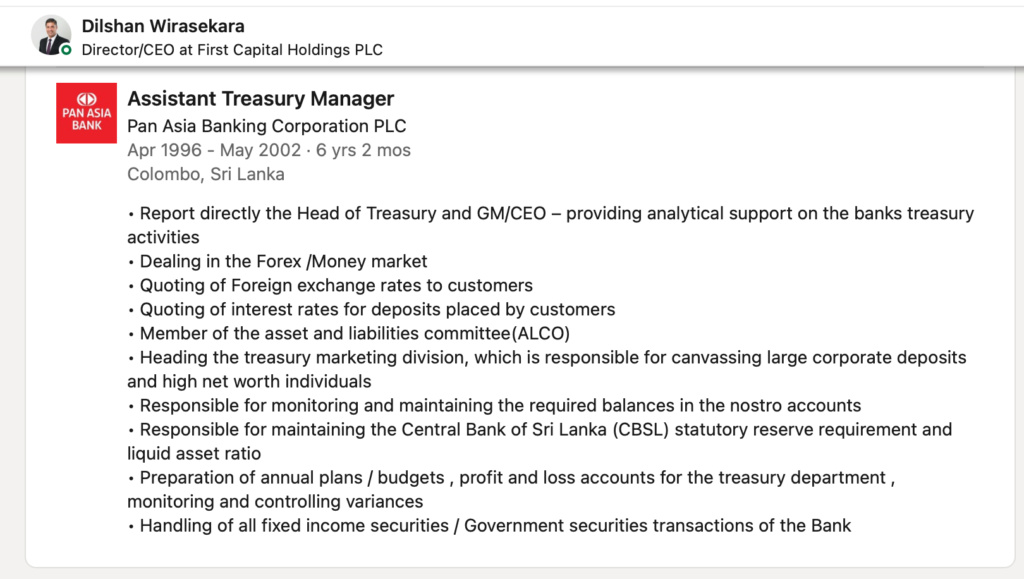 Most board members of the CSE believe that an appointment of a Debt /Fixed Market Investment specialist as head the Colombo Stock Exchange, to the hot seat of the headquarters of the Equity market trading in Sri Lanka will be a deterrent to the international and local investors as his emphasis would be to develop the low risk debt market ahead of high risk equities.
"Mr Wiraseka will be promoting fixed market securities instead of the equity market, He will encourage investors to buy Bonds, Treasury Bills and debentures which gives higher rate of interest and instead of stocks, shares, equities of listed entities" one concerned investor tweeted.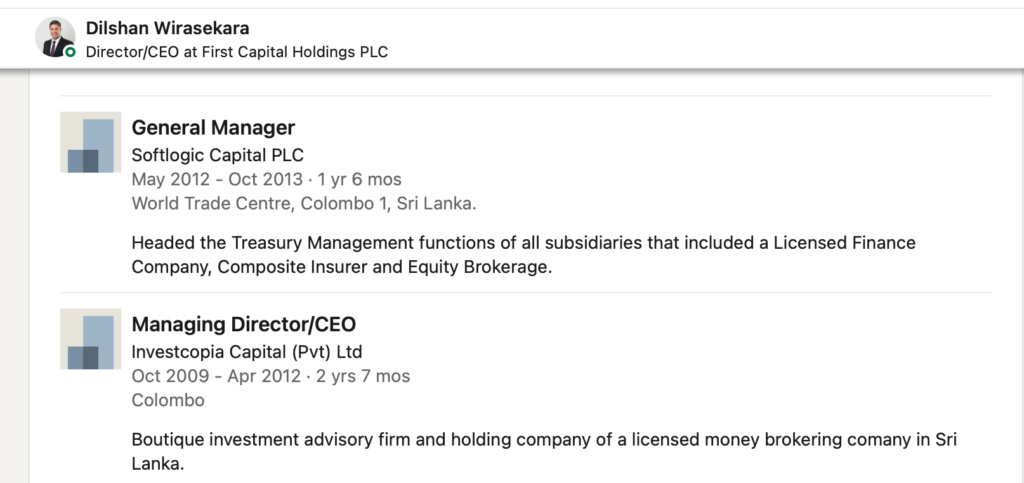 Dilshan Wirasekara, the Director and Chief Executive Officer of First Capital Holdings PLC, is a professional investment banker with over 25 years of experience in financial services such as banking, treasury, investment management, capital market strategy, and corporate finance advisory services. Simultaneously, he serves as an elected Board Member of the Colombo Stock Exchange. Dilshan's career highlights include leading First Capital to become the market leader in categories such as Primary Dealer, Debt Structuring, Trading, and Asset Management. First Capital Holdings PLC is a full-service investment firm that provides independent advice and transaction execution for capital raising as well as other strategic needs such as mergers and acquisitions. As the General Manager of Softlogic Capital PLC, he was part of the team responsible for establishing the Financial Services branch of the diverse Softlogic Group, another significant achievement in Dilshan's career. Prior to that, he was the Head of Treasury at Nations Trust Bank PLC.
Specializing in Asset and Liability Risk Management, enabled Dilshan to secure the honor of leading and representing two Sri Lankan companies that won the International Bank Asset and Liability competition organized annually by the Netherlands Development Finance Company (FMO), the German Investment Corporation (DEG) as well as Proparco – a subsidiary of the Agence Française de Development (AFD). He further mentioned that he completed his Executive Professional Education at INSEAD Business School in Fontainebleau, France followed by AOTS, in Tokyo, Japan.