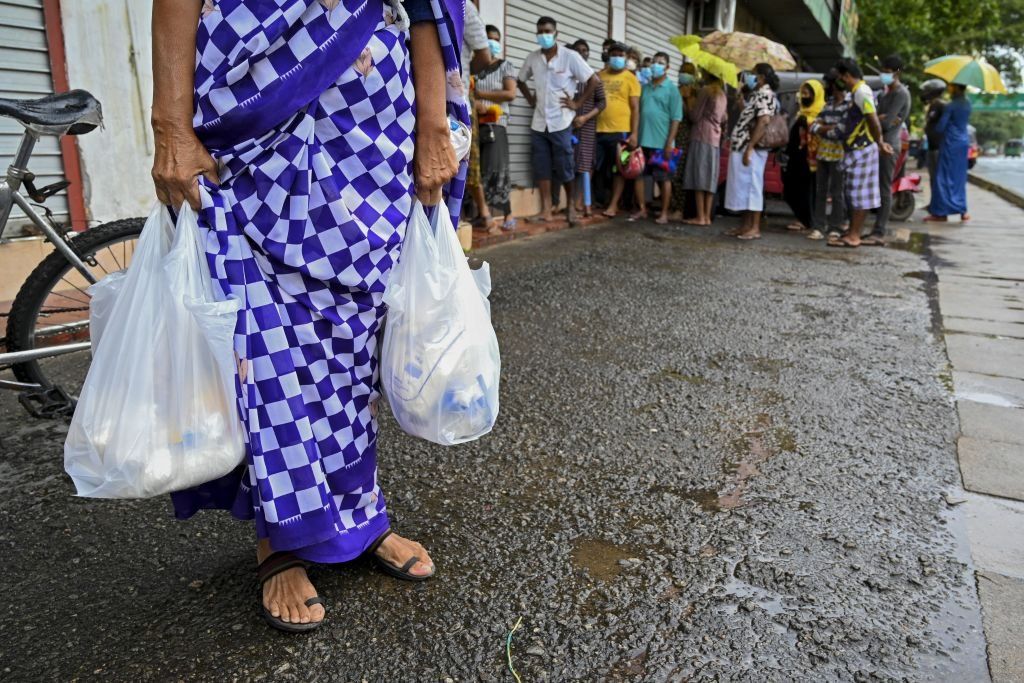 Sri Lankan farmers can recover from the ongoing food crisis with the right guidance and timely support from local and international actors, the Food and Agriculture Organization (FAO) Country Representative for Sri Lanka and the Maldives Vimlendra Sharan told The Sunday Morning last week.
He opined that Sri Lanka could use the opportunity that had arisen through the current food crisis to build resilience for food security and strengthen the local food system to be more adaptive to climate change and disruption in the future through the introduction of sound policies and the use of science and technology.
Sharan warned that while fertiliser and seeds were an urgent need to revive cultivation, Sri Lanka also needed to address health, social protection, and food supply issues simultaneously.
In an interview with The Sunday Morning, Vimlendra Sharan discussed the recent Humanitarian Needs and Priorities (HNP) appeal for assistance to Sri Lanka, the role the FAO is playing, and how building resilience is better than seeking assistance in the long run.
Following are excerpts from the interview:
The United Nations on Thursday (9) launched an appeal to assist Sri Lanka mitigate the impact of a food crisis. As the FAO Country Representative, how concerned are you about Sri Lanka's preparedness to face this crisis and how long do you think it will last?
First, the appeal has three components: food security and nutrition, health, and social protection.  All three combined is the target for the $ 47.2 million.
How precarious is the situation? We have to go back in history. As recent as last year, we had the Maha cultivation season of 2021/22 which was hugely impacted by the Government's decision and we saw a drop of crop production – almost by 50%.
When the fertiliser ban was lifted by November, the fertiliser prices in the international market rose to nearly $ 900 per MT. That was also the time Sri Lanka was facing a foreign exchange crisis. So, while the ban was removed, Sri Lanka was not in a position where we could import it. Today, we (Sri Lanka) do not have an adequate supply of fertiliser in the country. Without adequate supply, there is no chance that we will have a successful Yala season, which is now underway.
The FAO is given to understand that some fertiliser, through bilateral sources like India, is reaching Sri Lanka, but it is still in the pipeline and yet to come to Sri Lanka, while the season has started. The sowing of seeds has started, so even if the fertiliser comes, all that can be done is a top dressing. For Yala we are looking at about 50% production. Therefore, two seasons of 50% production back-to-back is bound to affect the food supply available in the country. A country normally imports food when supply is affected. In Sri Lanka, supply has been impacted and at the same time, due to the dollar crisis, we have not been able to import.
What is coming in as imports is also extremely costly because the Sri Lankan Rupee devalued by more than 75% since the free float in March. What comes in is costly, a very limited amount comes in, and very little is produced. So this is a recipe for disaster.
We are in a very severe situation. That said, can we come out of it? I am sure we can salvage agriculture if we put our hearts, minds and finances to it.
The Sri Lankan farmer is one of the best I have seen, highly-educated and very receptive, so I don't think there is any blame lying with the farmers. They are resilient, hats off to them.
The Government, the multilateral and bilateral agencies, and all stakeholders have to come together to ensure that the requirements of the agriculture sector are met.
This HNP appeal is precisely in that direction. As far as agriculture is concerned, we have asked for fertiliser and seeds to augment what will come in from the World Bank (WB) loan of $ 110 million and the Asian Development Bank (ADB) loan. The WB and ADB loans will not suffice for the entire sector.
There is paddy, maize, vegetables, fruits, and export crops, so there is high demand, so there is a gap that needs to be met. If we are able to fertilise and seed the farms before the start of the Maha season, then perhaps we will not face a severe humanitarian crisis.
This is where the appeal is targeting – please give us money so that we can bring in fertiliser and seeds for the poor and vulnerable farmers. We want to help the small owner farmers, people who hold about one acre of land. That's the group that does not have a major alternative available. If they don't grow, they don't get to eat, so we need to really target them and help them produce. I am confident that if we do so, they will bounce back.
What can the international community do to assist Sri Lanka to get through this crisis? What are the priority areas that should be addressed?
There is a major role that the international community can play, because we are already hearing about people cutting down on meals or moving towards negative coping mechanisms like buying on credit or borrowing.
There is a need for immediate provision of food aid and transfusion of cash for the rural economy. Direct cash transfer will help. There is a need for adequate social protection and for meeting the health requirements of the people. We have to intervene in these issues.
There is an immediate requirement of health, social protection, and food and there is an intermediate requirement of having adequate fertiliser and seeds to ensure there is good production. Both need to come simultaneously. We cannot wait for one to happen and wait for another.
On fertiliser, even if a tender is launched this week, it may take two or three months for it to come. If funding starts flowing now and we are able place orders now, we will be able to supply some fertiliser for the farmers when the Maha season comes. There is an urgency; we needed this yesterday.
Besides the appeal, how is the FAO helping Sri Lanka overcome the immediate food crisis?
We have launched multiple approaches to respond to the crisis. We have started anticipatory action – direct cash transfer of $ 700,000 to 8,750 farmers who are growing green gram. The idea is to help these farmers achieve a good crop. This is a crop that needs minimum fertiliser and care and grows in 45 days.
We are tying up with the Colombo Municipal Council (CMC) to work on a demonstration/training plot for urban agriculture. We are working with the Government of Australia on a $ 1 million project to teach good agricultural practices to 450 farmers. We are also working with the Australian Department of Foreign Affairs and Trade (DFAT) on funding to promote school gardens. We are working with Canada to ensure that there is seed production for onions and chillies.  We are working with the New Zealand Government on a $ 250,000 programme to address families that are showing malnutrition stress, and we are helping them with home gardens.
Malnutrition is a well-recorded issue in Sri Lanka – we can get the data from the Government. With our own funding we are doing a lot to expand the technical capacity and skills of the field officers who deal with agriculture. We work with the Ministry, department or provincial government, and all stakeholders involved in agriculture.
Wherever technical support is needed, we help out. The FAO also has a programme funded by the Government of Norway in the fisheries sector, looking at catch wastage reduction, IUU fishing standards, and regulations and legislation on fisheries.
Once the crop and food security report comes in July, we will be able to prepare a food security and crisis response plan based on it. We need some field data to prepare a good response plan. Sri Lanka is high on the FAO's radar and we are taking all necessary steps we can to help.
What can the UN do to help Sri Lanka obtain a range of fertiliser vital to improve cultivation in the short term?
Obviously we need urea and MOP. We are concentrating on urea because we need to give the crops the nitrogen needed to grow. Luckily the Sri Lankan soil is rich in potash and hopefully it will hold on for a season, so the immediate need is urea.
There are challenges to sourcing MOP, because most of MOP is manufactured in Belarus and Belarus is under sanctions, but I am confident that with the flow of urea, production will pick up and hopefully agriculture will come back on track.
However, excessive use of urea is also harmful, so we are working with the Government to promote an Integrated Plant Nutrient Management Strategy (IPNS) to hopefully educate the farmer and build the capacity of officials to guide the farmers towards a balanced and scientific mix of chemical fertilisers along with organic and biofertiliser, intercropping, etc., which are components of the IPNS.
How concerned are you about child and infant nutrition during this crisis period? What can be done to reduce the impact on children?
This is an extremely delicate topic; we are all very concerned about it. UNICEF is the agency that leads the way. There are multiple ways in which you can impress on this aspect – through the provision of nutritional foods and through cash assistance. UNICEF and WHO have plans on these concerns and are working on this issue.
Traditionally, wasting and stunting was a matter of concern in Sri Lanka. With Covid and the current crisis, the poor have become poorer, so it is important that we ensure nutrition and essential medicines for those in need.
The Government is preparing an emergency action plan to revive the agriculture sector and promote crop cultivation for the ongoing season. Has the FAO been consulted when drafting the plans?
Yes, we have been consulted and we are on board. We will be matching the Government's steps, helping it prepare a response plan. As I said before, any technical support it needs, the FAO is more than happy to help. I have met the Ministers of Agriculture and Trade, the PM, and secretaries of the relevant ministries and other officials. We are on the same page. We talk to the Government on a daily basis.
There is no difference of opinion now, which was earlier regarding the impact and the problem. Now, we are all looking at the problem, understanding the seriousness of the situation, and drawing up our responses accordingly.
What type of technical and policy advice is the FAO offering Sri Lanka to strengthen our food systems?

The IPNS is a good example. I understand the need to bring in chemical fertilisers, but I also advocate the need to reduce the use of chemical fertilisers. It may appear contradictory today, but it is not.
Fertiliser use efficiency in the country is only 33%, so we need to increase fertiliser use efficiency, thereby reducing the need for chemical fertiliser. Both have to go hand in hand. You have to strike a good balance to reach a situation where most of the urea you apply gets leaked out and the soil health does not suffer, so later on we don't get to hear about kidney trouble.
Plant and agriculture is a science. Science is precise. The value comes in how precise you can be in your various agro practices. This means how precise you are with your water and pesticide application. The more precise you can get, the better it is for the country. That is our goal – to enable Sri Lanka to become as precise in input applications as possible, so that the health of the soil, water, field, and people improve while productivity and crop production also improve. All these are interlinked.
You have to consider the environment, the soil, the type of seeds, and other factors when you decide how much fertiliser to apply. You have to have your lab studies, followed by field studies, and then you introduce the process to the farming community. Also, science is evolving, it is not resting, so there is no finality.
Sri Lanka needs about four million tonnes of rice to meet the annual requirement. The challenge is how to deliver more with the same amount of land and how to improve productivity.
How important is it that Sri Lanka revisits its agriculture, fisheries, and food security policies considering the current food crisis?
Of course it is important.There is no end to where science can help. Better forecasting and modelling will help. How fast you can convert a forecast to an advisory so that the famer, fisherman, or grower can take action, will decide how quickly they can act.
There are a lot of developed sciences, there is Artificial Intelligence (AI) that can be used, Geographic Information System (GIS) can be used. There is a lot of scope for making Sri Lankan agriculture high-tech. However, all of that requires money, so we have to be mindful in striking the right balance.
Growth is always a work in progress, so we cannot take our foot off the pedal.
Do you see the current crisis as an opportunity for Sri Lanka to modernize and improve its food system and improve food security in the long run?
Winston Churchill had once said, 'Never let a good crisis go to waste.' In every crisis there is an opportunity. For example, if we can't provide the farmers with 100% of the chemical fertilizer needed, isn't that a good opportunity to teach them to combine organic fertilizer and chemical fertilizer for cultivation?
We have to be positive in our outlook. It is easy to paint a doom scenario. I am not diminishing the seriousness of the situation. It is a very serious situation and it may become worse if corrective action is not taken and does not fall into place. There could be a silver lining in the cloud. I am an optimist, but I am also practical.
What can Sri Lanka do to build resilience and ensure food and nutrition security in the future, when climate change and other disruptions are likely to increase?
We have to work on multiple platforms on this. We have strengthened forecasting so that preventive action can be taken. Build your resilience in a way that the farmer can bounce back or hunger can be met, should there be a crop failure.
Also, things like maintaining a buffer stock. Sri Lanka does not have a policy of maintaining buffer stocks for food security and resilience like some countries do, so can we bring a policy for a buffer stock to deal with crises like these? It will help Sri Lanka build resilience and overcome the crisis.
We need to think about what we are doing to be more climate adaptable. What measures are we taking to make seeds more drought- and flood-resistant? These are issues and topics that need to be addressed by the policymaking community.
I feel that resilient livelihoods are a policy priority any country should be looking at, because developing resilience is so much more beneficial than reacting to a crisis and giving humanitarian aid – both in terms of finance and in terms of human dignity.
Would improving food storage and processing methods benefit Sri Lanka, as the country moves towards economic recovery?
Absolutely, we are wasting about 20-30% of our production. It is financially and ethically wrong. How can we waste food? Yes, food storage and processing are important areas to improve.
https://newsin.asia/food-crisis-in-sri-lanka-only-50-yala-harvest-is-possible-even-if-fertilizer-comes-vimlendra-sharan/