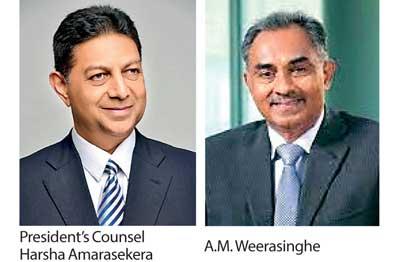 President's Counsel Harsha Amarasekera and businessman A.M. Weerasinghe have been chosen to fill the shoes of business magnate Dhammika Perera in several listed entities.
Perera last week resigned from all the director boards of the companies controlled by him, in a bid to enter Parliament.  
Accordingly, with effect from June 16, Amarasekera will serve as Chairman of Royal Ceramics, Vallibel One, Vallibel Power Erathna and Haycarb, whereas Weerasinghe will head Lanka Walltiles and Lanka Tiles.
Legal luminary Amarasekera was admitted to the Bar in November 1987 and took oaths as a President's Counsel in November 2012. He serves as an Independent Director in several companies listed on the Colombo Stock Exchange, including Sampath Bank PLC, CIC Holdings PLC, Swisstek (Ceylon) PLC and Swisstek Aluminium Limited.
Meanwhile, Weerasinghe is the founder of Royal Ceramics Lanka PLC and Singhe Hospitals PLC. In the past, Weerasinghe served L B Finance PLC.