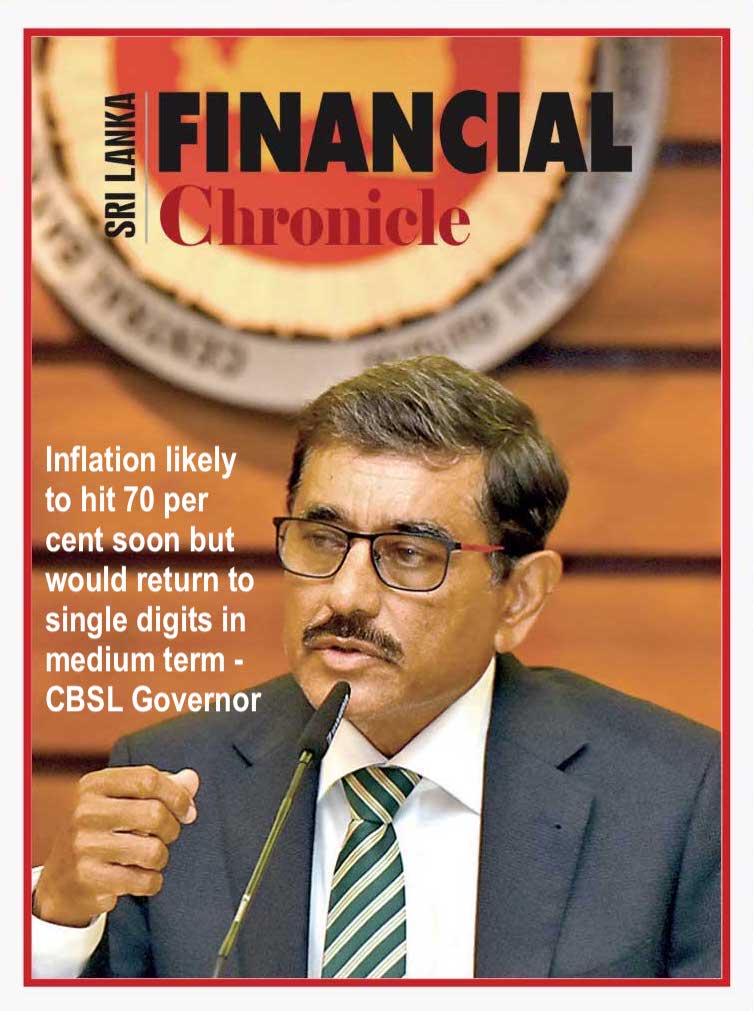 Sri Lanka's inflation rate will soar above 70 per cent soon, which is now at 54.6 per cent, the highest such rate thus far. However, in the medium term it will come down to single digits or 4 per cent to 6 per cent, Central Bank Governor Dr Nandalal Weerasinghe said.
"The reasons for increasing inflation are, global energy price increases, food price increases, tax adjustments and the rupee depreciation. In the medium- term perspective, inflation will go down to 4 to 6 per cent, with the world food prices and oil price becoming stable, Weerasinghe told the media at the monthly monetary policy review meeting of the Central Bank. The media conference was held at the Central Bank auditorium yesterday.
Weerasinghe added: 'Through the adoption of prudent economic and monetary policies the Central Bank is putting in every effort to control inflation. If the inflation rate goes beyond the 100 per cent level it would create a hyper- inflation situation. Under this condition no one will be able to do business.
'At this juncture our responsibility is to provide relief to low-income earners and vulnerable sections of society through social security systems and the Samurdhi poverty alleviation scheme. But the UN Food Programme is looking at possibilities to do so as well.
'The CBSL would continue to closely monitor domestic and global macroeconomic and financial market developments and would be prepared to take further policy measures as appropriate to help reinforce greater stability in the economy in the period ahead, while ensuring a faster return of inflation to the targeted 4-6 per cent range over the medium term, under the flexible inflation targeting framework.
'Having noted the higher- than- expected escalation of headline inflation recently and the increased persistence of high inflation in the period ahead, the Board was of the view that a further monetary policy tightening would be necessary to contain any build-up of adverse inflation expectations.
'The remedial policy measures adopted by the Central Bank need to be complemented by timely and appropriate policy adjustments by the government, including the need for the expeditious implementation of fiscal consolidation measures, alongside efficient and effective social welfare programs to support the vulnerable groups of society.
'The Central Bank has issued a guideline to all banking and non-banking sectors to provide relief for small, medium and tourism sector entities. Under this guideline banks and non- banking entities could use their discretion to provide relief and grace periods for those sectors.
" Banks and non- banking sector entities could be considered case by case when awarding relief for SME and tourism sector entities.
'Accordingly, the Monetary Board of the Central Bank has decided to increase the Standing Deposit Facility Rate (SDFR) and the Standing Lending Facility Rate (SLFR) to 14.50 percent and 15.50 per cent respectively. Statutory Reserve Ratio (SRR), meanwhile, remains unchanged at 4.00 percent .'