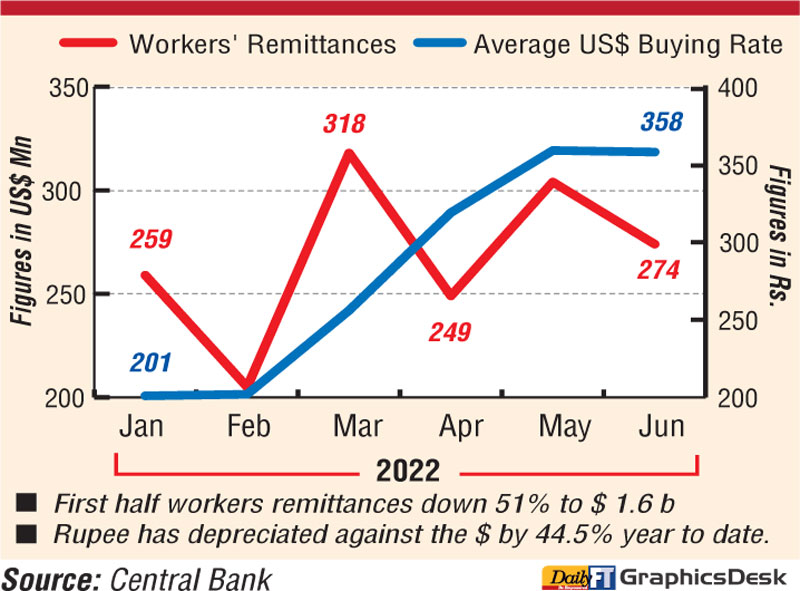 - June inflows down 42.6% YoY to $ 274 m despite CBSL's realistic exchange rate stance
- January-May departures for foreign employment was 113,757 compared to 26,450 a year ago and 117,952 in same period of 2021
Workers' remittances in the first have plunged by 51.6% to $ 1.6 billion from a year ago with June reflecting a sharper dip and reversing the rise in the previous month.
In June inflows were $ 274.3 million, down 42.6% from $ 478.4 million a year ago. June performance also reversed the gain experienced in May to $ 304 million from $ 249 in April.
Year-on-year dip had worsened in June as well as in May.
When May inflows rose the Central Bank (CBSL) said it can mainly be attributed to the stability observed in the domestic foreign exchange market, along with the narrowing of the gap between the grey market and official exchange rate.
In that context analysts said that the dip in June is likely to add more pressure on the Government and the Central Bank which have been championing much needed inflows via official channels and cited the exchange rate being realistic and attractive to do so as opposed to what is offered in the grey market.
After the rupee was allowed to float freely on 7 March, the country saw a jump in workers' remittances to $ 318 million (highest year to date) but since then the inflows had been erratic (See chart).
The erratic performance is also disturbing since more people have taken up overseas employment.
CBSL said total departures for foreign employment were recorded at 22,194 in May contributed by the unskilled (7,453), skilled (6,947) and domestic aid (4,793) categories. Total departures for foreign employment during January-May 2022 were recorded at 113,757, compared to 26,450 in the corresponding period of the previous year and 117,952 in the year 2021.
Last year workers remittances dropped to a 10-year low of $ 5.5 billion, down by 23% from 2020.
During the year up to 22 July 2022, the Sri Lankan rupee depreciated against the dollar by 44.5%. Given the cross-currency exchange rate movements, the rupee depreciated against the Indian rupee by 40.4%, the Euro by 38.4%, the pound sterling by 37.4% and the Japanese yen by 33.7% during this period.
https://www.ft.lk/front-page/1H-workers-remittances-down-by-1-6-b/44-737881#.Yt5Axxf4Ne0.twitter