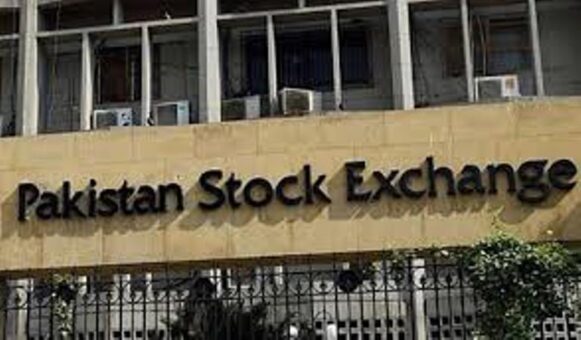 Pakistan stocks gain 486 points on IMF loan agreement
KARACHI: Pakistan stocks on Wednesday gained 486 points owing to positive sentiments after a staff level agreement reached between the country and the International Monetary Fund (IMF).
The benchmark KSE-100 index of Pakistan Stock Exchange (PSX) ended at 42,349 points from previous day's closing of 41,863 points, showing an increase of 486 points.
READ MORE: Pakistan equities gain 519 points on IMF deal rumors
Analysts at Topline Securities said that Pakistan equities carried forward yesterday's jubilant sentiments after official announcement regarding Government of Pakistan and IMF have reached Staff Level Agreement (SLA) which will unlock $1.2 billion disbursement under the Extended Fund Facility (EFF) program.
Earlier today a statement issued by the IMF regarding the agreement. IMF staff and the Pakistani authorities have reached a staff level agreement on policies to complete the combined 7th and 8th reviews of Pakistan's Extended Fund Facility (EFF). The agreement is subject to approval by the IMF's Executive Board. Subject to Board approval, about $1,177 million (SDR 894 million) will become available, bringing total disbursements under the program to about $4.2 billion, the IMF said.
READ MORE: Weekly Review: market likely to stay range-bound
Additionally, in order to support program implementation and meet the higher financing needs in FY23, as well as catalyze additional financing, the IMF Board will consider an extension of the EFF until end-June 2023 and an augmentation of access by SDR 720 million that will bring the total access under the EFF to about US$7 billion.
The analysts said that Initially, market opened on a positive note today, stayed in the green zone during the whole day and eventually settled at 42,349 (+486 points; up 1.16 per cent) for the day.
READ MORE: Stocks gain 184 points in lackluster trading activity
Investors opted to continue value hunting across the board in anticipation of stability on the macro front post IMF program resumption.
Tech, Fertilizer, Banks, and Cement sector stocks contributed positively to the index where SYS, ENGRO, MEBL, LUCK & BAHL added 170 points, cumulatively. On the flip side, COLG, POL and ABOT have witnessed some profit taking as they lost 29 points collectively, today.
Around 227 million shares traded today at the bourse while total value clocked in at Rs7.4 billion. KEL led the volumes chart today with trading of 32 million shares in it, today.
https://pkrevenue.com/pakistan-stocks-gain-486-points-on-imf-loan-agreement/