ASIA CAPITAL PLC: Serious Loss of Capital & Confidence
-
Staggering Corporate Losses
: Accumulated carried forward losses exceeds LKR 3.6bn
-
Serious Loss of Capital
: Losses more than 2 times of the Issued capital of LKR 1.48bn
-
Negative Net Asset Value:
Net Asset Value per share (NAVPS): Negative (LKR -6.5)
-
Trading in Bankruptcy:
ACAP is unable to satisfy the solvency test as per statutory requirements of the Companies Act.
-
Hotel Assets under Legal Dispute:
Hotels owned by ACAP valued approximately US$7.2 mn to be transferred to Japanese investors as settlement to avoid litigation.
-
Lenders and Creditors to take Legal Action
: Seylan Bank and other lenders to force sale assets of ACAP to recover US$ 3mn owing to banks.
-
Severe Liquidity Crisis:
ACAP facing severe liquidity crisis as the shareholders funds have fallen below the statutory level required to pass the solvency test.
Latest Corporate Results of Asia Capital PLC (ACAP.N0000): As at 30 September 2022
https://cdn.cse.lk/cmt/announcement_portal_prod/Public%20Float%20as%20at%2030.04.2020_3075447041918234.pdf
The Company's net assets stand at LKR (341,329,000) which is below the 50% of its stated capital. This situation has triggered a serious loss of capital as at 30th September 2022 in terms of section 220 Of the Companies Act No 07 of 2007. The Board of Directors has paid much attention to this matter subsequent to the balance sheet date and subsequent to a preliminary discussion with the auditor and the Indipendent consultants of the Company have identified assets wherein the company holds a minority stake that could be liquidated in order to restructure the balance sheet. Consequently the Directors have had discussion with owners of the majority stake of the identified assets who in principle are willing to exercise their first right of refusal subject to an independent valuation and board approvals. Information gathering to facilitate the independent valuation is in progress. The Board expects, once substantial information is available, to provide a plan in terms of section 220 Of the Companies Act No 07 of 2007 to the shareholders of the Company.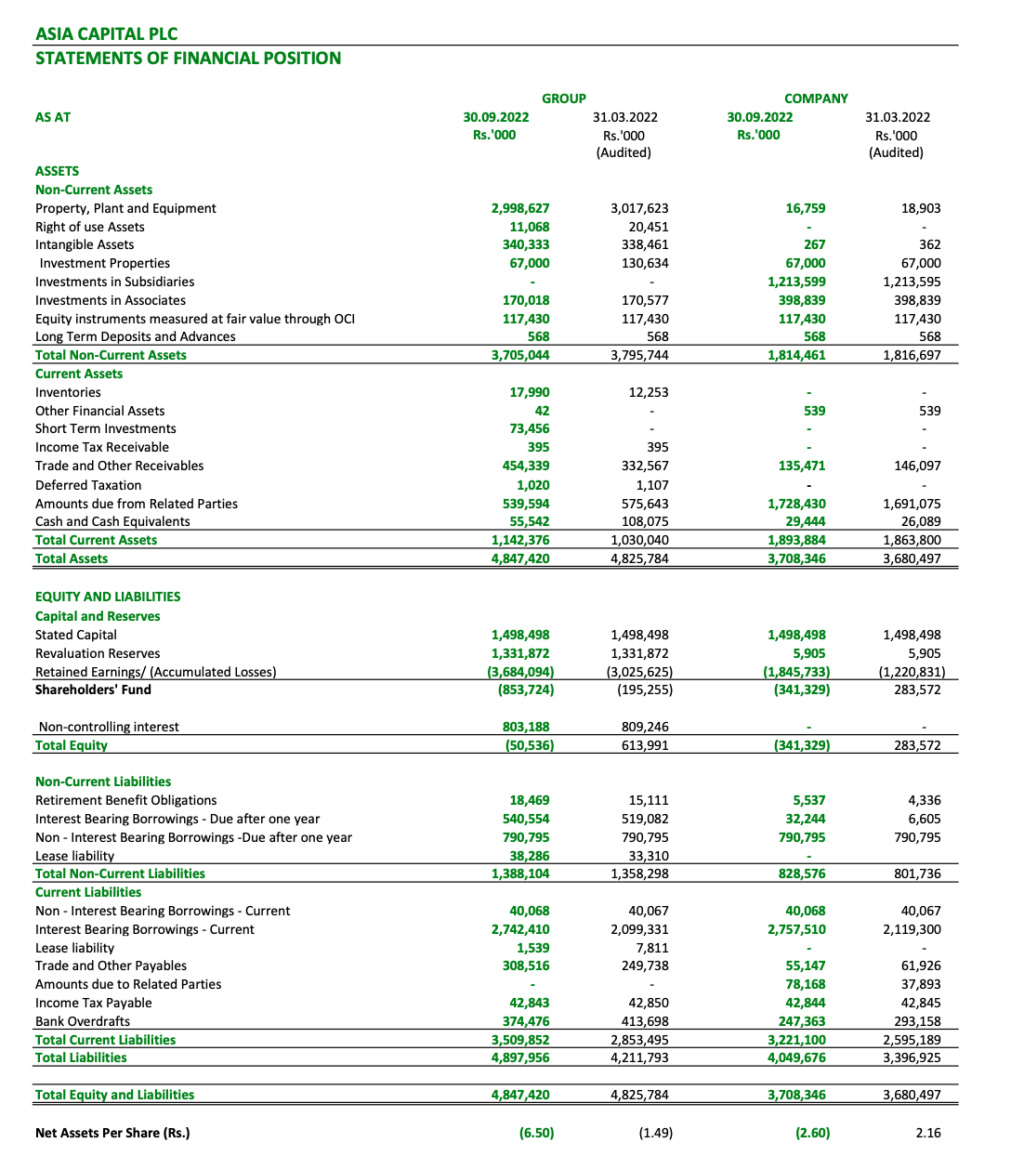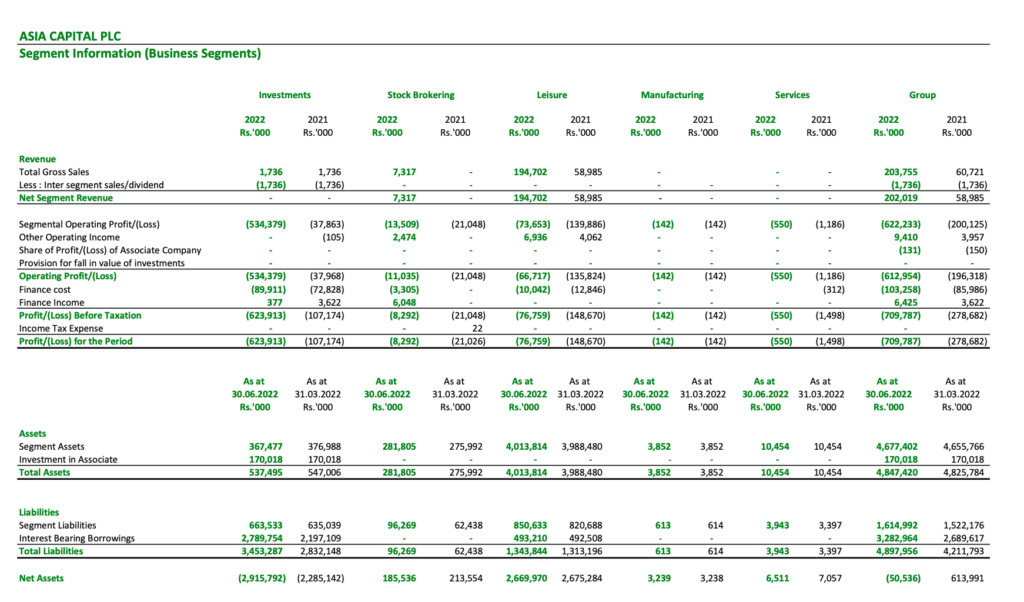 The listed investment bank Asia Capital PLC (ACAP) is in facing financial crisis as it is expected handover the ownership of all major hotels to Japanese investors as a part of the ongoing settlement. As per this settlement Asia Capital will handover Habitat Kosgoda, Taprobana Wadduwa and River House Hotel to Japanese investors. According to sources these hotels are valued approximately $7.2 mn. Further in 2021 Asia Capital transferred the full ownership Shinagawa Hotel and 5 acre land in Kosgoda to another consortium of Japanese investors as a settlement. Above settlement has resulted in company losing the ownership of all operational hotels owned previously except 12 room Tamarind Hill hotel in Galle which is under a lease. In additional to above settlement, further US$ 5mn remain unsettled with the Japanese investor Tamao Watanabe.These settlement have come as a result of Japanese investors threatening to take legal action recover their investment alleging fraud and mismanagement by the key executives of the company.
Meanwhile the Seylan Bank PLC the largest lender and bankers to Asia Capital have notified its intention to initiate parate action and to force sale the assets to recover loans which has been outstanding and in non performing category for considerable period of time. As per the latest financial statement release by the Asia Capital, the total interest bearing loans amounts to LKR 1.4 billion of which approximately LKR 1 billion due to the Seylan Bank. Directors of the company have been reported to the CRIB.
Further according to the latest financial statement released by Asia Capital to the CSE the company is facing severe liquidity crisis as the shareholders funds have depleted to a level below the statutory level required to pass the solvency test as per the companies act of Sri Lanka. According to sources Asia Capital is seeking loans from its major shareholders to remain liquid and to meet its day to day operational expenses.
The new Companies Act No. 7 of 2007 brought into existence the solvency test into the legal framework of Sri Lanka. This is to be met in a variety of corporate procedures and requires companies to satisfy two tests to be classed as being solvent; the first is the "cash flow" test or trading solvency. The second test is  ̳assets test' or balance sheet solvency, namely that the assets of a company must be greater than its liabilities.
Asia Capital PLC share is currently trading around LKR 4/= where as the Net Asset Value (NAV) of the group as at 30th September 2022 is stated at negative LKR 6.50 per share. Proposed settlement with Japanese by transfer of assets amounting to US$ 7.2mn is likely to result in negative asset value and possible bankruptcy unless company take immediate action to infuse further equity.
Non compliance with minimum public float requirement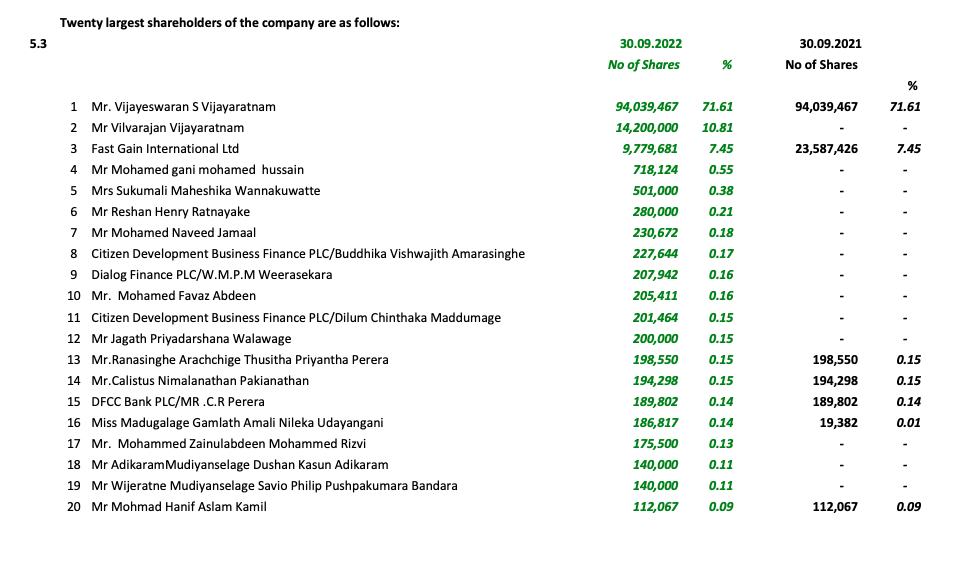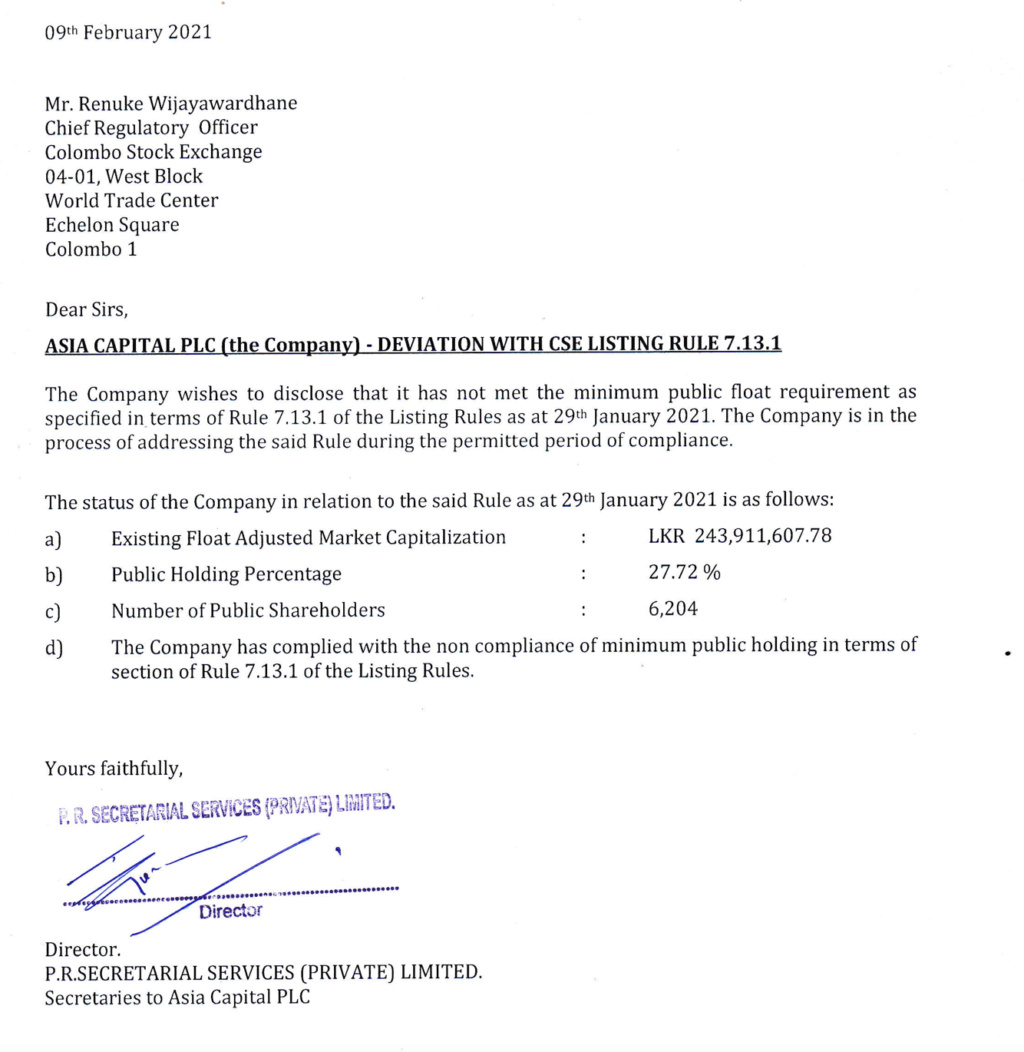 https://cdn.cse.lk/cmt/announcement_portal_prod/Public%20Float%20as%20at%2030.04.2020_3075447041918234.pdf