Top Companies Responsible for Marine Waste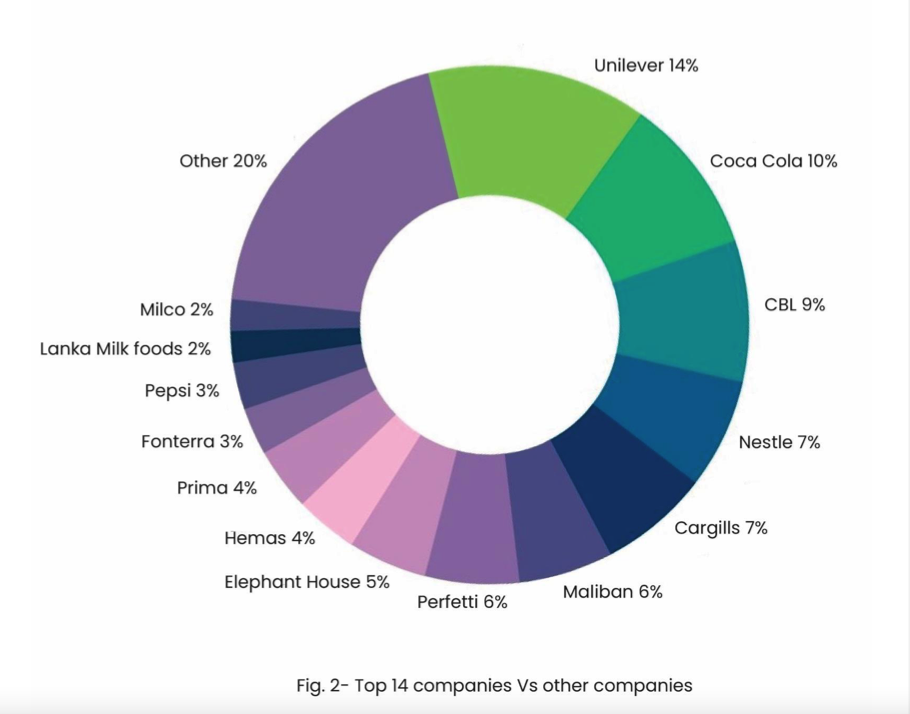 The analysis highlights the top 14 companies responsible for majority of marine waste. Companies which accounts for less than 2% of marine waste was categorized under 'Other'.
The top 14 companies responsible for the largest marine waste along with the percentages are as follows;
1. Uniliver (14%)
2. The Coca-Cola company (10%)
3. Ceylon Biscuits Limited (9%)
4. Nestle (7%)
5. Cargills Ceylon PLC (7%)
6. Maliban Biscuit Manufacturers Pvt Ltd (6%)
7. Perfetti Van Melle (6%)
8. Ceylon Cold Stores PLC (5%)
9. Hemas Holdings PLC (4%)
10. Prima Ceylon Pvt Ltd (4%)
11. Fonterra Cooperative Group Ltd (3%)
12. PepsiCo, Inc. (3%)
13. Lanka Milk Foods (CWE) PLC (2%)
14. Milco Pvt Ltd (2%)
All remaining 74 companies accounted for 20% of the surveyed marine waste brands. This analysis indicates how the top 6 companies are responsible for over 50% of the marine waste found in Sri Lanka. The top 14 companies are overall responsible for 80% of all branded marine waste. Almost all of the top surveyed marine waste includes plastic wrapping, PET bottles and sachets (<65ml/g).
https://pearlprotectors.org/wp-content/uploads/2022/12/Marine-Waste-Brand-Audit-Report.pdf