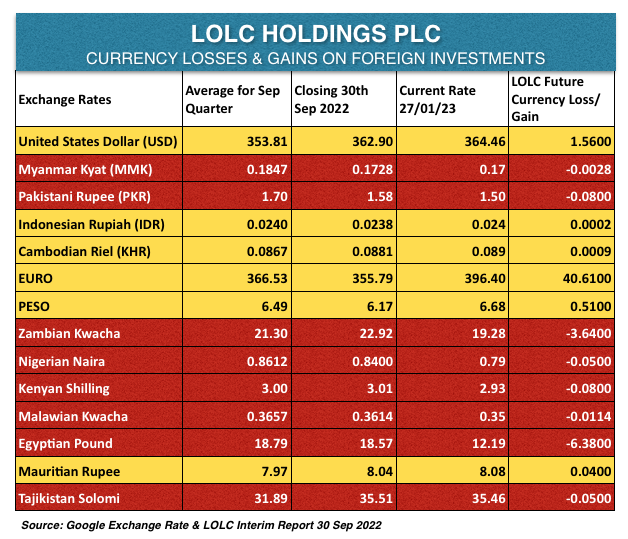 Foreign Investments awaits future Losses
LOLC Holdings PLC (LOLC) foreign investments awaits future capital losses due to fall of investment value on the back of depreciating African currencies. According to recent announcement by the LOLC Holdings PLC, group foreign investments now account for more than 50% of it total assets.
Find above the Exchanges Rates of the countries LOLC has made its foreign investments.
Excessive Goodwill on Foreign Acquisitions
As per the latest quarterly results LOLC Holdings PLC had made a loss of LKR 318mn but paid a staggering LKR 6.8Bn to acquire LKR 3.3bn of foreign assets (as listed below) at a premium in excess of 43.8%.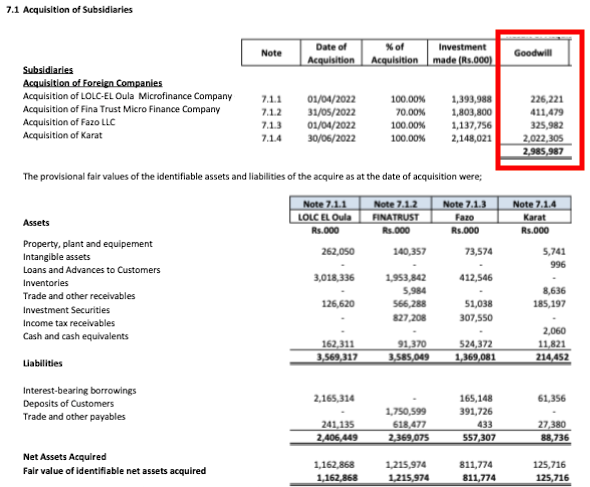 https://cdn.cse.lk/cmt/upload_report_file/378_1668512667827.pdf
Non Payment of Dividends
Investors are disappointed due to the fact that LOLC Directors have ignored to pay any dividends to shareholders whatsoever for last 10 years despite spinning frequent success stories about foreign investments in countries like, Zimbabwe, Africa etc.. with highly vulnerable exchange rates. According to recent announcement by the LOLC Holdings PLC, companies foreign assets now account for more than 50% of its total assets.
Further as per their latest interim accounts (As given below), LOLC has acquired foreign assets at huge premiums during the quarter ended 30th September 2022, whilst local business is suffered a net loss. Despite the companies fragile performance, LOLC directors continue to boast about their success of foreign investments and future profit expectations which may mislead their own minority shareholders at a time investors are greatly suffering due to the current economic crisis faced by the country.
Investors are affected and highly concerned due to losses suffered by the fall of LOLC, LOFC, NIFL and related LOLC Group companies shares in addition to their suffering arising from the increase in cost of living due to rising inflation and high borrowing rates.
Everybody question as to why the richest person in Sri Lanka does not care about his own small investors who helped the company to setup the launch pad for LOLC success.
"Success is best when it's shared." – Howard Schultz
LOLC's Staggering Liabilities and Leveraged Ownership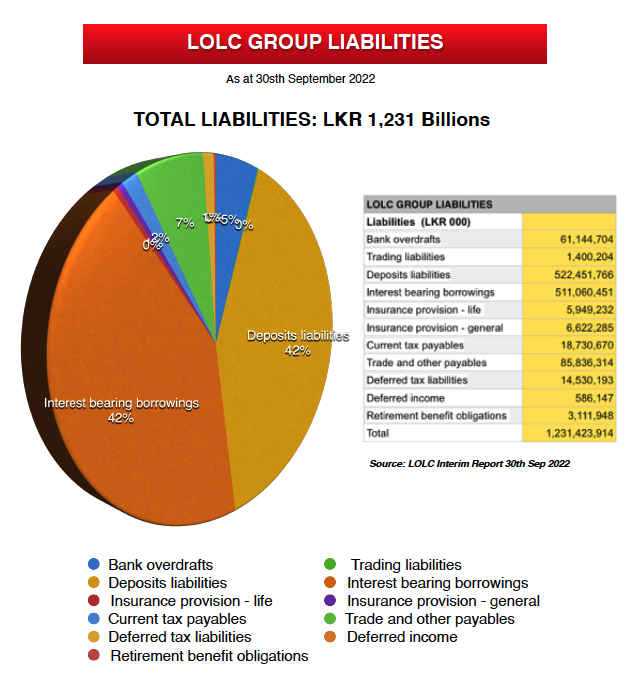 LOLC Holdings PLC Group Liabilities exceeds LKR 1,231 Billions led by Deposit Liabilities of LKR 522 Billions and Bank Borrowings of LKR 511 Billions. According to LOLC recent press announcement more than 50% of its assets are foreign assets. Total Assets value is LKR 1,702 Billions. Accordingly it is clear thatt LOLC's Foreign investments are actually funded from depositors money and interest bearing borrowings. In addition to this as you can see in the latest top 10 shareholders list, approximately 30% of LOLC shares are pledged to 4 leading Bank by the majority owners thereby further increasing the risk to minority investors and entire financial sector of Sri Lanka.
https://cdn.cse.lk/cmt/upload_report_file/378_1668512667827.pdf