Published : 2:56 am  October 1, 2014 -  WWW.FT.LK
By Wealth Trust Securities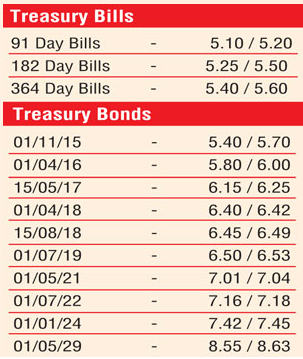 " />
The speculation on the outcome of today's Treasury bill auction in line with the new monetary policy conditions saw secondary market bond yields dip further yesterday amidst considerable volumes changing hands. Furthermore, Inflation for the month of September reflected a drop on its annualised average for a 16th consecutive month to 4.2% while its point to point remained unchanged at 3.5%. Activity was seen spreading across the yield curve, as considerable buying interest on the belly end of the curve saw the four-year maturities of 2018s (i.e. 1 April 2018, 15 July 218 and 15 August 2018) dip to intraday lows of 6.40%, 6.50% and 6.48% respectively while the seven year maturity of 1 May 2021 was seen changing hands within the range of 7.00% to 7.08%, the eight year maturity of 1 July 2022 within 7.15% to 7.20%, the nine and a half year maturity of 1 January 2024 within 7.42% to 7.45% and the 15 year maturity of 1 May 2029 at 8.60%.
At today's weekly Treasury bill auction, a total amount of Rs. 6 billion will be on offer with Rs. 1.5 b on the 182 day maturity and Rs. 4.5 b on the 364 day maturity. At last week's auction, the weighted average on the 364 day maturity dipped below 6.00% for the first time in history to record 5.89%, reflecting a drop of 37 basis points while all bids received for the 182 day maturity were rejected while the 91 day maturity was not on offer.
In money markets yesterday, the continued high surplus liquidity of Rs. 71.25 billion saw overnight call money and repo rates decreasing further to average at 5.77% and 5.59%.
Rupee dips considerably on spot next contracts
The rupee on spot next contracts dipped considerably by around 45 cents yesterday to hit an intraday low of Rs. 131.00 in comparison to its previous day's closing levels of Rs. 130.45/55 on the back of importer led demand and portfolio outflows in equity and Government securities. The total USD/LKR traded volume for 29 September was at $ 61.65 million.
Some of the forward dollar rates that prevailed in the market were: one month – 131.05; three months – 131.58; and six months – 132.43.