Royal Ceramics Lanka PLC is engaged in holding of investments, and the manufacture and sale of wall tiles and floor tiles. The Company's segments are Tile & Associated products, Paints & Allied Products, Packaging Material, Finance, Sanitary Ware, Plantation, Aluminium and Other. The Company manufactures and retails porcelain and ceramic tiles under the brand name Rocell. The Company's subsidiaries include Royal Porcelain (Private) Limited, which is engaged in manufacturing and marketing of floor tiles and wall tiles; Rocell Bathware Limited, which is engaged in manufacturing and marketing of sanitary ware; Ever Paint and Chemical Industries (Private) Limited, which is engaged in manufacturing paints and allied products; Rocell Pty Limited, which is engaged in wholesale and retailing of floor tiles, wall tiles and bathware in Australia and Lanka Ceramic PLC, which is engaged in manufacturing and marketing of raw materials to ceramic industry and holding of an investment property.
RCL, owned 51% by Vallibel One limited, is a holding company of 2 tile manufacturing plants in Horana and Ehaliyagoda and a newly developed bath ware plant in Homagama.
The company is the holder of a famous brand, "Rocell" and has set a benchmark in premium quality standards in the tile industry. Further, the company enjoys a 55% market share of the local floor tile market and is the cost effective provider among competitors.
Lets have a look at the company financial summery for ten years;
The Company - RCL
From 2007 - 2008 we see the expenses of the company has risen and current liabilities hold a higher ground hindering the working capital. And in 2009 company has managed to bring it down to a positive figure of 43.9 Mil and then in 2010 to 14Mil a little lower but again in 2011 they've made it over 100Mil.
(calculations; Working Capital = Current Assets - Current Liabilities)
since 2008, dividend payments have been increasing starting from 0.50 to 2.50 in 2011. Though % wise this seems a drop from 45% to 20%, I think this 20% is a fair value in terms of the growth.
After the Net profit drop in 2007 to 152 Mil (more than 50% from the figure of 2006 of 321Mil) we saw a further drop of 25% in 2008 but in 2009, the company has started to regain the momentum in 2010 it made a whooping figure of 710Mil which was an increase of 345% copmared to 2009. Again in 2011, the company managed to record a 93% growth in net profit than the previous year
which was a remarkable comeback in my openion although this was supported heavily by other income portion.
Also we have to really take note this other income portion because it has been playing a vital role in adding revenue to the bottom line since 2007 as well.
ROE has been very high since 2006 (26.93%) and came down to 12.3% in 2007 then again to 7.3% in 2008. Since then we see a higher growth capability has shown by the company growing the figures to 30.49% in 2010 and 40% in 2011.
NAVPS bring 30.94 and the last close being 147, PBV stands at 4.75.
Claculated EPS;
Net profit = 1,373,825,000
No. of shares = 110,789,384 (post Capitalisation as at 31-03-11)
EPS = 12.4, a slight different from announced EPS of 12.66 which I think could be the group figure.
Considering the latest financials as of 30-06-11, company EPS stands at 1.01 for the qtr and group EPS shows a marginal increase at 3.53 compared to same qtr in 2010.
Acquisitions
;
The Company has acquired  20.03%  stake of Lewis Brown & Company Limited at a cost of Rs.621.2 Mil on 16th of June 2011. However it has not been consolidated for the further Quarter ended 30th June 2011.
Further more, the Company has acquired 100% stake of Ever Paint and Chemical Industries (Pvt) Limited (retail name - Colorbrite) on 1st of April 2011 at a cost of Rs.70.35 Mil.
However the latter shows a minus net asset value of 16.49 Mil and Goodwill of 86.47 Mil which tallies the acquisition cost of Rs.70.35 Mil. With the cash and cash equivalent of 5.22 Mil of the new subsidiary this brings a net cash outflow of 75.56 Mil to the RCL.
Top 12 Major Share Holders as of 30-06-11
;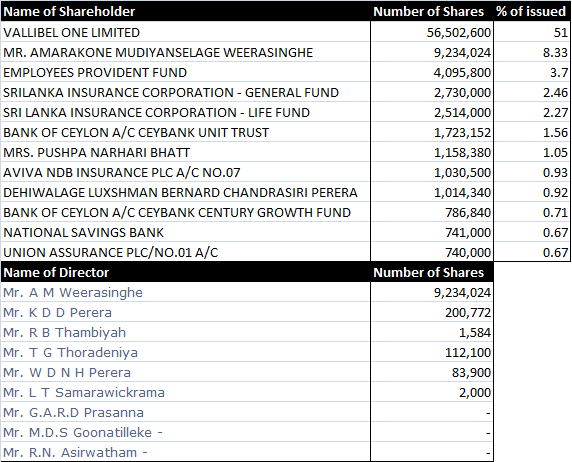 The percentage of shares held by the public as at 30th June 2011 - 40.3%
Future outlook
As per the introduction of  mr. W D N Perera, RCL is planing to invest around Rs. 3 billion to build
a third tile factory in Kiriwattuduwa, Homagama. Work on the plant was supposed to kick off in June 2011, and they have already contracted overseas companies to supply the machinery. The project will be partly funded through debt and internally generated cash and expected completion in about 18 months time.
The plant will add 12,000 square meters per day to RCL production lines. They expect to have adequate stocks to supply the market with this.
This addition would boost production capacity immensly.
The company can benefit from the local construction industry which is currently one of the prime beneficiaries of the post-war economic boom, with construction activities taking place across the northern and eastern regions.
The government has forecasted an economic growth this year of 8.5 percent, however; the IMF has forecast a more conservative economic growth of 7 percent. And the ceremic industry is expected to grow by 21%.
Continuous turmoil in the Middle East and North Africa, is having an impact on oil prices, inflation and hurt export prices.
It was stated on the annual report that galloping crude prices have also hurt RCL fuel supply bill.
Concerns are that RCL are in an energy-dependent industry and its not always possible to pass on fuel shocks to the end users.
Therefore this is a significant impact to the bottom line and the fierce competition forces RCL to abide by the current pricing strategy.
Also there was a concern over shortage of clay and feldspar from local suppliers which are hurting their raw material inputs. The alternative is to import raw materials from China, Taiwan or India, which would be more expensive, but high in quality.
But at the same time China and india exported ceramic goods are coming to the SL market at a cheap rate in the midst of Indian imports being tariffed @ 100% Tax.
RCL's brand name "Rocell" is a lifesttle choice that differentiates it from the rest from market share. And among peers like LWL, TILE and CERA, RCL stands at a discount to its revenue growth.
As per the 31-03-11 Group Figures;
Gross Revenue = 6413 Mn
Gross Profit = 2656 Mn
Other Income = 216.3 Mn
PAT = 1459 Mn
No of Shares = 110.8 Mn
EPS = 13.17
As of 5th Aug 2011 CSE equity market data, Manufacturing sector PER = 18.80. Taking this as the base for a valuation;
Current Price = 147 is at a trailing PER of 7.82.
This is just a valuation on hypothetical assumptions, not a BUY/SELL Recommendation.


Last edited by CHRONICLE™ on Sat Jun 05, 2021 1:17 pm; edited 6 times in total (Reason for editing : Corrected the 2010 EPS figure)