Tax benefit
As per the 2021 Budget proposals, with effect from April 1, 2021 expenditure incurred by any financial institution by way of cost of acquisition or merger of any other financial institution (cost will be ascertained by considering all the facts on case-by-case basis and as confirmed by the CBSL) will be tax deductible.
Total deductible expenditure shall be apportioned in equal amounts over a period of three years of assessment and be deductible from the assessable income of that financial institution in each such year of assessment commencing from the year of assessment in which the expenditure incurred. In
any case if any amount which was not deducted during the three years period whether by reason of the total assessable income in a year has not exceeded the permitted deduction, then it could be deducted in any year of assessment after the three years period.
In the short run (within next 12 months) compared to Sampath Bank, PABC has a higher net liability exposure. i.e PABC has a higher % (83%) of its total liabilities to be matured within next 12 months.
With the prevailing low interest rate regime having a short duration net liability exposure will enhance the net interest margin.
Minimum capital requirement of LKR 20bn
The CBSL has directed Licensed Commercial Banks to maintain a minimum capital level of LKR 20 bn by 31st December 2022. However, as of 31 December 2020 PABC's equity capital stood at LKR 15bn.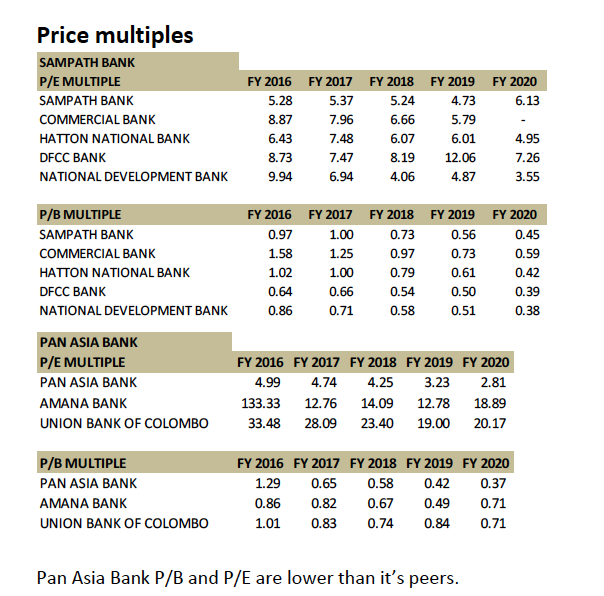 Historically, PABC's Equity & Debt trading income makes up a significant proportion of it's other
income compared to Sampath Bank.
State of the art digital banking solutions of Sampath Bank
Sampath is well known as a pioneer in technology advancement and has one of the most advanced digital banking platforms in the country. This has been instrumental of its success during pandemic lock down period and strengthened the overall resilience to manage the impacts of COVID-19.
In 2020 alone, Sampath Bank made the following developments in broadening the spectrum of the
Digital Banking Solutions by;
 Extending the Digital Loan scheme to different loan categories
 Introducing "Evolve", an e-commerce platform for SME sized businesses.
 Enhancing the functions of the "WePay Digital Wallet" to fully comply with LankaQR.
 Enhancing the Sampath Vishwa (Retail and Corporate) platforms
Further, as a measure of business continuity planning Sampath has introduced Microsoft 365 suite coolaborative platform to enble employees to effectively manage their work from home.
Sampath Bank Credit Card
Sampath bank has a well established credit card with a loyal client base. As of December 2020 total credit card advances stood at LKR 15.8bn generating LKR 2.8 bn credit card commission income.
Sampath Bank Brand
During the year 2020, Sampath became the youngest bank in Sri Lanka to accumulate an asset base of over LKR 1 Tn. Rated among the top 1000 world banks for 2020 by "The Banker" magazine.
"Most Loved Banking Brand" in the country for the year 2020 and ranked among top 5 most valuable
consumer brands at the LMD Annual Brands Awards 2020.
Rated among the top 10 most respected entities in Sri Lanka for the year 2020 by LMD & Nielson.
Rated as the Sri Lanka's best retail bank and best commercial bank for the 7th consecutive year by UK based World Finance magazine.
Sampath bank has a well-established branch network with 229 branches and significantly higher revenue per employee compared to PABC.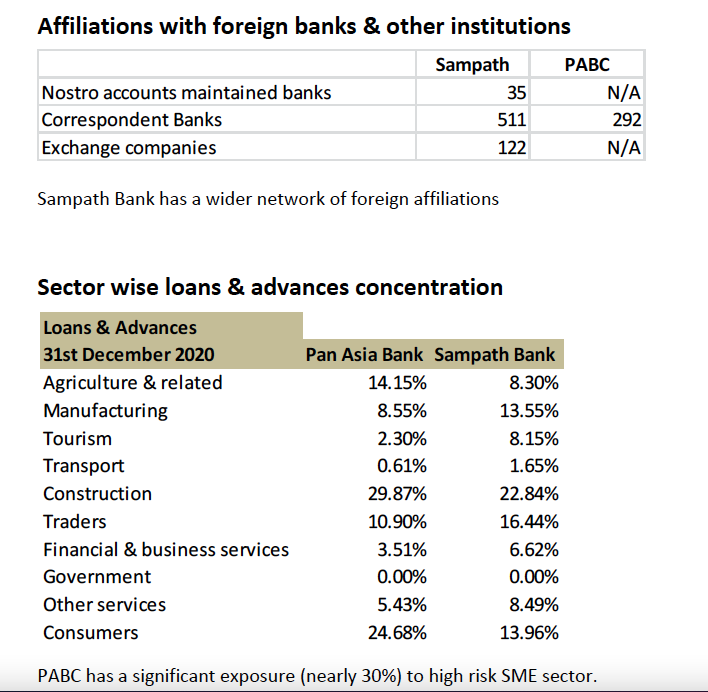 Subsidiaries of Sampath Bank
Sampath Bank has well established subsidiaries specialised in Stock Broking (SC Securities), Leasing (Siyapatha Finance) and IT infrastructure development (Sampath IT Infrastructure Solutions).
In comparison to PABC, loans and advances of Sampath has a higher risk exposure. Greater proportion of the loans portfolio of Sampath Bank is concentrated in stage-2 and stage-3 risk buckets.