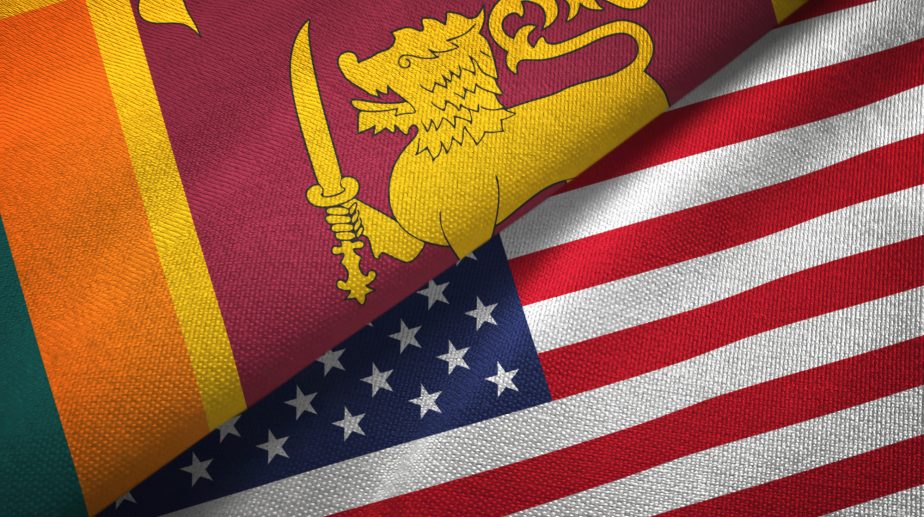 Down to the dregs in forex holdings, critically short of fuel and cooking gas, and virtually abandoned by China, Sri Lanka is giving up its ingrained reservations about the United States and the Middle Eastern Islamic countries, and is seeking their help to tide over the multiple crises Colombo is facing now.
At the end of June, the Sri Lankan cabinet approved a proposal by Prime Minister Ranil Wickremesinghe for implementing a program of the United States Agency for International Development (USAID) named "The Program for a Democratic, Prosperous Sri Lanka with the Ability to Survive Amidst Disasters." This program, to be executed with a grant of $57 million, will concentrate on "productive democratic governance, growth based on a secure market, and strengthening the resources required to sustain pressure and stress." The program will last until 2026.
To push through the deal, Wickremesinghe told the cabinet there was a precedent to follow. He recalled that in 2011 (when Mahinda Rajapaksa was president) Sri Lanka had signed two agreements with the United States to fund two projects, namely, a "program to strengthen the cooperation for democratic good governance and social integrity" and a "program to create a sustainable and covered economic development." These two programs had been implemented, he said, and added that the proposed agreements with USAID would be on similar lines.
The Different Fate of the MCC
Interestingly, while the current deal sailed through the cabinet, a proposal to sign the $480 million Millennium Challenge Corporation (MCC) compact by the Sirisena-Wickremesinghe government in 2019 was opposed tooth and nail by Sri Lankan nationalists. This despite the fact that $480 million was to be an outright grant.
Enjoying this article? Click here to subscribe for full access. Just $5 a month.
The MCC's project was intended to facilitate reduction of traffic congestion in Colombo, modernize the bus service, and upgrade inter-provincial roads in central Sri Lanka. It also included support for government initiatives to improve land administration through better land registration methods. "Sri Lanka will retain oversight and control of all aspects of the proposed projects," the U.S. Embassy assured.
But nationalists alleged that the compact would seriously abridge Sri Lankan sovereignty. They opposed the several tax concessions to be given to U.S. investments in MCC projects.
The successor government of Gotabaya Rajapaksa delayed the signing of the compact and in November 2021, Rajapaksa declared that he would never sign it. Subsequently, the United States itself cancelled the MCC offer "due to lack of partner country engagement."
Supporters of the MCC compact point out that if the $480 million grant had been accepted in 2019-2020, Sri Lanka would have mitigated the forex crisis that followed in 2021 and became acute in 2022. Valuable assets would have been created and rural land administration would have been improved. Supporters of the pact pointed out that all decisions on the projects to be undertaken under the MCC were to be made by Sri Lankan officials. Furthermore, there was a component of the pact saying that if the Sri Lankan government did not wish to carry out any part of the project for some reason, it had the option of omitting these elements. But these provisions did not assuage the fears of the nationalists.
U.S. Conditions
The latest agreements with USAID, by contrast, are not well-defined in the public domain. And yet, the mood was such that the proposals sailed through the cabinet. And there has been no adverse public reaction either. This is because the government is desperate to get the United States on board in its bid to save the gravely ill economy.
But the U.S. has put up its conditions too. It has made aid dependent on Sri Lanka's accepting the IMF's bail-out conditions, which are expected to be announced by the end of July. Notably, the U.S. Senate Foreign Relations Committee has stated that the IMF's agreement with Sri Lanka must be contingent on the independence of the Sri Lankan Central Bank, strong anti-corruption measures, and promotion of the rule of law.
"Without these critical reforms, Sri Lanka could suffer further economic mismanagement & uncontrollable debt," the committee tweeted on July 2.
The IMF had said in a statement on June 30 that its 10-day talks with Sri Lanka would have to move forward on debt restructuring to finalize a bailout. "Because public debt is assessed as unsustainable, Executive Board approval would require adequate financing assurances from Sri Lanka's creditors that debt sustainability will be restored," the IMF said at the end of its meetings in Sri Lanka.
Sri Lanka's inflation grew 54.6 percent in 12 months up to June 2022. Food prices rose 80.1 percent in the past year. The country is unable to import fuel to the extent needed because of a scarcity of forex and fuel sellers overseas are asking for advance payments or for guarantees from non-Sri Lankan banks.
Islamophobia Set Aside
Desperate to get fuel, the Rajapaksa government has shed its Islamophobia and sent a delegation to Qatar to fetch oil on credit. Power and Energy Minister Kanchana Wijesekera met Saad Sherida Al-Kaabi, the Qatar minister of state for energy affairs, and the president and CEO of Qatar Energy, to get petroleum products, liquid petroleum (LP) gas, and liquefied natural gas (LNG).
In the process, Sri Lanka had to backtrack on an earlier decision to ban Qatar Charity, a Qatar government organization, working in Sri Lanka. Then-Sri Lankan National Security Minister Sarath Weerasekara had banned Qatar Charity in January 2021 for its alleged involvement in the serial suicide attacks involving Islamic terrorists in April 2019. Weerasekara told parliament that the ringleader of the Easter Sunday suicide bombers, Zaharan Hashim, had given lectures to an organization maintained by Sri Lankan Muslim lawyer Hejaz Hisbullah. The organization, named "Pearl of Unity," had been funded by Qatar Charity, which Weerasekara claimed was banned by the United Nations. The Criminal Investigation Department (CID) subsequently froze the accounts of Qatar Charity in Sri Lanka. The case saw the arrest of Hejaz Hisbullah in April 2020 under the anti-terror act.
These steps, along with the Rajapaksa government's ban on Muslims burying their COVID-19 dead on the spurious ground that burials would contaminate groundwater, alienated the Muslim world.
However, despite the lifting of the ban on Qatar Charity, the Qatar authorities told Wijesekara, the Sri Lankan energy minister, that Qatar would help but would base its decisions on the IMF's agreement with Sri Lanka. Again, the IMF's recommendations and Sri Lanka's willingness to implement them would be critical for aid flow.
Oman's ambassador to Sri Lanka, Juma Al Shehhi, told Rajapaksa that he would support Sri Lanka's request for fuel supplies. But there is a problem with Oman, too. In January 2022, Sri Lanka decided not to go ahead with a $3.6 billion fuel credit line agreement with Oman due to the condition that Sri Lanka should give Oman an area for oil exploration in lieu of interest payments on the credit line. The loan was to be given in 12 monthly instalments of $300 million with a repayment schedule of 15 years after a five-year grace period.
The China and India Factors
As the IMF talks move ahead, Sri Lanka's creditors would like debt re-structuring to cover loans from China too. But China is reluctant to agree to debt restructuring. The Western powers say that China's loans are not transparent; some loans are hidden. According to Sri Lankan economist Umesh Moramudali, Chinese loans constitute 19.9 percent of the total foreign loans taken by Sri Lanka, but the official figure is 10 percent.
Until these matters are sorted out, Sri Lanka will have to lean heavily on India's shoulders. It has so far given a credit line of $4 billion according to the Sri Lankan prime minister. But India appears to be at the end of its tether, itself importing fuel from Russia under trying conditions created by the U.S. and Western sanctions against Russia for attacking Ukraine.
AUTHORS
GUEST AUTHOR
P.K. Balachandran is an experienced Colombo-based Indian journalist writing regularly on South Asian affairs for local and international news outlets. His work has been featured in Hindustan Times, The New Indian Express, Indo-Asian News Service, South Asian Monitor, and the Economist.