HOPL
Horana Plantations PLC is a public quoted limited liability company and its shares are listed on Colombo Stock Exchange bearing the stock symbol HOPL. The Company is a subsidiary of the Ceytea Plantation Management Ltd, with its ultimate parent company being the Ceylon Theatres Group. The Ceylon Theatres Group spans a widespread of interests in Retailing, Food & Beverage, Ceramics, & Tiles, Finance, Stock Broking, Cinema and Property Development.
http://www.horanaplantations.com/Corporate-Profile.html
I'm referring to the CSE published un-audited results. I see a problem in calculating EPS.
This year they have something call, 'other comprehensive income'. If this is not minority interest, the calculation should be for 220,461,000 not 201,040,000.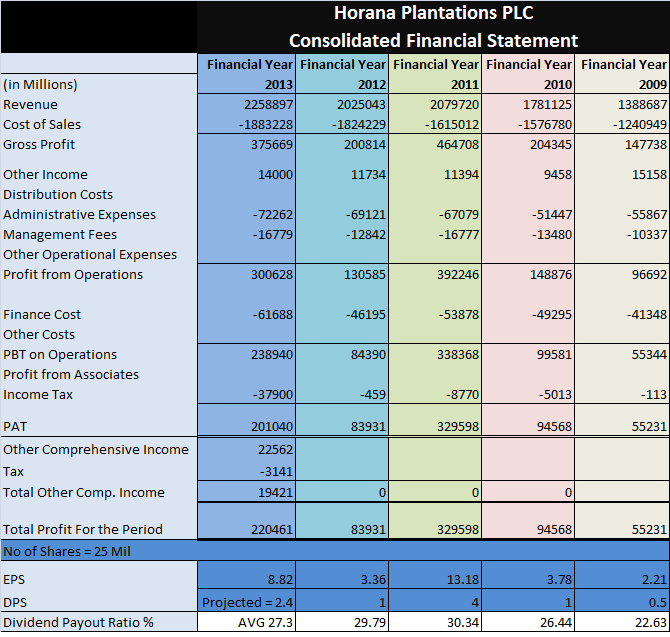 As you can see from the above figure;
- For the last 4 yrs, their avg dividend pay-out ratio has been 27.3%. Based on this, they should give 2-2.50 at least this time as a dividend.
Why they should stick to a good dividend policy;
- A reduction in dividends paid is looked poorly upon by investors, and the stock price usually depreciates as investors seek other dividend-paying stocks.
- A stable dividend payout ratio indicates a solid dividend policy by the company's board of directors.
On TA;
Buy signal from 28.50, a dividend > 2 looks pretty good
to enter but the announcement gets late it seems than early June.


Last edited by smallville on Tue Jun 04, 2013 9:51 pm; edited 1 time in total